Don't Talk to the Actors
by The Harlequin
Apr. 21 - May. 20, 2017
Thursdays-Saturdays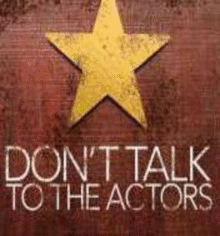 The best laid plans go awry when the cast and crew of a Broadway-bound play resort to manipulation, diva-like behavior, and chaotic abandon to get what they want. Fledgling playwright Jerry and his fiancée are a couple of Buffalo greenhorns suddenly swept up in the whirlwind of New York's theater scene when Jerry's play is optioned for the big money, ego driven world of Broadway. It's a young playwright's dream, but the crazy characters and dilemmas they encounter are the things of which theatrical nightmares are made.
Cast/Crew:


Jerry Przpezniak - Robert J Olivas

Arlene Wyniarski - Ashley Corbaley


Mike Policzek - Chuck Duncanson

Curt Logan - Barry Goettl


Beatrice Pomeroy - Trisha Duncan

Lucinda Shaw - Brandi Case


Directed by Robert J Olivas and Michael Zaiontz
---
Don't Talk to the Actors
by Tom Dudzik
The Harlequin
Thursdays-Saturdays,
April 21 - May 20, 2017
April 21 to May 20, 2017
Thursdays - Saturdays at 8 p.m.
Check the Harlequin website (click here) or the Facebook community page (click here).