Mar. 25 - Apr. 08, 2017
Wednesdays-Sundays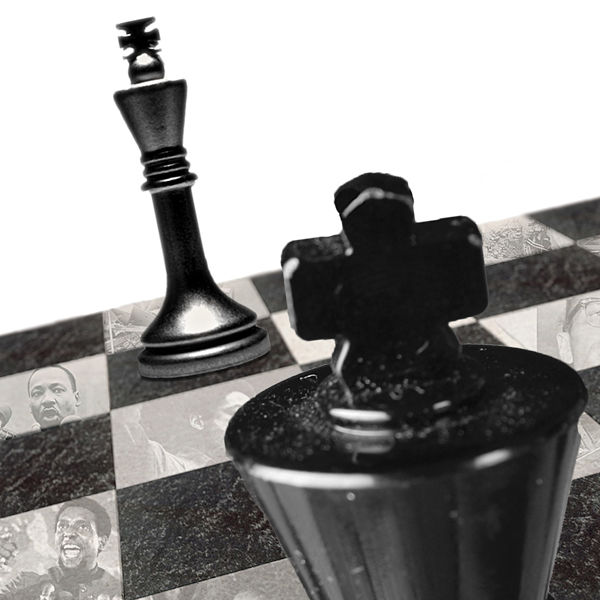 The VORTEX proudly presents the world premiere of Lisa B. Thompson's new drama Underground for 3 weeks only, March 24-April 8, 2017.

Underground reunites Kyle and Mason (Marc Pouhé and Jeffrey Da'Shade Johnson), a pair of old college buddies who have gone from radicals in their youth to successful professionals approaching middle age. When Kyle shows up at Mason's door, the two have a chance to catch up, reminisce and, as the evening goes on, engage one another in a battle of intellects over the best road to black liberation. As their argument becomes increasingly passionate and more personal, news reports reveal a police search for the leader of a black radical political movement. From flashbacks to their first meeting to the final game of chess that could change their lives forever, Mason and Kyle each pose to one another the central question of Underground: how far would you go to protect your people?

The VORTEX is committed to producing "urgent, unashamed art," and Lisa B. Thompson's Underground is just that. It considers the ways in which African American activists, artists, and intellectuals have responded from the Civil Rights Movement to the Black Lives Matter movement and beyond. The questions of Underground have become all the more pressing since the election, and with the rise of hate crimes, the threat of curtailed freedoms, and the appointment of white supremacists to high-ranking positions in the executive branch, it has left millions of Americans wondering what fighting for equality—and for survival—will look like over the next four years and beyond. Underground looks to address those questions head-on.

Directed by Rudy Ramirez. Starring Marc Pouhé and Jeffrey Da'Shade Johnson. Dramaturgy/Assistant Directed by Florinda Bryant. Scenic Design by Ann Marie Gordon. Lighting Design by Patrick Anthony. Costume Design by Shannon Mott. Sound Design by Valerie Johnson and David DeMaris. Stage Management by Tamara L. Farley. Photography by Errich Petersen.
Audio feature with Michael Lee, Arts Eclectic, KUT-FM
Feature: Robert Faires Interviews Playwright Lisa Thompson, Austin Chronicle, March 23, 2017
Feature in Daily Texan by Jahnavi Muppaneni, April 2, 2017
Talk Back Dates and Speakers:

March 25th Austin Justice Coalition- Barry James, Chas Moore, Sukyi McHahon
March 30th- Sharice Smith, Director of the Warfield Center
March 31st- Counter Balance: ATX- Fatima Mann
April 1st- Black Pflugerville- Meme Styles
April 7th- Dr Lisa Thompson and Isaiah Wooden, PhD (American University, D.C.).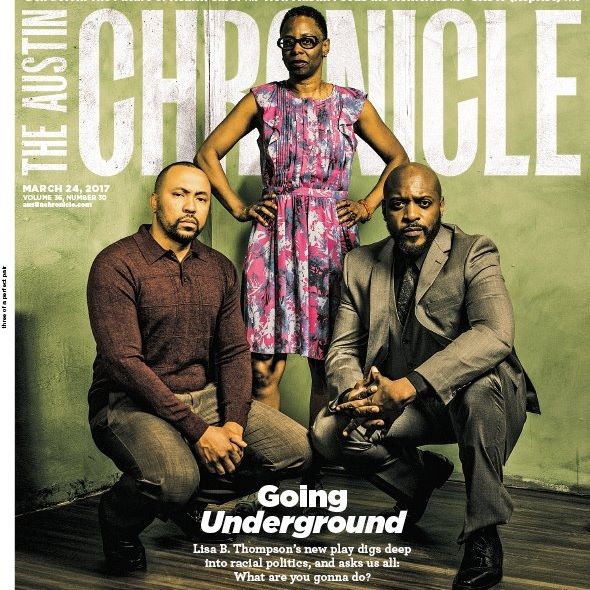 Lisa B. Thompson is an artist/scholar whose work has been produced by Crossroads Theatre Company, Brava! For Women in the Arts, New Professional Theatre, FronteraFest, Theatre Rhinoceros, and the National Black Theatre Festival among others. Her plays include the critically acclaimed off-Broadway comedy Single Black Female, Monroe, Dreadtime Stories: One Sista's Hair, Mother's Day, I Don't Want to Be (Mamie Till), The Mamalogues, Watch, and Underground. Thompson is currently Associate Professor of African & African Diaspora Studies at UT Austin and is the author of Beyond the Black Lady: Sexuality and the New African American Middle Class. Her work has received support from many institutions including Harvard University's Hutchins Center for African & African American Research, the University of California's Office of the President; Stanford University's Michele R. Clayman Institute for Gender Research; UCLA's Center for African American Studies; UT Austin's Humanities Institute, Hedgebrook, and the Millay Colony.

Underground is funded in part by VORTEX Repertory Company, The John L. Warfield Center for African and African American Studies, ScriptWorks Finer Point Fund, a grant from the Texas Commission on the Arts and by the Cultural Arts Division of the City of Austin Economic Development Department. Developed with support from ScriptWorks' Seed Support Fund. For more information about ScriptWorks, visit www.scriptworks.org.
---
Underground
by Lisa B. Thompson
Vortex Repertory Theatre
Wednesdays-Sundays,
March 25 - April 08, 2017
March 24-April 8, 2017
Wednesday, March 29, a benefit for Austin ScriptWorks Finer Point Fund
"Industry Nights" Wednesdays, March 29 and April 5 at 8pm
Live Streaming, March 31 at 8pm CST on howlround.com/tv
ASL-Interpreted Saturday, April 1 (Free to deaf and hard-of-hearing audiences)
Visit vortexrep.org for tickets
The VORTEX, 2307 Manor Rd. Austin, TX 78722
Free Parking. Bus Route.
The Butterfly Bar @ The VORTEX opens nightly at 5pm with full bar, hand-crafted cocktails, and snacks.
Patrizi's @ The VORTEX opens nightly at 5pm with delicious homemade Italian food.
Tickets: $35-$15
$35 Priority Seating
$25 General Admission
$15 Discount/Child/Artist/Student/Senior
Advance Reservations Recommended. Limited seating.
www.vortexrep.org or 512-478-5282
Radical Rush Free Tickets: Limited free tickets for each performance in the spirit of sustainability, accessibility, and the gift economy. Radical Rush tickets released at 7pm each night-in-person only.
2-for-1 admission Wednesday, Thursday, and Sunday with donation of 2 cans for SafePlace