Feb. 17 - Mar. 26, 2017
Fridays-Sundays
Something's coming, something good! Yes! One of the world's great musical love stories – West Side Story – opens live at Georgetown's Historic Palace Theatre on February 17 to run for 5 weekends.
From the first notes to the final breath, West Side Story is powerful, poignant, and timely as ever, exploring the rivalry between two teenage street gangs of different ethnic backgrounds – the Jets and the Sharks. The score by Leonard Bernstein and Stephen Sondheim is widely regarded as one of the best ever written, with songs such as "Maria," "Tonight," "I Feel Pretty," and "Somewhere."
The Book for West Side Story, written by Arthur Laurents (based on a concept by Jerome Robbins), with its search for love and meaning amidst the backdrop of race and identity, will move you as it has moved audiences for nearly 60 years.
The 1961 movie of West Side Story, a romantic musical update of 'Romeo and Juliet', won ten Oscars.
Directing the Palace production of West Side Story is Ron Watson, who performs many important jobs for the Palace under the title of Technical Director and IT Administrator and uses his directing expertise for several productions each season.
Jesee Smart, Choreographer for West Side Story, is originally from Chicago IL. Jesee can be seen onstage and off around the Palace, performing, choreographing, and teaching.
Music Director Rose Yurcina has been seen on stage at the Palace, but this is her first appearance as Music Director.
Sabrina Mari Uriegas has the coveted role of Maria; Nicolas Garza and Matt Buzonas share the exciting role of Tony; Leslie Gaar is ecstatic to play the life-long dream role of Anita; Scott Garrett Graham is fulfilling a life goal with the part of Riff; and Ismael Soto III, a talented performer and theatre educator who recently made his Zilker debut, has the coveted role of Bernardo. And so many more fine actors bring West Side Story to life on the Palace stage!
Suggested rating: PG-13 for stylized violence, language, and sensuality.
Many thanks to Novak Brothers for their generous sponsorship of West Side Story.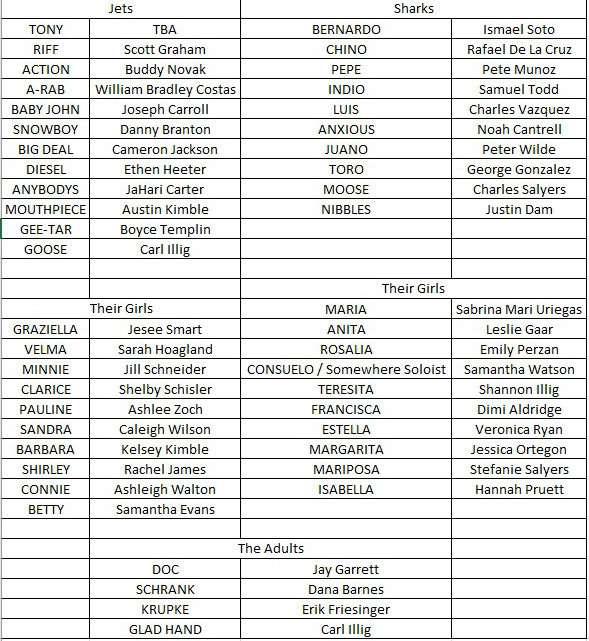 ---
West Side Story
by Arthur Laurents, Leonard Bernstein and Stephen Sondheim
Georgetown Palace Theatre
Fridays-Sundays,
February 17 - March 26, 2017
West Side Story begins at the Georgetown Palace on Friday, February 17, 2017, and runs for 5 weekends through Sunday, March 19, 2017. Friday and Saturday shows are at 7:30 p.m.; Sunday shows are at 2:00 p.m.
Ticket prices for the 2016-2017 Season are $30 Adults, $28 Seniors (55+), $28 Students and Active Military, and $14 Children (13 & younger). *$1 Ticketing Fee will be added per ticket at checkout.
*Student Rush Tickets $17 at the door with student ID. Group rates are available for 20 or more.
The Palace seats about 295, with reserved seating paid for in the ticket price.
The Palace office in the lobby of the theatre is open Monday through Friday from 10:00 a.m. until 4:00 p.m. (except for some holiday dates). Purchase tickets and select seating online at www.georgetownpalace.com or by calling 512-869-7469. (Please call ahead regarding special needs seating.) Visa, Master Card, Discover, and American Express are accepted.
The Historic Palace Theatre is located at 810 South Austin Avenue in downtown Georgetown and is part of the most beautiful Town Square in Texas!