Feb. 17 - Mar. 05, 2017
Fridays-Sundays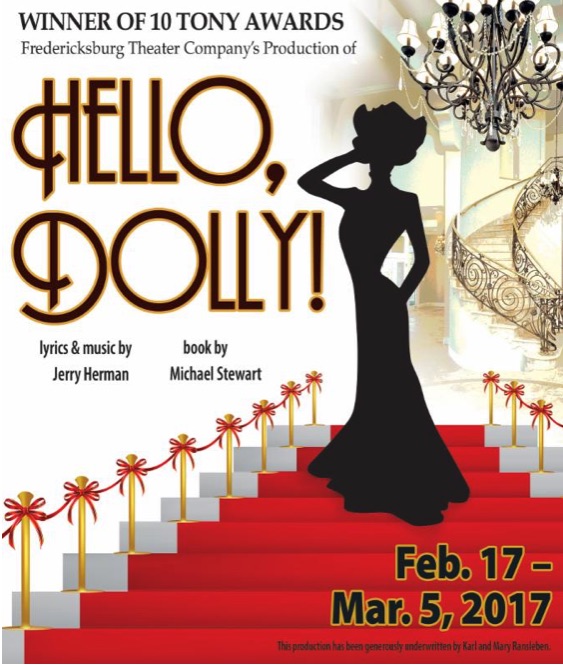 Hello, Dolly! is the story of Mrs. Dolly Levi's efforts to marry Horace Vandergelder, the well-known half-a-millionaire, and send his money circulating among the people like rainwater the way her late husband, Ephraim Levi, taught her. Along the way she also succeeds in matching up the young and beautiful Widow Molloy with Vandergelder's head clerk, Cornelius Hackl; Cornelius' assistant, Barnaby Tucker, with Mrs. Molloy's assistant, Minnie Fay; and the struggling artist, Ambrose Kemper, with Mr. Vandergelder's weeping niece, Ermengarde.
Mrs. Levi tracks Vandergelder to his hay and feed store in Yonkers, then by train back to Mrs. Molloy's hat shop in New York, out into the streets of the city where they are all caught up in the great Fourteenth Street Association Parade, and finally to the most elegant and expensive restaurant in town, the Harmonia Gardens. There, Dolly is greeted by the waiters, cooks, doormen and wine stewards in one of the most famous songs in the history of American musical comedy, "Hello, Dolly!"
What happens in the end? Dolly gets her man, of course. (She even makes him glad she caught him!) Dolly leaves the stage at the end of Act II with a wink to the audience as she takes a peep into Vandergelder's bulging cash register, and promises that his fortune will soon be put to good use. She quotes her late husband as she says, "Money, pardon the expression, is like manure. It's not worth a thing unless it's spread around encouraging young things to grow."
Hello, Dolly! is an ebullient and irresistible story of the joy of living, glittering with happy songs, shining with loving scenes, alive with the personality of one of the most fabulous characters on the musical stage...Dolly Gallagher Levi! Classic musical numbers include "Put On Your Sunday Clothes", "Ribbons Down My Back", "Before the Parade Passes By", "Elegance", "It Only Takes A Moment" and "So Long, Dearie."
Appearing in the production are Dawn Hahn as Dolly Levi, William Joseph as Horace Vandergelder, Brett Ellis as Cornelius Hackl, David Wilkinson as Barnaby Tucker, Leanne Finnegan Ellis as Minnie Fay, Donna Jackson as Irene Molloy, Donna Vaughan as Ernestina, Daniel Hoffman as Ambrose, and Lucinda Harvey as Ermengarde.
Also cast in the production are Jolene Keefer, Heidi Melton, Nancy Rickerhauser, Jenna Rickerhauser, Hailey Knudsen, Randye McAnally, Sherri Robinson, Holly Robinson, Kaylee Welch, Christy Brown, Jorja Hahn, Amy Taylor, Rhonda Behrends, Marcie Jumes, Emily Ashman, Lindsey Ashman, Augusta Bolton, Amber Nanni, Bridgette Fargason, Madeleine Londa, Lainne Bell, Caroline Hurling, Joel Keefer, Ron Rickerhauser, Paul Taylor, David Jumes, Dylan Sione, Michael Jumes, Colin Jumes, Miles Fluitt, Sean Carter, William Vaughan, Braden Toomey, and Pete Salinas.
The music director for FTC's production of Hello, Dolly! is Donna Vaughan, with choreography by guest artist Sean Carter. Priscilla Castaneda will serve as the Stage Manager. Jim Weismann is the Scenic Designer and FTC's Artistic Director Kerry Goff will design the lights. FTC's Executive Director Steve Reily is directing the production.
"I highly recommend purchasing your tickets as soon as possible', said Reily. "Besides being one of the most popular musicals in American history, Hello, Dolly! is one of the most requested titles by our patrons. I anticipate box office sales to be very strong."
Hello, Dolly! was originally produced on Broadway in 1964 by David Merrick, winning a record 10 Tony Awards, including Best Musical, a record held for 37 years. Famed composer Jerry Herman wrote the music and lyrics, and Michael Stewart wrote the book. Hello, Dolly! is based on Thornton Wilder's 1955 farce The Matchmaker.
The show has become one of the most enduring musical hits, enjoying three Broadway revivals and international success. In 1969 it was made into a film that was nominated for seven Academy Awards, winning three.
---
Hello, Dolly!
Fredericksburg Theater Company
Fridays-Sundays,
February 17 - March 05, 2017
Performances 
for Hello, Dolly! will be February 17th through 
March 5th, Fridays and Saturdays at 7:30 p.m.; Sundays at 2:00 pm.
Admission is $29 for adults, $12 for
children 17 and younger. Seating per show is limited to 250 persons.
Tickets go on sale
to the public February 6th and can be purchased online at fredericksburgtheater.org.
Reservations can also
 be made at the box office, 830-997-3588. An answering machine will capture requests after hours.
For more information or directions, visit the theater website at fredericksburgtheater.org