Feb. 10 - Mar. 12, 2017
Fridays-Sundays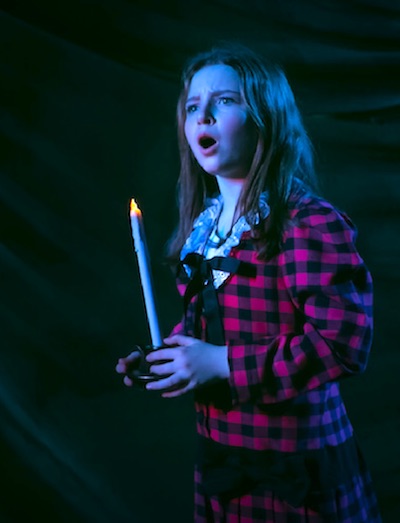 When the sour young Mary is orphaned and sent to live with her tormented Uncle, she is surprised to find what a little kindness and a bit of earth can do to transform not only her own heart ... but the haunted lives of all those at Misselthwaite Manor.
Book and Lyrics by Marsha Norman
Music by Lucy Simon
Based on the novel by Frances Hodgson Burnett
From director Laura Michelle Hoadley:
"When offered the opportunity to direct in the 2016-2017 season, I was immediately drawn to The Secret Garden. A long-time favorite of mine, this piece embodies the best of musical theater: true works of musical art and rich relationships between the characters. The writing, both music and book, are filled with subtle connections that further enhance the lush landscape of the work and each of the stories entwined within it.
It poses some of the most exciting challenges for each component of our team, from direction to design to performance, but it also challenges its audiences. We are compelled to see each side of the coin and empathize with those we would not normally identify with.
We see that the unifying of different ideas only makes both stronger and that compassion for one another is more important to our own well-being than we can imagine. The longer we have worked on this beautiful piece, the more it seems it will never be untimely. We hope you are as touched by this classic as we have been."
Feature by Kurt Gardner in Breaking Character on-line magazine, February 15, 2017
CAST
Mary Lennox - Ashley Doyle
Archibald Craven - Nicholas Szoeke
Lily Craven - Katherine Leidlein
Martha - Carrie Daniels
Dickon - Karol Cooley
Dr. Neville Craven - Nicholas Ponting
Colin Craven - Nicholas Barron
Rose Lennox - Sara Brookes
Mrs. Winthrop - Lindsay Van De Kirk
Mrs. Medlock - Corina Zars
Captain Albert Lennox - John Stillwaggon
Ben Weatherstaff - Michael Cooling
Ayah - Alyssa Araguz
Alice - Muffin Russell
Mrs. Shelley - Jennifer Rivera
Mrs. Holmes - Nicole Erwin
Maj. Shelley - Robert Gonzalez
Maj. Holmes - Robert Nauman
Fakir - Sean Salazar
Lt. Shaw - TBA
Lt. Wright - TBA
---
The Secret Garden, musical
by Marsha Norman, with music by Lucy Simon.
Playhouse San Antonio
Fridays-Sundays,
February 10 - March 12, 2017
The Secret Garden runs Feb 10 - Mar 12 in the Russell Hill Rogers Theater. For tickets and more information, visit The Secret Garden page on The Playhouse News at Theplayhousesanews.org.