Feb. 03 - Feb. 18, 2017
Thursdays-Saturdays
Salvage Vanguard Theater (SVT) announces the remount of their smash hit THR3E ZISTERS by Baltimore-based playwright Lola Pierson, conceived and directed by Yury Urnov of D.C.'s Woolly Mammoth.
Winner of 4 Austin Critics Table Awards including Best Production of a Comedy, a show the critics call "beautiful," "fascinating," and "seriously amazing." Thr3e Zisters is an amalgamation of a modern adaption of Chekhov's Three Sisters, a literal translation of the original Russian text, and dramatic criticism of Chekhov's work. The piece explores the innate conflict between performing classic texts and the changing roles of gender and performance in contemporary culture. Oh, and the sisters are zombies.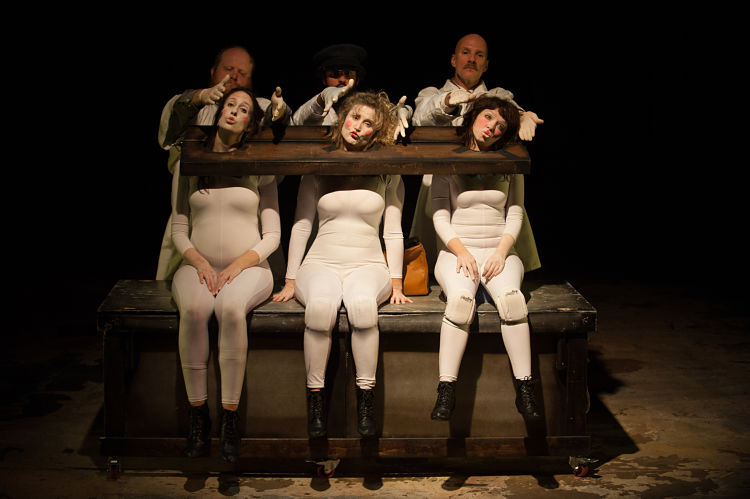 The three sisters have long been dead and buried. Vershinin, Tusenbach, and Suleny exhume them with the hopes of creating the perfect women for their pleasure. The sisters, unburied and ready to adapt to a new way of life, learn that there are already very stringent expectations in place for their arrivals.


THR3E ZISTER's Austin-based cast includes Heather Hanna, Jenny Larson, and Shawn Sides as the zombie sisters, and Jay Byrd, Zac Crofford, Robert Matney, and Noel Gaulin. The award-winning design team includes Ia Enstera , Natalie George, Jessica Gilzow, and Robert Fisher.
ABOUT YURY URNOV Born in Moscow, Russia, Yury graduated from the Russian Academy of Theater Art (GITIS) in 2000, and has directed over 40 productions in his home country, Europe, and Africa. He was one of the first to discover and direct plays by the generation of post-Soviet playwrights, who are now internationally recognized as the leaders of the New Russian Drama movement. Yury translated plays of Martin McDonagh, Sarah Ruhl, and Edward Albee into Russian, as well as a number of contemporary Russian plays into English. Since 2002, he has worked closely with the Center for International Theater Development (dir. Philip Arnoult) on a number of Russia – US cultural projects. In 2009-2011 he was a Fulbright Scholar in Residence at Towson University, MD. His recent directing credits in the US include Ubu Roi at Cutting Ball Theater in San Francisco, Marie Antoinette and You for Me for You at Woolly Mammoth Theater Company in DC, which Yury is a member of.
ABOUT LOLA PIERSON Baltimore native Lola B. Pierson is a playwright, writer, and director. She is the co-artistic director of The Acme Corporation and the creator of Baltimore's Ten Minute Play Festival. Lola holds a B.A. in Human Rights and Playwriting from Bard College and a MFA in Theatre Arts from Towson University. She has been awarded "Best New Playwright" by the Baltimore City Paper and her production of Beckett's Play won "Best Production of the Year." Most recently she is the recent recipient of the Greater Baltimore Cultural Alliance's Ruby Award for Literary Arts and the Baltimore City Paper's "Best of Baltimore" for her production of Peter Handke's Kaspar. During the day Lola works very happily alongside the wonderful people at Figure 53.
Click for CTXLiveTheatre review of premiere production in January, 2015.
---
Thr3e Zisters
by Lola Pierson and Yury Urnov
Salvage Vanguard Theater
Thursdays-Saturdays,
February 03 - February 18, 2017
Off Center
2211-A Hidalgo Street
near Robert Martinez and E. 7th Street, behind Joe's Bakery
Austin, TX, 78702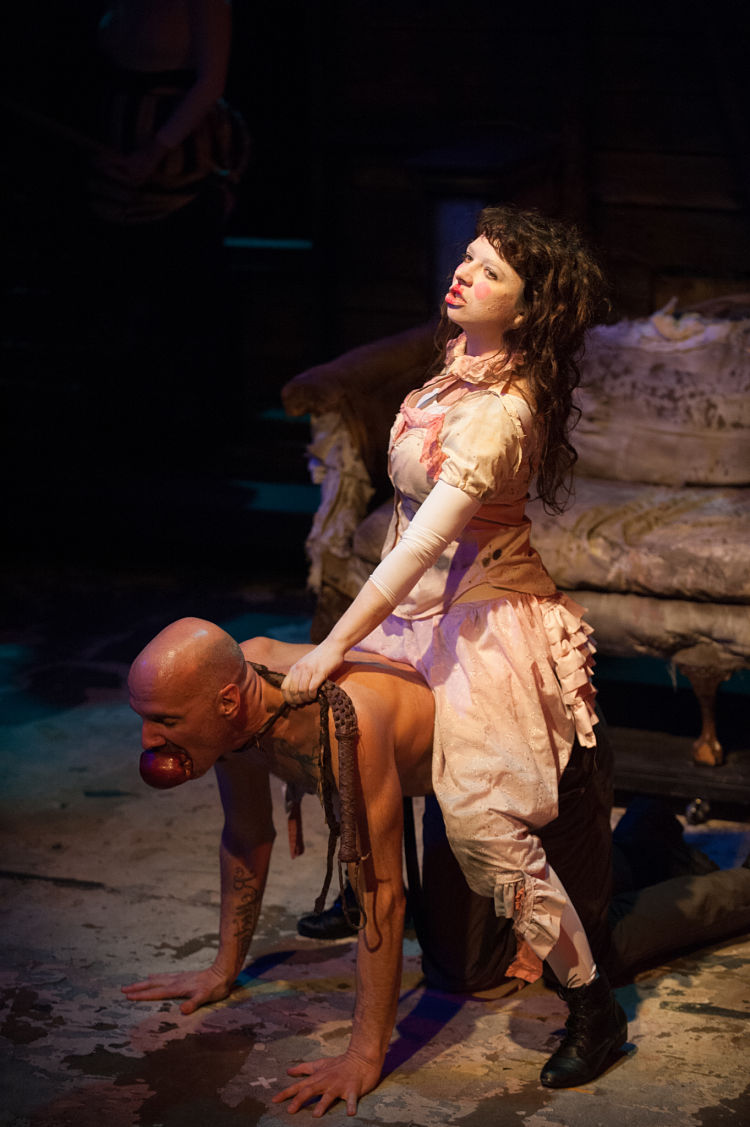 February 3 – 18, 2017 (Thursdays through Saturdays) with performances at 8 pm. at the Off Center, 2211-A Hidalgo (behind Joe's Bakery, 7th Street).
TICKETS to THR3E ZISTERS are pay-what-you-wish ($15 suggested) and can be purchased online at www.salvagevanguard.org or in person at the box office (open one hour before each performance). Tickets are FREE for teens every night at the door.
Community Dialogue FEBRUARY 4, 2017 at 8 pm
Join us for a post-show panel discussion with guest director Yury Urnov. Performance at 8pm with discussion immediately following.
Champagne Celebration FEBRUARY 18, 2017 at 8 pm
A gala performance. Tickets start at $35 and include a post-show party with champagne and catering with the cast and creative team.