Jan. 27 - Feb. 05, 2017
Thursdays-Sundays
Sweet-natured Alice Sycamore (Alexzandria Siprian) falls for a rich businessman's son Tony Kirby (Herbert Clardy). She invites her snooty prospective in-laws to dinner to give their blessing to the marriage. The Kirbys are a wealthy, stuffy family of great self-importance, while the Sycamores are a collection of good-hearted lunatics where everyone does just what he or she pleases. When the two families come together, lifestyle and philosophy collide head-on with great fun.
This was the first play ever produced by the theatre. An eccentric family allows each member to pursue his or her own ambitions in the home, but the routine is disrupted when a daughter with a regular job wants to bring her fiancé and his family to dinner in this Pulitzer-Prize-winning comedy.
Click to view feature by Melanie Cox at the Temple Dailly Telegram, January 25, 2017

Cast members include Carrie Ling, Penelope "Penny" Sycamore; Sarah Wiseman, Essie Carmichael; Miranda Kuhns, Rheba; Michael White, Paul Sycamore; Jeffery Hensel, Mr. De Pinna; Trey Shonkweiler, Ed Carmichael; Matthew Stanley, Donald; Jonathan Spear, Martin Vanderhof; Alexzandria Siprian, Alice Sycamore; Sam Wilds, Wilbur C. Henderson; Herbert Clardy, Tony Kirby; Darren Walker, Boris Kolenkhov; Rebecca Johnson, Gay Wellington; Chris Wohleb, Anthony Kirby; Sandy Dlugas, Miriam Kirby; and Leanne Bledsoe, Olga Katrina.
The government agents are portrayed by Brittany Holmen, Missy Kline, and Jenn Martin.
Production staff includes Rob Wilds, director; Carissa Breeding, stage manager; Dustin Ozment, technical director; Sue Morrisey, costumes; Tanya McMillan, hair & make up.
The show's director is Rob Wilds, who has a master's and bachelor's degree in communications. At TCT, Rob previously directed The Exact Center of the Universe and That Championship Season. Rob lives in Tennessee where he serves as host and producer of the "Tennessee Crossroads" television series on PBS stations across the state. He has appeared in over 50 drama, comedy and musical stage productions, including TCT's 1970 production of Camelot.
The movie version of the play was directed by Frank Capra and included Jimmy Stewart, Lionel Barrymore and Ann Miller.
---
You Can't Take it with You
by George S. Kaufmann and Moss Hart
Temple Civic Theatre
Thursdays-Sundays,
January 27 - February 05, 2017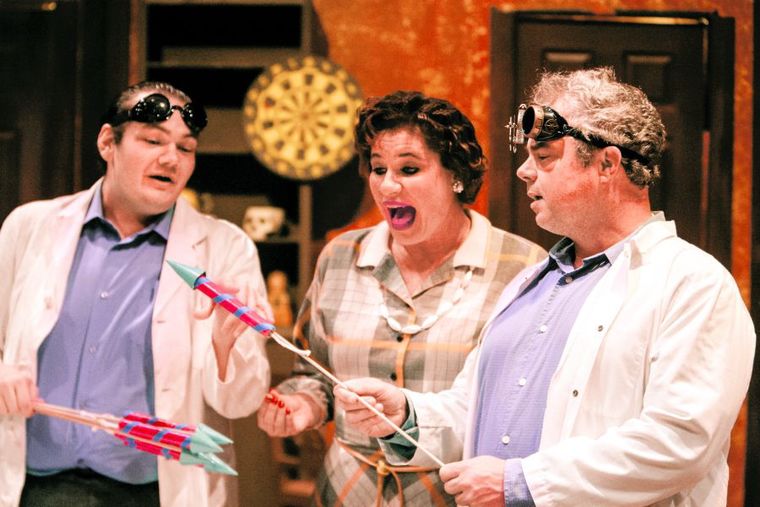 Friday, January 27 at 8:00 p.m.
Saturday, January 28 at 8:00 p.m.
Sunday, January 29 at 2:30 p.m.

Thursday, February 2 at 7:00 p.m.
Friday, February 3 at 8:00 p.m.
Saturday, February 4 at 8:00 p.m.
Sunday, February 5 at 2:30 p.m.

For more information, visit www.artstemple.com/index.php/articles-from-1617/211-you-cant-perf