Gun Violence: The New Normal
by Teatro Vivo
Jan. 11, 2017
Wednesday
Gun Violence: The New Normal, is a project conceptualized and written by theatre students and their teacher at Jack Yates High School in Houston ISD's Third Ward.
Ms. Margo Hickman, a University of Houston School of Theatre & Dance Summer MA alumni, was approached by a student who lost two siblings over the summer to gun violence. This is a statement from Margo about the play:
This summer one of our students lost two siblings to gun violence. He approached me and asked if I would create a play about Black Lives Matter. The 8th period advanced acting class wanted to address all forms of gun violence. The play [Gun Violence: The New Normal] is a combination of monologues, duets, group acting scenes, spoken word, and rap. The students had to research and find stories pertaining to gun violence.
We address domestic violence, suicide, passion crimes, gang violence, school shootings, club shootings, etc. As, a teacher in a inner city school I have personally lost ten students. The students in this production have lost friends, classmates and family members to gun violence; for us this has become an outcry for change. I am personally moved that we have been invited to [. . .] share our message.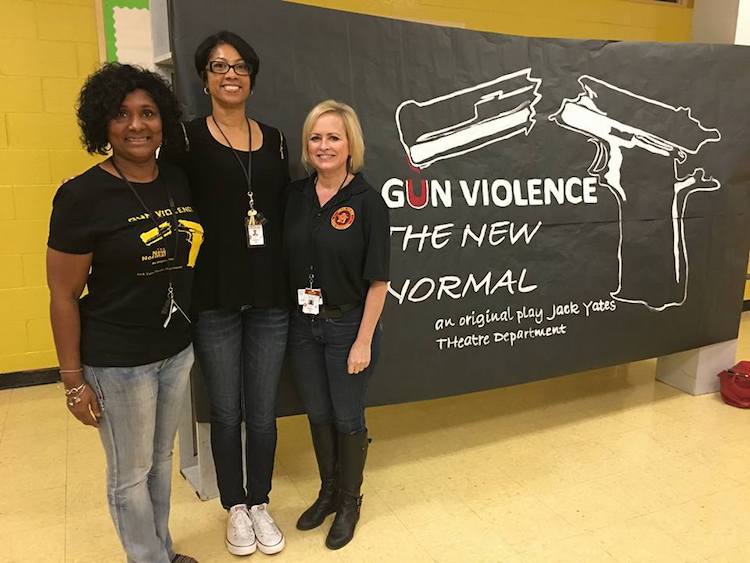 ---
Gun Violence: The New Normal
by ensemble of students from Jack Yeats High School, Houston
Teatro Vivo
Wednesday,
January 11, 2017
Sponsored by Teatro Vivo at the Emma S. Barrientos Mexican-American Cultural Center, 600 River Street, Austin
Free and open to the public; doors open at 5:30 p.m., performance begins at 6 p.m.
Followiing the performance UT Professor Roxanne Schroeder-Arce and a UT graduate student will conduct a talk-back