Texas State Black and Latino Playwrights Conference September 12 - 18, 2016 Features Actress Regina Taylor

AWARD-WINNING ACTRESS, PLAYWRIGHT REGINA TAYLOR IS

TOP GUEST ARTIST AT 14TH BLACK and LATINO PLAYWRIGHTS CONFERENCE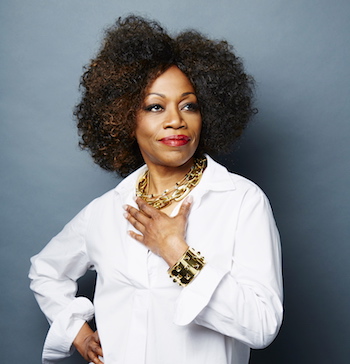 Golden Globe award-winning actress and playwright Regina Taylor is this year's guest artist at the 14
th
Annual Black and Latino Playwrights Conference Sept. 12-18 at Texas State University. A tribute to the native Texan will be held at 7:30 p.m. Friday, Sept. 16, in the Performing Arts Center Recital Hall.
Taylor, a versatile actress, won the Golden Globe in 1993 for her role as Lilly Harper in the television series "I'll Fly Away," the Civil Rights-era drama for which she was also nominated for an Emmy Award.
Other credits include the television movie "Crisis at Central High" (1981) and the military drama "Courage Under Fire." She was 19 and still a student at SMU in Dallas when she won the role in "Central High."
Eugene Lee, artist-in-residence at Texas State University and alum with a 30-plus year career in the entertainment industry, founded the conference more than a decade ago and serves as its artistic director. He appeared in the film "Women of Brewster Place" with Oprah Winfrey and performed with the Negro Ensemble Company in the Pulitzer Prize-winning "A Soldier's Play."
Lee most recently worked with Taylor in Chicago in on her critically acclaimed play "stop. reset." The Chicago Sun-Times called "stop. reset." a work that finds Taylor "at her bristling, ingenious and poetic best." The Chicago Tribune said Taylor with this play "has taken on an important, ambitious and under-explored topic."
"Her contributions to the canon of ever emerging black theater in America have been vastly important in the overall landscape of American theater," Lee said. "Her 20-year journey with the Goodman Theatre alone is a hallmark to her very full career. What Regina and others do is to provide insights into other people's cultures. She offers authentic insights into bridging cultures. She's addressing some issues you don't commonly see on the American stage."
Taylor also was the first African-American woman to play the title role in "Romeo and Juliet" on Broadway. She also has written numerous plays, including "Oo Bla-Dee," which won the American Theatre Critics/Steinberg New Play Award, and "Watermelon Rinds," which was first produced at the Humana Festival in Louisville, Ky. Her acclaimed musical, "Crowns," was the most performed musical in the country in 2006. Three years later her play "Magnolia" premiered at the famed Goodman Theatre in Chicago.
The Black and Latino Playwrights Conference is a week-long lab that exposes writers, directors and actors to the world of theater. Lee said this year's conference has received more than 170 scripts.
"What this means is that the Conference is filling a need in the country," he said. "And I'm especially proud that eight or nine of these scripts have become full productions in theaters and universities in various parts of the country. We have our finger on the pulse of American theater.
"It never fails to leave me awestruck in the work the students are producing and how much they are learning. It's not uncommon for me to hear them say, 'The growth I experienced during this week is more than what I received in two years. It's that kind of experience."
Taylor has said she derived great inspiration from her mother while growing up in Dallas, then Muskogee, Okla. "She taught me never to set limits on who I could be," she once told People magazine. "I developed an active imagination very young and was always writing plays and musicals."
Her childhood exposure to racial hatred influenced her work as a writer and actress and made her wonder further about the hatred her mother's generation must have experienced.
Other guest artists include Judy Tate, a four-time Emmy Award-winning writer; Kila Kitu, a critically acclaimed actor, author, director and producer; and Jennifer Chang, a founding member of Chalk Repertory Theatre.
Among previous honorees are Octavio Solis, playwright of more than 25 plays; Texas playwright Ted Shine, Luis Valdez, founder of El Teatro Campesino; and Douglas Turner Ward, a founder and artistic director of the Negro Ensemble Company.
Among other conference highlights are a reading of "Black Super Hero Magic Mama" by Inda Craig-Galvan at 7:30 p.m. Saturday, Sept. 17, on the Theatre Center Mainstage; and reading of "The Veils" by Hope Villanueva at noon Sunday, Sept. 18 also on the Theatre Center Mainstage. Also, on Sept. 17 at 1 p.m. in Room 201 of the Theatre Center is a writing workshop for 10-minute plays. Tickets for workshop participants are $10, including processing fee.
Tickets for both readings cost $5, including processing fee, for both students and the general public. Special Event Parking for all fine arts events occurring in Theatre Center and Performing Arts Center is now only available in the Edward Gary Street Garage. For more information contact Texas State Presents at
(512) 245-6500
or visit
txstatepresents.universitytickets.com
. For a full schedule of events for the Conference visit
theatreanddance.txstate.edu