Opinion: DIY Punk Rock Theatre: How Poverty and Austin's "Venue Crisis" Contributed to My Found Space Obsession, Chris Fontanes, Bottle Alley Theatre
by Chris Fontanes, Producing Artistic Director - Bottle Alley Theatre Company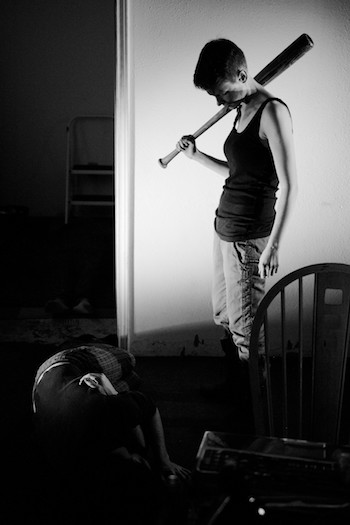 BAM Academy South - the home of our production of Wraith Radio - is not an easy place to find. It's located off the dimly lit Industrial Blvd, and there are no signs on the outside. In the darkness it is impossible to see the address, which is hidden on a pole that you can might glimpse only once you pass the venue. Parkour and movement academy by day, BAM Academy is a cavernous warehouse. We invaded it by night and turned a series of three rooms into what CTX Live Theatre referred to as "a wrecked, abandoned, and entirely unidentifiable outpost of catastrophe" by night.
Our show ran for six nights only, the minimum required to be considered for the B.Iden Payne Awards (which we never have been. But anyway) Before each performance, I held the house, waiting on audience members who couldn'tt find the space. I'd take the names of our stray audience to my actors. "Ah shit," they'd say, grabbing at their phones, "Let me call them." From the back room that served as our backstage area there was a flurry of conversation with many vague yet specific directions. Photos of the front of the space were sent.
Eventually, our audience found us and the play could begin. The audience stepped in over the actors as they walked into the blue-green washed world that we'd created over the last few months. There were twelve people in our audience tonight. We were sold out. On our second to last night, I spent an hour trying to figure out how to cram two more into a tiny, windowless room that gets too warm during the performances with that many unfamiliar bodies in it.
That night the play goes as plays go. It goes up and then, just like that, it goes down. After the performance the audience lingers for long afterwards, as our audiences tend to do. A few come up and introduce themselves to me. "I dug it," they'll say. "This whole thing is very punk rock." Then they lean in and ask in a conspiratorial whisper, "Is this legal?"
We closed Wraith Radio on Sunday, November 20th. The very next day, on Monday, November 21st, BAM Academy South announced on its Facebook that, effective immediately, it would be closing its doors for good. Unbeknownst to us at the time, our last performance was also the last night for the space as a whole. Little did we know that when we turned off the lights at the end of the night and locked up that it would be for good. The cold, dark venue - the one where we spent so many months, the one where we ate pizza and learned how to do wound makeup, the one where we smashed computer parts with a baseball bat - would stay just that. Cold and dark.
My favorite venue of all time and what I consider to be my creative home is called Sessions on Mary. It is located on the corner of Mary Street and South 1st. It is directly across from Bouldin Creek Cafe. Elijah Wood's house is about four doors down from it. We used to muse about him as we walked by on our way to rehearsal. We would say that if we saw him we'd invite him to the show, but alas, we never did.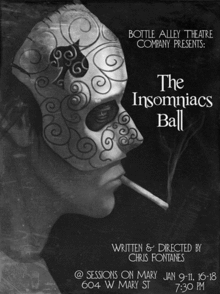 Sessions on Mary is a private residence, the front of which is completely covered in foliage. People couldn't find that either. A few times a month it transforms into a music venue where the house owners - Carol and John - open their doors to the public for intimate, and free, live music. I distinctly remember the first time I met with them. I was searching for a venue for my production of The Insomniac's Ball. I wanted somewhere warehouse-y, somewhere wide open where I could create a mess. Within thirty seconds of entering the house for the first time I realized that this wasn't the right venue for this play. It was too small, a weird shape, the acoustics were funny, the wooden floorboards underneath my feet creaked, the list went on. However, I went through my venue pitch anyway just to get an idea of what the space might cost. John and Carol, having just met me, graciously entrusted me with their actual home, shrugging "Sure! You could rehearse and perform here." I nervously enquired about the cost. They glanced at each other for a moment before shrugging that off as well, "Ah," they say "we wouldn't charge you."
I instantly agreed to stage my play there. I'll figure it out, I remember thinking. The Insomniac's Ball opens at Sessions on Mary on a winter's night. We have transformed the space slightly, littering it with torn up Tarot cards, candles, and pizza boxes. It looks like a party raged all through the night. Everything that I thought would take away from the play because of the space - the strange shape, the acoustics, the floor - only added to the play's depth. It was just perfect. The house became an unwritten and undirected extra character, one just as important as the blocking and the dialogue. I didn't build anything or add any extra lights. Why would we try and make it something that it isn't? Instead we embraced what it was, and what it was was beautiful. I wound up spending a year-long residency there, staging three shows, each using the space in a different way. Now whenever I am on South 1st I detour all the way over there and stand in front of the house for a bit, reminiscing.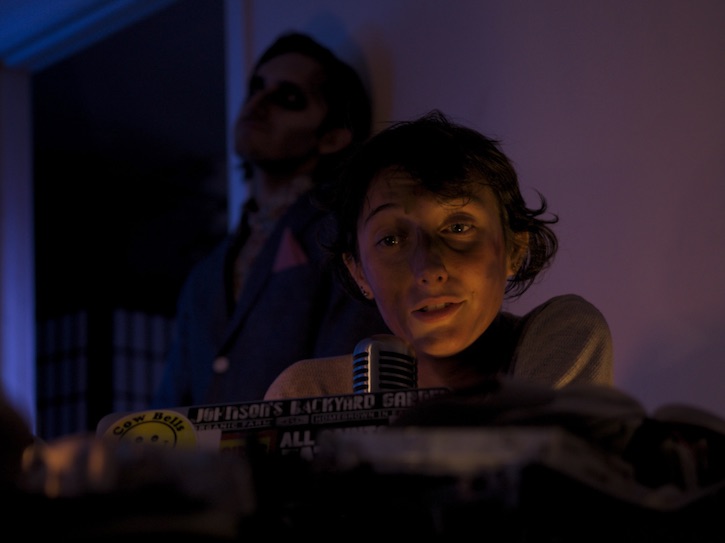 This brings us to the subject of this article, which is found space theatre. Found space theatre, by my definition, is the staging of live performance in a space that is not specifically designed for theatre. It is not a black box. There are no lights hanging from a grid. No fly system. Nothing like that. It is theatre that takes place wherever the hell is wants to take place.
"Is this legal?" is a common question that I'm asked. My first venue wasn't. It was an underground DIY punk rock venue called The Broken Neck. People illegally squatted there and watched over our gear. During our runs they would, very quietly, come out literally from the walls and watch. Then, when it was over, they'd leave. It is gone now. It is a screenprinting shop now.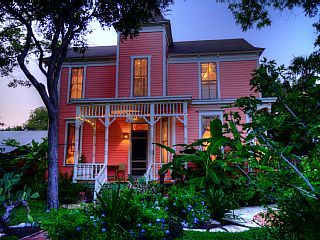 The Eponymous Garden
was a Victorian house that was over a hundred years old. It is still there, protected by the city as a historical structure, but it is just a shell with nothing in it anymore.
Grayduck Gallery moved across town.
Friends & Neighbors, a tiny cafe where we once staged a puppet show in a shed, is still there. Sessions on Mary is too.
Some 80% of the venues that I have staged something in here in Austin had never held a theatrical performance before. They were all kind of bemused about the whole thing. Our options, as small struggling company, are few and far between. We have to either create a new venue, or stage nothing. Those are literally our only options. Maybe this is why The Broken Neck was so attractive to us as a venue. For poor companies such as mine, we are a DIY culture, with origins in punk rock. We'll make it work with duct tape sweat. We'll sweep up enough of the broken glass that litters the floor so that the audience will have somewhere to sit. We'll embrace the exposed wires and the graffiti lined walls. Look, we'll say, you're coming into our world now.
Like so many others I was trained in a black-box setting. However, maybe this is just the punk in me, but I quickly grew tired of black boxes and of prosceniums. I grew to despise the fakeness. I detested (and still do) box sets. Here, the theatre would claim, this is a house! But it wasn't. It was a set that the master carpenter had constructed. Behind those walls there were beams with weights holding it down. The drawers wouldn't open. Nothing would open. There was glow tape so no one would fall.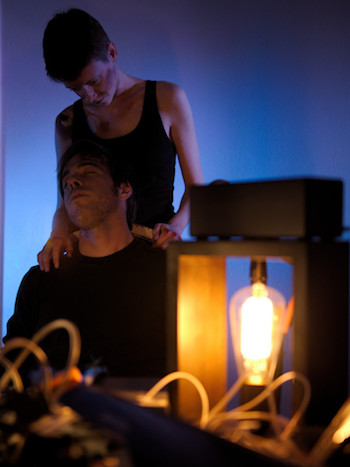 No one has glow tape in their actual house. I wanted honesty. I needed the honesty. If the play was set in a house I wanted to see it staged in an actual goddamned house. I wanted something different. New challenges. I had already staged a million shows inside the black-box environment, but I had never staged something in a house before. Or a shed. Or an art gallery. This led to every new venue presenting its own unique challenges. I'll sit in the venue, alone, long before the actors ever join me and I'll sketch. Where will the audience go? Where are my entrances and exits? What will the audience see? In the darkness of proscenium staging, these are, with very few exceptions, questions that have same answers.
This brings us, of course, to Austin's "venue crisis." I shouldn't put it in quotation marks. There is a definite lack of venues. I couldn't fathom what the line or cost would like like to perform at say, The Vortex. And then with, what, one week of rehearsal time in the actual space the week of the performance? I don't begrudge them, or any venue, for this. That is how they are still able to operate. I once inquired about the cost of what it would be to rent the Museum of Human Achievement - which isn't even a traditional theatrical space - and I was quoted a thousand dollars a weekend.
A thousand dollars. More than my entire budget for an entire year, for one weekend. I wonder, sometimes, if there is a venue crisis or rather just a venue crisis consisting of the kinds of venues that people prefer. The alternative is hard. And, by the way, I am in no way claiming to be the master of found space theatre here in Austin. Almost every company uses it to some extent. The very first play I saw in Austin was a beautiful production of The Man Who Planted Trees by the Exchange Artists that took place at Sparky Park. The last production I saw was Let The Dead Now Speak which took place at the Sessions on Mary house that I discovered, used in a way that I hadn't, in total darkness, as invisible figures slithered about and scared the bejesus out of its audience.
I have become somewhat obsessed with the use of found space in contemporary theatre. My hand was forced, but my hand was already moving in that direction anyway. I'll wonder - what other unexpected place could I use to stage something? A grocery store? A tattoo parlor? How many tattoo shops are there in Austin? One of them is BOUND to say yes. Things like that. I have no desire ever to stage something in a black box again. I've done that. Now, the question going forward is, well, what else can I do? Going forward, I am going to embrace, and not shun, this DIY punk type attitude. That's the attitude that got some of Austin's most iconic venues built, and it's the attitude that keeps our shows, and so many of our friends' shows, going.
Keep going! Keep exploring and building. Embrace the challenge. Find something weird to stage something equally weird.
-- Chris Fontanes
---
Wraith Radio
by Chris Fontanes
Bottle Alley Theatre Company
Fridays-Saturdays,
November 11 - November 20, 2016
Opening night is Friday, November 11th with performances Saturday and Sunday evenings. The play shall conclude its run on Suday the 20th for a limited run of six nights. The house shall open at 7:30 with the performance scheduled to begin at 8.
Tickets are $11.34 (service fee included) via



Performances shall take place at BAM Academy South located at 1202 Industrial Blvd. Look for the signs located outside the gate. Upon entering the gate look for the building that is illuminated with BAM ACADEMY written on the outside. Those familar with us know that we practice found space theatre, and our venues are typically unusual.