Fredericksburg: Jaston Williams Attends Aug. 14 Greater Tuna Gala, Conducts Aug. 15 Improv Class
Greater Tuna Star/Playwright Coming to FTC!
Jaston Williams Leads an Improv Class Aug. 15th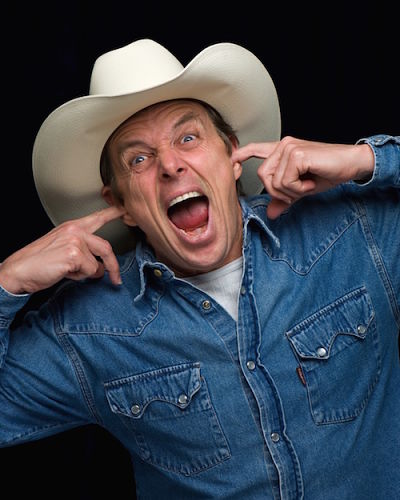 The Fredericksburg Theater Company is excited to announce that playwright and original Greater Tuna star Jaston Williams will be their special guest for the August 14th opening of the production. Mr. Williams will attend a celebratory gala held in the lobby of the theater at 6:30 pm. At 7:30 the curtain will rise on FTC's production of Greater Tuna. Immediately following the performance Mr. Williams will participate in a talkback session with the audience.
On Saturday, August 15th, at 1:00 pm, Mr. Wiliams will teach an Improvisation Acting workshop for young actors. Since the workshop is limited in attendance, registration along with a $60 fee is required. Anyone interested in the workshop should contact the theater by calling 830-997-3588, Monday through Friday, 9:00 am to 5:00pm. FTC's production of Greater Tuna opens Thursday, August 14th, at 1668 Hwy 87 South, Fredericksburg, TX, 78624. The production runs August 14th through August 23rd, Fridays and Saturdays at 7:30, Sundays at 2:00 pm.
FTC's Executive Director Steve Reily is enthusiastic about Jaston Williams' upcoming appearance. "We are very excited to welcome Jaston to our theater", said Mr. Reily. "Not only is he genuinely funny and charming, he is very knowledgeable and experienced. This is a great opportunity for young performers to study improvisational acting from a true master."
Greater Tuna is the hilarious comedy about Texas' third smallest town, "where the Lion's Club is too liberal and Patsy Cline never dies." The eclectic band of citizens that make up this town are typically portrayed by only two performers, making this satire on life in rural America even more delightful as they depict all of the inhabitants of Tuna -- men, women, children and animals.
The show began as a simple party skit based on a political cartoon. Talented creators Joe Sears, Jaston Williams and Ed Howard were the imaginative authors that parlayed the sketch into a critically acclaimed comedy. The first production premiered 1981 in Austin, Texas. One year later, Greater Tuna opened Off-Broadway where it played for over a year. Eventually it went on to tour major theatres all over America and overseas. Thirty years later, Greater Tuna is still one of the most produced comedies in North America.
Performances for Greater Tuna will be August 14th through the 23rd, at the Steve W. Shepherd Theater, 1668 South US Hwy 87, Fredericksburg, TX, 78624. Showtimes are Fridays and Saturdays at 7:30 p.m., Sundays at 2:00 pm. The special opening night gala with Jaston Williams will be held on August 14th, beginning at 6:30 pm. All seats for the opening night are $35. Regular admission is $29 for adults, $12 for children 17 and under. Tickets can be purchased online at www.fredericksburgtheater.org or by calling the box office at 830-997-3588. An answering machine will capture requests after hours. For more information or directions, visit www.fredericksburgtheater.org.
About the Fredericksburg Theater Company: The mission of the Fredericksburg Theater Company (FTC) is "to provide superior theatrical programs for regional participation which entertain, educate, enrich and inspire." Formed in 1997 by Jeryl Hoover, the theater has grown to an audience of over 10,000 annually. All performances are held at the Steve W. Shepherd Theater. FTC is a 501(c)3 non-profit organization. It has received statewide recognition from the Texas Nonprofit Theatres as well as grants from various arts endowment organizations.
---
Greater Tuna
by Joe Sears, Jaston Williams and Ed Howard
Fredericksburg Theater Company
Fridays-Sundays,
August 14 - August 23, 2015
see www.fredericksburgtheater.com