Austin Theatre Profile: JARRET MALLON of Tex-Arts, Lakeway, by Alex Garza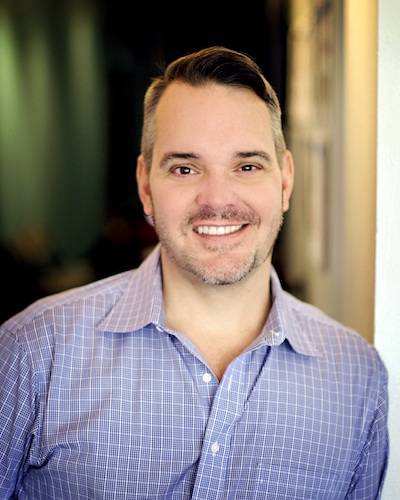 So how does one go from growing up in the town of Georgetown, Texas to spending two-and-a-half years playing "Corny Collins" in the U.S. National Tour of Hairspray?
For Jarret Mallon, Executive Director of TexARTS, his artistic journey began thanks to his mom, who introduced theatre to him and his brother at an early age. They would attend productions at Southwestern University, as well as the touring shows at Austin's Bass Concert Hall. Despite this introduction to performance so early in life, Mallon admits he was a late bloomer when it came to his involvement in theatre.
"I didn't step onstage until I was 29 years old," he remembers. "I had seen an audition flyer for a production of Kiss Me Kate at the Texas Tech School of Music. I was a big theatre fan and knew I could sing, so on a whim I auditioned and was cast in a bit part."
His appearance in that musical led to the role of "Jim" in The Glass Menagerie, and within the next 10 months, Jarret had done six shows at Texas Tech and in Lubbock. Having already studied public relations, he auditioned for and was accepted to the master's program in vocal performance at NYU. Within his first year of graduate school, he had booked his first professional season of summer stock shows in the Berkshires. He lived in Manhattan for nine years and worked as an actor in regional theatre across the United States.
I've been lucky enough to play "Will Rogers" in The Will Rogers Follies on three different occasions," he comments about one of his favorite stage characters. "It's a role that allows me to really bring all the unique talents I have to the table."
For the role of "Will Rogers" at the Arizona Broadway Theatre, he earned the Zoni Award for Theatre Excellence nomination for lead actor in a musical. He has additionally portrayed the characters of Caleb in The Spitfire Grill, Joe in Merrily We Roll Along, Bobby in Company, the Emcee in Cabaret, Berger in Hair, and Zach in A Chorus Line. He toured in Hairspray for more than 600 performances.
Mallon joined TexARTS in 2011 as an actor in the 2011-2012 professional season.
"In May of 2012 I was hired to coordinate marketing, communications, community relations and special events for TexARTS. I was promoted to TexARTS Executive Director in the spring of 2015 and charged with relaunching the TexARTS Professional Series of plays and musicals."
Jarret sees amazing growth potential for TexARTS. This year has seen a 75% increase in season ticket subscriptions. He hopes this will result in TexARTS being able to produce more shows and employ more artists.
"I think the well of talent runs deep, and there are so many creative people in Austin who need a home to practice their art. I'm really proud that the TexARTS board recognizes and appreciates that and was willing to re-launch our professional series of musicals and plays."
TexARTS opened their 2016-17 season with My Way: A Musical Tribute to Frank Sinatra, which ran through July 24. Next is All Shook Up, which opens on August 12, then an October production of A Few Good Men, with The Marvelous Wondrettes closing their season. Mallon is excited to be making his directorial debut this summer with All Shook Up.
"This process has been thrilling and terrifying, but mostly so exciting. We have a fantastic cast lined up and my friend from New York City Kimberly Schafer, who is the dance assistant to Broadway legend Tommy Tune, is coming down to choreograph the show."
Jarret Mallon's resumé is impressive, and he looks forward to many more creative experiences. He will most certainly be seen onstage in the future. He has many more dream roles to play.
"I've always wanted to be a Jersey Boy," he admits. "But I'm a little too Irish to play Italian."
Really? His list of accomplishments suggests that for Jarret Mallon anything is possible.
Alex Garza is an actor and writer living in Austin, Texas.