Marc Pouhé Reflects on Jarrett King's A WAR OF THE WORLDS, Penfold Theatre, June 2 - 18, 2022
From Facebook: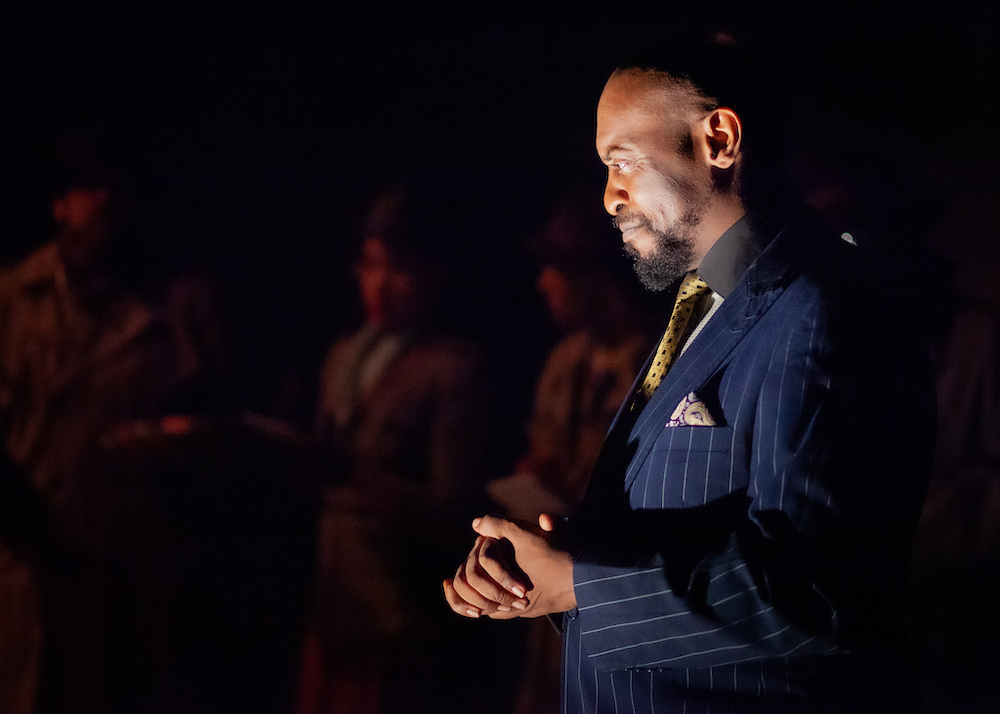 After a full day to reflect, I am overwhelmed with what the cast and crew of "A War of the Worlds" was able to accomplish. I didn't feel the need to share this before closing, but this production overcame several hurdles that could have ground it to a halt.
I was first approached by the Penfold team around January 2020 with the premise of playing Orson Welles in a mostly Black reimagining of War of the Worlds. Already intrigued, once I found out Jarrett King was writing it, I was fully excited and invested.
We had an in person reading of the script in February 2020 and my instincts were confirmed. I'd never read or performed in a play like this and was excited to see it fully realized.
Then March 2020 happened. COVID-19 brought the entire planet to a stand still. Industries across the world economy were stopping work entirely, postponing work, laying off large portions of staff or completely going under. Theatre companies were no exception.
We optimistically thought that we could return to this project in the fall of 2020, mounting the show during the last month before the presidential election. Covid numbers and deaths rose, squashing that possibility. Additionally, the summer of 2020 saw a long overdue partial reckoning for this country's original sin of chattel enslavement of African people. I tend to think this allowed the playwright even more fuel and inspiration for his evolving script.
Penfold was dedicated to seeing this story through, though, and kept us updated through emails and occasional zoom readings of the evolving script. An inside joke among the rotating group of actors attached to the project was that we were always available for any rescheduling dates, pending our availability and commitment to Marvel's Blade Reboot.
By the time the 2021-2022 season rolled around, theatre companies around the world saw an opportunity to start in person productions with varying levels of Covid safety protocols. At one point a February 2022 production was considered, I believe, but we all eventually settled on and committed to May rehearsals and a June production 2022 schedule.
It was finally happening. But as life goes on and people's commitments evolve, our rehearsal schedule began to maximize availability of as many (and very rarely all) actors to work. We all committed to 100% availability during the tail end of rehearsals and I won't lie, we used it to save the production from near catastrophe.
During our rehearsal process, we replaced the character with the 2nd largest part due to health concerns. During production, we had to temporarily replace two other actors due to health concerns and a death in the family. I am forever grateful to all of the actors who stepped in, temporarily or permanently, to not just save the production but actually help us advance the production with their fresh energy and ideas.
This miracle of a production was possible because we all worked professionally, believed in ourselves and each other, and believed in Jarrett King's vision.
I love each and every team member and know that I have made friends for life. And if you run a board or a theatre company, seriously consider reaching out to Penfold and Jarrett King to put this play on your future schedule.
---
A War of the Worlds
by Jarrett King
Penfold Theatre Company
Thursdays-Sundays,
June 02 - June 18, 2022
Ground Floor Theatre
979 Springdale Rd
Austin, TX, 78702
June 2 - 18, 2022
Price: $16-$31
Run time: 2 hours
For ages: High school+
Need help? Email us or dial (512) 850-4849.
Special event on Saturday, June 4: First Saturday Soiree. Stay after the show to celebrate opening weekend with the cast and creative team! Food and drinks provided. Be sure to reserve your place when you purchase your ticket.
Ticketing
Single tickets for A War of the Worlds are on sale now and start at $16. Discounts available for student and senior tickets.
Tickets online at penfoldtheatre.org/event/a-war-of-the-worlds/2022-06-18/.
The needs of the community are changing, and Penfold will remain flexible and responsive. Penfold's COVID procedures are closely linked to city guidelines and scientifically backed practices. Safety protocols for this production will be kept up to date and made available at www.penfoldtheatre.org. For answers to specific questions, reach out to info@penfoldtheatre.org