Penfold Theatre Hires Managing Director, Begins 12th Season in Austin/Round Rock
Penfold Theatre hires its first full-time Managing Director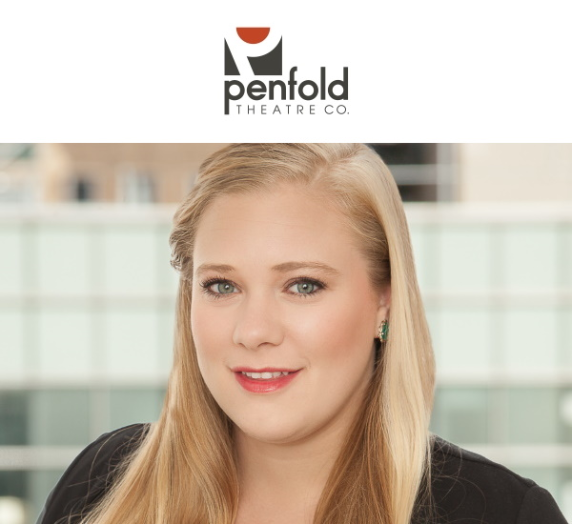 Penfold Theatre hires its first full-time Managing Director, Grace Riehl, as the company launches its twelfth season.
A native of Waco, Texas, Ms. Riehl earned a BFA in Theatre Performance from Baylor University and moved to New York City to start her career. There, while working at the American Theatre Wing, she discovered a love of fundraising for the arts and worked as a line producer for the Obie Awards. Ms. Riehl also spent time in the city's financial sector before enrolling in Brooklyn College's MFA program for Performing Arts Management. As part of her studies, she served as a development resident at Ann Bogart's SITI Company and the Public Theatre. Ms. Riehl was selected for the opening at Penfold following her graduation and a nine-month national search on the part of the company. Excited to return home to Texas, she started at her post on September 1st.
Ms. Riehl's arrival coincides with a pivotal moment in Penfold Theatre's history. Founded in 2007, the company aims to connect diverse audiences to intimate stories of empathy and hope. Its consistent output over twelve short years is undeniable: 42 professional productions, 129 local awards and honors, 750 artist contracts, and 47,000 patrons and students served. Today, the company offers a wide range of plays and musicals from classics to world premieres; it partners with city and nonprofit arts organizations to build a sustainable local arts community; and it seeks to give back through free performances, education programs and outreach to Central Texas' visual and hearing impaired populations.
As a 501(c)(3) nonprofit organization now operating with an annual budget of about $250,000, Penfold is poised for a new chapter of growth. In its second decade, the company is recommitting to its vision through bolder programming, deeper community engagement and a new, permanent facility. However, to move forward on these initiatives, Penfold required an expanded leadership team with new skills and experience.
In her new position as Managing Director, Ms. Riehl oversees all aspects of fundraising and marketing. On the short term, the impact of the new position is two-fold: first, it will generate much-needed resources for Penfold's mainstage programs and outreach efforts; and second, it will free Penfold's founding artists to focus on what they do best: creating powerful arts experiences. Says founding Producing Artistic Director Ryan Crowder, "Nathan [Jerkins, co-founder and Associate Artistic Director] and I are tremendously excited to have Grace on the team. Her energy, enthusiasm and experience will break open a whole new range of possibilities for our artists and audiences."
On the long term, Penfold believes this position will create a deeper bond with its supporters, which will in turn allow the organization to dream more boldly in its programming and institutional strategy. Says Ms. Riehl, "I am thrilled to join Penfold during this exciting new chapter. It is an honor to be a member of such a dynamic team and take part in the excellent work that Penfold does bringing vibrant, high quality theatre to both Travis and Williamson Counties."
About Penfold Theatre
Penfold Theatre invites audiences to connect and be inspired through stories crafted by our world-class local artists. 2019-2020 is the company's twelfth season: Ghost Quartet (October 2019), It's a Wonderful Life Classic Radiocast (December 2019), Vincent (2020) and The Tempest (June 2020).