2019-2020 Season, Mary Moody Northen Theatre, St. Edward's University, Austn
Mary Moody Northen Theatre Announces
47th Anniversary Season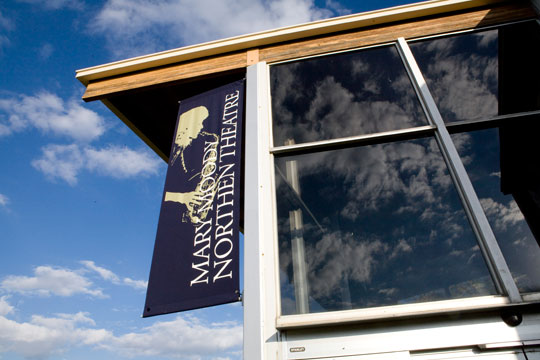 Mary Moody Northen Theatre, the award-winning producing arm of the St. Edward's University theater training program, announces its 2019-2020 season, featuring four dynamic productions. Join us for our 47th annual season and share in the fun and excitement at the theater on the hill.
A Flea In Her Ear
A New Version of George Feydeau's Farce
By David Ives
Directed by Robert Tolaro
Sept. 26–Oct. 6, 2019
Oh la la! When Raymonde Chandebise suspects her husband is having an affair, she confides in her best friend, Lucienne, and Lucienne concocts a clever plan to catch him in the act. What could possibly go wrong, you ask? Peut-être an evening of madcap comic antics, complete with significant shenanigans and plenty of peccadilloes on display. This is French farce in full force, filled with laugh-a-minute physical comedy. Allons-y!
"[A] crisp, delightfully ridiculous translation."
—Time Out Chicago
Marisol
By José Rivera
Directed by Liz Fisher
Nov. 14–24, 2019
Marisol Perez commutes from her apartment in the Bronx to her successful copy editor job with a Manhattan publisher. But something is amiss: apples are extinct, milk tastes like salt, and the moon has been missing for nine months. Marisol sets out to find a missing friend and discovers something greater: her strength, when combined with others', could save the universe. Rivera's apocalyptic urban fantasy is a cautionary tale, brimming with dark humor, bold vision and theatricality. Winner of the 1993 Obie Award.
"[F]earsome, frantic and poetically frenzied."
— The Village Voice
The Curious Incident of the Dog in the Night-Time
Based on the novel by Mark Haddon
Adapted for the stage by Simon Stephens
Directed by Robert Tolaro
February 13 - 23, 2020
Although he is exceptional at math and has an extraordinary brain, 15-year-old Christopher has never ventured beyond the end of his road. When he is falsely accused of murdering his neighbor's dog, he sets out to find the culprit against his father's wishes, and in doing so embarks on a journey that will change his life forever. Winner of seven Olivier Awards and the 2015 Tony Award for best play.
"…works on every level — crowd-pleasing, eye-opening, life-affirming and unmissable."
— Time Magazine
Pippin
Book by Roger O'Hirson
Music and Lyrics by Stephen Schwartz
April 16–26, 2020
With an infectiously unforgettable score from musical theatre giant Stephen Schwartz (Godspell, Wicked), Pippin tells the story of one man's journey to find his Corner of the Sky and true source of happiness. Since its 1972 Broadway debut, Pippinhas garnered 23 Tony nominations and four Tony Awards, including Best Direction, Best Choreography and Best Lighting and Best Musical Revival. 48 years later, this magical musical continues to captivate and appeal to the young at heart throughout the world.
"Astonishing.... Dazzling and awe-inspiring."
— The New York Times
Performances
All performances are at 7:30 p.m. Thursday to Saturday and 2 p.m. Sunday. The Curious Incident of the Dog in the Night-Time and Pippin will add a Wednesday show during the second week of their runs.
Location
Mary Moody Northen Theatre is located at St. Edward's University along Campus Drive. Campus map: http://www.stedwards.edu/map/maincampus. Contact the MMNT box office for parking registration.
Tickets
Season passes go on sale Aug. 26 through the Mary Moody Northen Theatre box office at (512) 448-8484 and online at http://www.stedwards.edu/theatre. Single tickets for each production go on sale three weeks prior to opening and may be purchased through the MMNT box office or the website. Box office hours are 1–5 p.m. Monday–Friday when classes are in session and one hour prior to curtain. Group rates for 10 people or more are available. Information: 512-448-8484
About Mary Moody Northen Theatre
Mary Moody Northen Theatre operates on a professional model and stands at the center of the St. Edward's University theater training program. Through MMNT, students work alongside professional actors, directors and designers, explore all facets of theatrical production. MMNT is affiliated with Actors' Equity Association (AEA), the union of professional actors and stage managers in the United States. Students may earn points towards membership in the union through acting and stage management activities. MMNT operates under an AEA U/RTA contract and is a member of Theatre Communications Group. Information: 512-448-8487 or www.stedwards.edu/theatre.
About St. Edward's University
St. Edward's University is a private, liberal arts college in the Catholic, Holy Cross tradition with approximately 4,500 students. Located in Austin, Texas, it is one of the top universities in Texas and offers more than 50 undergraduate and graduate programs, including MBA programs and a master's degree in counseling. With a network of partner universities around the world, St. Edward's is a diverse community with educational opportunities designed to inspire students to cultivate a global perspective. St. Edward's has been recognized for 16 consecutive years as one of "America's Best Colleges" by U.S. News & World Report and is #12 among Best Regional Universities in the West in the U.S. News 2019 rankings. For more information on St. Edward's, visit stedwards.edu/about.