Hill Country Community Theatre Awards Christine Ashbaugh a $1000 Scholarship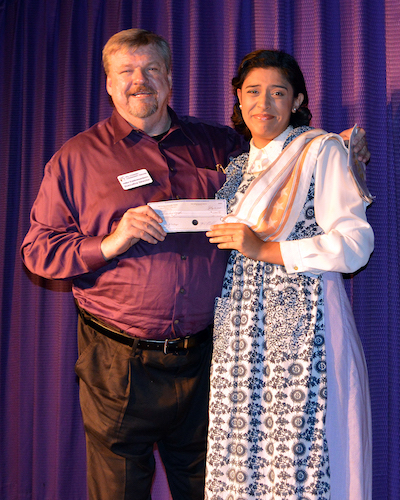 The Hill Country Community Theatre is pleased to announce it has awarded The Phyl Holbert College Scholarship, in the amount of $1,000.00, to Christine Ashbaugh for her outstanding contributions to HCCT.
In addition to performing on the Hill Country Community Theatre stage in "Seussical," "9 to 5: The Musical," as Annie Oakley in "Annie Get Your Gun," and currently in Rodgers and Hammerstein's "State Fair," Christine has volunteered her talents for scenic design and painting, and as one of the directors of HCCT's Youth Summer Theatre Program. Christine will be attending Texas State University this September. She plans to major in music.
"It is always wonderful to watch children grow by participating in the performing arts," said Mike Rademaekers HCCT's executive director. "Moreover, it's great to watch some of them grow into skilled leaders. Christine is one of those outstanding individuals. It has been a great joy to see her become a superlative and confident young adult."
The Hill Country Community Theatre was founded in 1985 by Phyl Holbert and Gigi Fischer. Its mission is to present and promote quality theatre activities and programs that entertain, educate and encourage community participation in the support of performance and related cultural arts. HCCT is one of the oldest continuously operating community theatres in Texas and serves the public as a showcase for extraordinary local talent.
If you are interested in contributing to the Phyl Holbert Scholarship fund and helping more college bound students succeed, please visit www.theHCCT.org, or call the box office at (830) 798-8944. Rodgers and Hammerstein's "State Fair" is now playing through August 5th.