2018-2019 Season, Fredericksburg Theater
Music, Mystery, and Merriment!
Fredericksburg Theater Company Announces Seasons 22!
7 Main Stage Productions
7 Special Events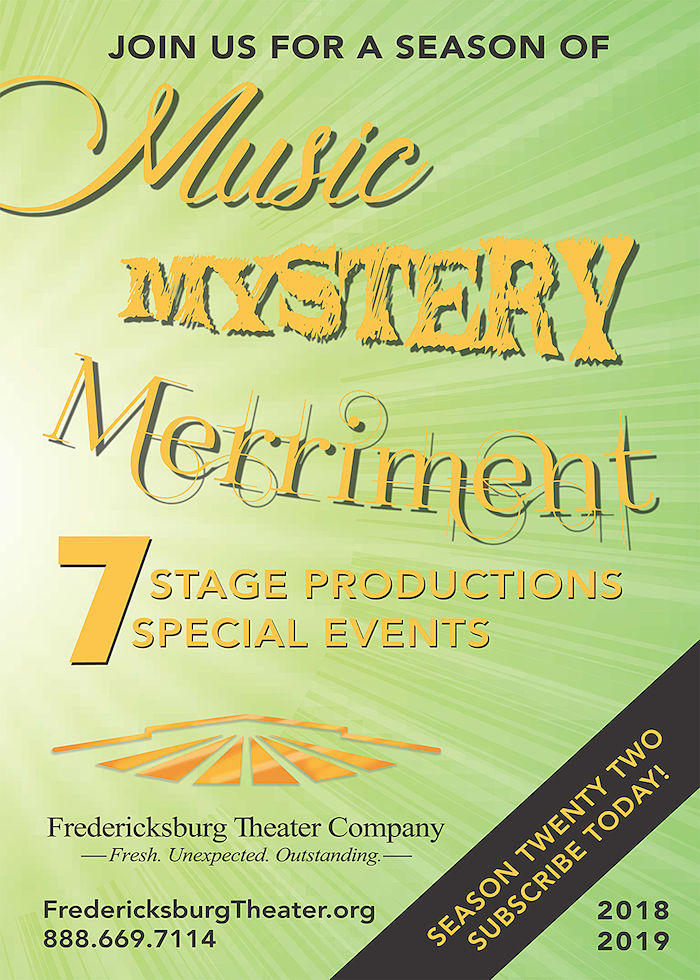 On Friday evening, March 14th, the Fredericksburg Theater Company (FTC) announced their selections for their twenty-second season. Entitled Music, Mystery, and Merriment! the season includes five musicals, a classic comedy and a mystery. All performances will be held at the Steve W. Shepherd Theater, 1668 Hwy 87 South, Fredericksburg, TX, 78624.
Donations for the twenty-second season are ongoing through most of the year. Donors receive exclusive benefits, including the advantage of early ticketing. A variety of different donor levels are offered and can be found on the theater's website. Donations can be made by calling the theater office at 888-669-7114 or by downloading the donation form from their website at fredericksburgtheater.org. Also on sale now are Flex Passes, good for six tickets which at the reduced rate of $145.
Auditions for all main stage productions are open to the public with exception of Winter Wonderettes. Audition dates may be found on the theater's website, fredericksburgtheater.org, under the heading "Auditions."
Besides the seven main stage productions, FTC will also feature seven special events. According to Executive Director Steve Reily, the slate of special events is best described as, "a mix of live music, comedy, and guest artists that will add a welcoming blend of variety to the season."
Reily says this is FTC's most ambitious season to date. "We believe that this season is our most eclectic, with a remarkable gathering of traditional Broadway hits, family-friendly fare, Tony-winning musicals, and a heart-racing thriller added for extra excitement. For the first time in our twenty-two year history, FTC will produce five musicals in one season, an astounding feat that is further evidence of our continued growth and success."
7 Main Stage Productions
All Main Stage productions are on weekends, with Friday and Saturday performances at 7:30 p.m. and Sunday performances at 2:00 p.m.
The Music Man - June 15 - July 1, 2018
Book, Music, and Lyrics by Meredith Willson
Story by Meredith Willson and Franklin Lacey
Wicked, funny, warm, romantic and touching, Meredith Wilson's six-time Tony Award-winning musical follows fast-talking salesman Harold Hill as he cons the people of River City into buying instruments and uniforms for a band he vows to organize despite not knowing a trombone from a treble clef. His plans to skip town with the cash are foiled when he falls for Marian the librarian. Songs include "Ya Got Trouble," "76 Trombones," and "Til There Was You." (Rated G, Adults $29 / 17 & Under $12)
Seussical JR. - July 26 - 29, 2018
Book by Lynn Ahrens and Stephen Flaherty Music by Stephen Flaherty
Lyrics by Lynn Ahrens
Conceived by Lynn Ahrens, Stephen Flaherty and Eric Idle Based on the works of Dr. Seuss
Music Supervised, Adapted and Produced by Bryan Louiselle
"Oh, the thinks you can think" when Dr. Seuss' best-loved characters collide and cavort in an unforgettable musical caper! Transporting audiences from the Jungle of Nool to the Circus McGurkus, the Cat in the Hat narrates the story of Horton the Elephant, who discovers a speck of dust containing tiny people called the Whos. Horton must protect the Whos from a world of naysayers and dangers, and he must also guard an abandoned egg that's been left in his care by the irresponsible Mayzie La Bird. Although Horton faces ridicule, danger, and a trial, the intrepid Gertrude McFuzz never loses faith in him. Ultimately, the powers of friendship, loyalty, family, and community are challenged and emerge triumphantly! (Rated G, Adults $12 / 17 & Under $10)
You're a Good Man, Charlie Brown - Aug. 10 - 19, 2018
Based on the comic strip "Peanuts" by Charles M. Schulz
Book, Music, and Lyrics by Clark M. Gesner
Additional Dialogue by Michael Mayer
Additional Music and Lyrics by Andrew Lippa
Charles Schulz's beloved comic strip comes to life in the Tony-winning classic musical! The whole Peanuts gang is here: bossy Lucy is hopelessly in love with piano prodigy Schroeder, perfectionist Sally is still mocking blanket-toting Linus, Snoopy is in the doghouse, and "blockhead," himself, Charlie Brown, can't ever get a break. Brief vignettes span the months from Valentine's Day to Beethoven Day, from wild optimism to utter despair. Whether you're keen to fly with the Red Baron, moon over a sonata or doing your best to find happiness; You're a Good Man, Charlie Brown is a crowd-pleaser for all ages! Performed with a live orchestra. (Rated G, Adults $29 / 17 & Under $12)
Dial 'M' for Murder - October 12 -28, 2018
By Frederick Knott
Glamorous socialite Sheila Wendice has it all: a wide circle of friends, an exciting lifestyle and a husband who dotes on her. When an old friend visits from overseas, she sends him off with her husband to enjoy a night on the town and curls up in bed for an early night. Then the phone rings and Sheila's evening takes a dramatic turn… Suddenly she finds herself fighting for her life. But who would want her dead? Full of twists, turns, and suspense, this gripping mystery is a masterpiece of writing that will keep you on the edge of your seat. (Rated PG,Adults $29 / 17 & Under $12)
Winter Wonderettes - Dec. 14 -23, 2018
Written & Created by Roger Bean
Musical Arrangements by Brian William Baker
Orchestrations by Michael Borth
Vocal Arrangements by Roger Bean & Brian William Baker
The Wonderettes are back! This seasonal celebration finds the girls entertaining at the annual Harper's Hardware Holiday Party. When Santa turns up missing, the girls use their talent and creative ingenuity to save the festivities! Featuring great '60s versions of holiday classics such as "Santa Claus Is Comin' to Town," "Jingle Bell Rock," "Run, Rudolph, Run," and "Winter Wonderland," the result is, of course, wonderful! Winter Wonderettes is a sing-a-long, glittering present that is guaranteed to put you in the holiday spirit! (Rated G, Adults $29 / 17 & Under $12)
Monty Python's Spamalot - Feb. 15 - March 3, 2019
Book and Lyrics: Eric Idle
Music: John Du Prez
As gleefully silly, yet wickedly smart as the beloved British comedy troupe that inspired it, Spamalot parodies the legend of King Arthur and his band of haphazard knights as they sing and dance their way through an inane divine quest - the search for the Holy Grail. Along the way, Arthur and his men must evade beautiful showgirls, obnoxious Frenchmen, a death-defying limbless knight, and a killer rabbit! Don't miss this madcap musical comedy of magic and mayhem. A Tony Award Winner for Best Musical. (Rated PG-13, Adults $29 / 17 & Under $12)
Bus Stop – April 11 – 28, 2019
by William Inge
In the middle of a howling snowstorm, a bus out of Kansas City pulls up at a cheerful roadside diner. All roads are blocked, and it appears the weary travelers are stuck with each other until morning. Cherie, a nightclub entertainer, is the passenger with most to worry about. She's been pursued, courted and finally kidnapped by Bo Decker, a boisterous but naïve cowboy with the romantic methods of a headstrong bull! An American classic, this sentimental and charming comedy will touch your heart and your funny bone. (Rated PG, Adults $29 / 17 & Under $12)
7 Special Events
Tea for Three: Lady Bird, Pat, and Betty
starring Emmy Award-winning Elaine Bromka
Sept. 1st and 2nd, 2:00 p.m.
What might three former First Ladies reveal if they could? In this humorous and poignant evening, Emmy Award-winning actress Elaine Bromka takes on the personae of Lady Bird Johnson, Pat Nixon and Betty Ford in this unforgettable play about the personal cost of the hardest unpaid job in the world. (Rated PG, Adults $29 / 17 & Under $12)
Montopolis performs Music for Enchanted Rock
Sept 7th, 2018 at 7:30 p.m.
Montopolis, an ambient classical group from Austin, performs original compositions live as part of a multi-media show featuring Rip Shaub's stunning landscape photography and audio recordings of the legends of Enchanted Rock. "the great long-lost collaboration between Ennio Morricone and Phillip Glass that we didn't know we were missing." - Texas Monthly (Rated G, Adults $29 / 17 & Under $12)
Freddyburg's Haunted House
Oct 31st, 2018 at 7:00 p.m.
Freddyburg presents a haunted house unlike any other! Our expert teams of technicians are staging a first-class fright feast full of lights, costumes, scenery and special effects. Are you brave enough to enter!? (Rated PG-13, Adults $8 / 17 & Under $6)
Jaston Williams in Clear to Partly Crazy
Nov. 3rd & 4th, 2018 / Sat. at 7:30 p.m., Sun. at 2:00 p.m.
Greater Tuna star and co-writer Jaston Williams stars in his one-man show where he holds forth on subjects all Texans understand; cheerleaders, tornadoes, and certifiably insane blood relatives. Travel with him from grandstands to storm cellars to the occasional mental institution, laughing all the way. (Rated PG, Adults $29 / 17 & Under $12) Nov. 3rd performance features a gala starting at 6:00 p.m. with food, drinks, and silent auction benefiting FTC.
Texas Hill Country Cowboy Gathering - Nov. 9 & 10, 2018
This two-day celebration of song, story, poetry and art features internationally acclaimed, regional and local talent. Songwriters, poets, balladeers and artists will celebrate the legend and cowboy spirit in all of us. An event for all ages! Tickets for individual performances and weekend passes are available. (Rated G, Admission charge to be announced soon.)
Joyeux Noel: Christmas with Willow City - Dec. 2, 2018 - 2:00 p.m.
Willow City is serving up their sibling harmony... pop-folk, with a hint of bluegrass. You'll clap your hands to mandolin, guitar, and banjo and sing along to old Christmas favorites as well as songs from their brand new album. Kick off the season with Willow City, and you'll leave with a spring in your step and a song in your heart. (Rated G, Adults $29 / 17 & Under $12)
The Hideout Theatre - March 15, 2019 - 7:30 p.m.
Austin's premier improvisation theatre company performs their brand of award-winning comedy! Featuring an all-star lineup of performers with years of experience in a show that is accessible, surprising, and hilarious. A guaranteed evening of endless laughter! "An honest, wonderful night of theatre." - The Austin Chronicle (Rated PG, Adults $29 / 17 & Under $12)
About the Fredericksburg Theater Company: The mission of the Fredericksburg Theater Company (FTC) is "to provide superior theatrical programs for regional participation which entertain, educate, enrich and inspire." Formed in 1997 by Jeryl Hoover, the theater has grown to an audience of over 13,000 annually. All performances are held at the Steve W. Shepherd Theater. FTC is a 501(c)3 non-profit organization. It has received statewide recognition from the Texas Nonprofit Theatres as well as grants from various arts endowment organizations.