Georgetown Palace Theatre Appoints Nancy Manning as Executive Director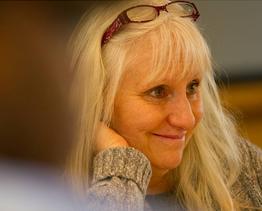 The Board of Directors of the Georgetown Palace Theatre is excited to introduce Nancy Manning as the theatre's executive director. An experienced executive director, nonprofit manager, and consultant, Ms. Manning founded Power Your Mission, a consultancy firm dedicated to assisting organizations grow and realize their potential. When she served as the Executive Director of the Travis Audubon Society, Ms. Manning was recognized for her work with youth programming and received the Innovative Environmental Leadership award.
"The Palace continues to power forward to bring quality programming and youth education to Georgetown," said Board President Art Rodriguez. "With Nancy, we know that the keys to our future are in good hands."
As Executive Director of the Palace, Ms. Manning will oversee the business operations of the Palace that brings more than 50,000 people to downtown Georgetown on a yearly basis and educates the next generation of actors. Additionally, she will take the reins over a vibrant capital campaign that will add a new education center and performance venue for children – also known as the Doug Smith Performance Center.
"Joining a theater takes me back to my youth," Nancy said. "My father started a theater with Robert Mitchum in California. I grew up in and around the theater. Being in a position to oversee a theater with high standards for its performances and in its education of the youth is like a dream come true."
Ms. Manning also served as an attorney and mediator in South Dakota, where she founded the first mediation and settlement center in Rapid City. "The Palace is a special place. The donors, patrons, volunteers, staff, and everyone that supports the Palace are proud of where the Palace has been and where it is going. I am thrilled to be part of the journey," said Manning.
Nancy Manning was selected after an extensive nationwide search. Said Rodriguez, "The quality of applicants we received continues to amaze. I am so proud of the name and reputation that the Palace has built over the years. People want to join our Palace family. It is great to see that kind of respect from the nonprofit and theater communities."
Ms. Manning holds a bachelor's degree in political science from the University of Illinois at Urbana and a juris doctor degree from Southern Illinois University.