A New, Expanded and 21st-Century-Digitzed AUSTIN CRITICS TABLE Will Announce Nominations Soon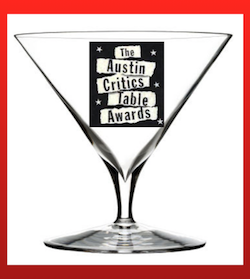 Digital developments have altered reading habits and directly affected the craft of arts reviews, just as video killed the radio star. In 2017 the Austin Critics Table (ACT) marks its 25th year of drinking, debating the town's arts events, publishing a list of outstanding artists and events and with happy flourish awarding the annual Critics Table awards. Again this year ACT will induct a small number of individuals into the Hall of Fame, recognizing their key roles and outstanding talents.
In 2017 ACT writers cover classical music, dance, design, theatre and visual arts.
This year's Table is bigger and broader than before, thanks in large part to the leadership of Robert Faires, arts editor of the Austin Chronicle. Identified in 2011 by American Theatre magazine as one of the twelve most influential theatre critics in the country, Faires has had a seat at the Table since its 1992 beginning. He's an actor and arts advocate in addition to being Austin's most thoughtful and most perceptive arts writer. Though he's clear that he doesn't want to 'act as a high school principal,' he has devoted thought and effort to moving the ACT into the new age.
Faires and ACT friends extended invitations to a collection of like-minded arts observers who've been publishing their views not in print media but on line. Many have accepted. Some longtime stalwarts have given up their seats. The Austin Statesman ended Jeanne Claire van Ryzin's 17-year tenure as arts editor. Wayne Alan Brenner of the Austin Chronicle advised that he was going to recuse himself "from these excellent proceedings [. . .] and fade from the table" because of "just more things than I expected clamoring at the gates of attention."
Getting a new gang started isn't easy. ACT tradition over the years has been to gather monthly somewhere over drinks, usually early in the week. With such a diversity of interests and schedules it hasn't been easy to get the new revised and expanded membership together. Some of the discussion has taken place electronically, and Jonelle Seitz has even cobbled together on-line ballots.
One topic of discussion has revising the list of categories. The new Critics Table will probably no longer be in direct competition with the B. Iden Payne theatre awards. Though there are plenty of theatre reviewers, it appears that a consensus is shaping to reduce the number of categories for each art form to five or fewer. By way of compensation, Faires has proposed that each arts writer select one particular event, performance or individual and step up to the mic to explain the honor.
Who are the spirits hovering around this new, unusually shaped and perhaps mostly digital Austin Critics Table? Here's the current list:
Lynn Beaver, Broadway World Austin
Frank Benge, Broadway World Austin
Amy Bradley, Broadway World Austin
Claire Canavan, Austin360.com (Austin Statesman)
Lacey Cannon, Broadway World Austin
Elizabeth Cobbe, Austin Chronicle
Robert Faires, Arts Editor, Austin Chronicle
Andrew Friedenthal, Austin360.com (Austin Statesman)
Michelle Haché, Broadway World Austin
Erin Marie Kedzie, Arts & Culture Texas
Pearson Kashlak, Austin Entertainment Weekly
Joni Lorraine, Broadway World Austin
Michael Meigs, CTX Live Theatre
T. Lynn Mikeska, Austin Chronicle
Luke Quinton, Austin360.com (Austin Statesman)
Dr. David Glen Robinson, CTX Live Theatre
Olin Meadows, Austin Entertainment Weekly
Jonelle Seitz, Austin Chronicle
Claire Christine Spera, Arts & Culture Texas
Nominations are on the boil and likely to be announced soon. The Austin Critics Table awards are scheduled, as is traditional, for a Monday night at the Capital City Comedy Club at 8120 Research Boulevard (south side of the elevated highway between Burnett Road and Lamar Boulevard). This year the frolic takes place on June 5, 2017.