2016-2017 Season, Sam Bass Community Theatre, Round Rock
Sam Bass Theatre Announces 2016-17 Season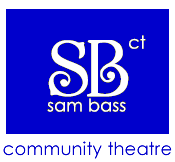 The Sam Bass Community Theatre Executive Board are excited to announce the 2016-17 Sam BassTheatre Season on the "Old Depot Stage." The season kicks off with Terrance McNally's comedy "It's Only A Play" which premiered off Broadway in 1982 and recently on Broadway in 2014. "It's Only A Play" will be directed by Sam Bass veteran Frank Benge who boast a resume of over 30 productions at Sam Bass Theatre.
Christmas comes to life in "Babes In Toyland the Musical" Inspired from the operetta by Victor Herbert and Glen MacDonough which weaves together classic Mother Goose nursery rhymes into a Christmas-themed musical extravaganza. "Babes In Toyland The Musical" will be produced by the creative team of Vohs, Ancelet, and Demings, with lavish sets designed by Olin Meadows, and Stellar Costumes Designed by Sara Desoto and Veronica Prior.
Continuing the Season of comedies is "Moon Over Buffalo" by Ken Ludwig Directed by UT Alum Ashley Zeh. "Moon Over Buffalo" debuted on Broadway in 1995 and marked the return, after a 30-year absence, of Carol Burnett to the Broadway stage and garnered her a second Tony award nomination.
After "Moon Over Buffalo" Sam Bass Theatre is excited to introduce to the Central Texas Area, "Flaming Idiots" by Tom Rooney. Flaming Idiots is about the haphazards of restaurant life, and possibly some involvement from the Mob. Sara Desoto makes her directorial debut with Flaming Idiots.
The Word is Fantastic. Can you use it in a sentence? The Sam Bass 2017 musical will be Fantastic! Audiences will be scrambling to join in when "The 25th Annual Putnam County Spelling Bee" takes the Old Depot Stage in May 2017. "The 25th Annual Putnam County Spelling Bee" will be directed by Eric Nelson Sam Bass Theatre's resident Technical Director. "The 25th Annual Putnam County Spelling Bee" was nominated for 6 Tony awards when it debuted on Broadway in 2005. The show is a hilarious farce of a middle school spelling bee, complete with adolescent angst and the awkwardness of puberty.
Closing out the 2016-2017 Main Stage Season is the 2017 Summer Youth Production – produced by the Sam Bass Theatre Youth Guild. With the magic of Disney and the glamour of Broadway comes "Beauty and the Beast Jr." Featuring a cast of all student actors and directed by Sam Bass Veteran Tessa Demings "Beauty and the Beast Jr" will invite you to "Be Our Guest" in July 2017.
Also announced are the 2016-17 Sam Bass Theatre "Select Series" with show titles including classics like Arthur Miller's classic "The Crucible," and the thought provoking "Speech and Debate," and dose of fantasy with "She Kills Monsters." The Select Series will be produced in addition to the Main Stage Season and will run for limited engagements. Season Ticket Holders will have the first opportunity to purchase tickets for these highly anticipated events.
SAM BASS THEATRE'S 2016-17 MAIN STAGE SEASON
It's Only A Play
By Terrance McNally
September 16- October 09
Directed by Frank Benge
It's the opening night of The Golden Egg on Broadway, and the wealthy producer Julia Budder is throwing a lavish party in her lavish Manhattan townhouse. Downstairs the celebrities are pouring in, but the real action is upstairs in the bedroom, where a group of insiders have staked themselves out to await the reviews. The group includes the excitable playwright; the possibly unstable wunderkind director; the pill-popping leading lady, treading the boards after becoming infamous in Hollywood; and the playwright's best friend, for whom the play was written but who passed up this production for a television series. Add to this a drama critic who's panned the playwright in the past and a new-in-town aspiring singer, and you have a prime recipe for the narcissism, ambition, childishness, and just plain irrationality that infuse the theatre—and for comedy. But don't worry: This play is sure to be the hit they have all been hoping for.
"This show is without a doubt hilariously, sidesplittingly funny…These are among the funniest lines to roll off a stage in years…IT'S ONLY A PLAY deserves only a rave." —The New York Times.
"At the heart of the humor is the sublime narcissism of the professional players and their honest conviction that nothing matters except the theater…You really must laugh at McNally's unquenchable wit—but those sloppy-kiss tributes to the theater…are deeply felt and honestly moving." —Variety.
"This is the sort of comedy that puts the broad in Broadway, with a genuinely funny script boasting pointed barbs at theater mainstays such as Liza Minnelli, Harvey Fierstein, Audra McDonald, and New York Times critic Ben Brantley…IT'S ONLY A PLAY is a poison-pen mash note to New York theater, at once gleefully bitchy and affectionate." —Entertainment Weekly.
*SELECT SEASON SPECIAL*
The Crucible
By Arthur Miller
October 27-31 (Halloween Special Event October 31)
Directed by: Olin Meadows
Winner of the 1953 Tony Award for Best Play. This exciting drama about the Puritan purge of witchcraft in old Salem is both a gripping historical play and a timely parable of our contemporary society. The story focuses upon a young farmer, his wife, and a young servant-girl who maliciously causes the wife's arrest for witchcraft. The farmer brings the girl to court to admit the lie—and it is here that the monstrous course of bigotry and deceit is terrifyingly depicted. The farmer, instead of saving his wife, finds himself also accused of witchcraft and ultimately condemned with a host of others.
"Strongly written." —NY Daily News.
"A powerful drama." —NY Times.
Babes In Toyland
December 1-18 2016
Directed by: Laura Vohs
With new, fresh music, this classic tale will wow your audiences, both young and old. The villainous Barnaby has fallen in love with sweet Mistress Mary Quite Contrary. If he can't buy her love, then he'll force her to marry him by threatening to foreclose on her mother, the poor Widow Piper. Mary already has her heart set on marrying Barnaby's nephew Alan — but not if Barnaby can help it! He hires two bumbling ruffians to do away with Alan, but Alan returns to Mother Goose Land amidst much rejoicing. Mary journeys to the mysterious Toyland through the dangerous Spider Forest. But wait! Barnaby hasn't given up, and he herds the whole gang of Mother Goose Land characters to Toyland in pursuit of Mary. There we encounter the magical mystery of Toyland as we meet the Master Toymaker and his quirky assistants Grumio and Marmaduke. This charming musical tale through the worlds of Mother Goose Land and Toyland will delight audiences this holiday season.
2016 New Year's Eve Holiday Special
"A Night In Storyville - An Evening of Burlesque"
December 31
Directed by Olin Meadows
Hosted by Saffire T. Stone 2 time Best Drag Performer – Austin Chronicle Reader Poll
Saffire T. Stone is a Community Activist, Entertainer, Celebrity Impersonator, Drag Diva, Friend to Many Enemy to Few. She has performed all over the state of Texas before retiring from the limelight to pursue a career in the Director's Chair. This is the first time she has come out since her retirement and will only be performing for this one night only special. This is a night not to be missed with Humor, Musical Performances, Surprises and the classic Saffire. The evening will feature performances by actors and actresses from across the Central Texas Area as well as top notch burlesque performers from some of the best in the business. If you love a bawdy good time, with a little bit naughty humor then this is the event for you! Following the show will be a rousing party to ring in the new year with specialty cocktails, silent auction, and a Champagne Toast at Midnight!
"Behind the scrim, the shadowy figure preens: regal, dramatic, queenly. The profile, especially the hairdo, is distinct. When she emerges, there is no question: Saffire!" – The Austin Chronicle
Moon Over Buffalo
By Ken Ludwig
January 27-February18
Directed by Ashley Zeh
In the madcap comedy tradition of Lend me a Tenor, the hilarious Moon Over Buffalo centers on George and Charlotte Hay, fading stars of the 1950's. At the moment, they're playing Private Lives and Cyrano De Bergerac in rep in Buffalo, New York with 5 actors. On the brink of a disastrous split-up caused by George's dalliance with a young ingénue, they receive word that they might just have one last shot at stardom: Frank Capra is coming to town to see their matinee, and if likes what he sees, he might cast them in his movie remake of The Scarlet Pimpernel. Unfortunately for George and Charlotte, everything that could go wrong does go wrong, abetted by a visit from their daughter's clueless fiancé and hilarious uncertainty about which play they're actually performing, caused by Charlotte's deaf old stage-manager mother who hates every bone in George's body.
"Somewhere up above, George S. Kaufman, Abe Burrows, Moss Hart and all those clever fellows who wrote the comedies of yesteryear are rolling with laughter, echoing the audience last night at Moon Over Buffalo. The play is nothing less than a love letter to live theater." - Boston Herald
"Wildly funny!" - ABC News
"Ken Ludwig's Moon Over Buffalo tops the mayhem and pitch-perfect farce of his other hit, Lend Me a Tenor." - Orange County Register
"Moon Over Buffalo packs more comic genius onto the stage than anything in recent memory!" - USA Today
"Ken Ludwig is one of those rare contemporary playwrights who thinks in terms of old-fashioned knockabout farce, and that's something to be cherished." - The New York Times
Flaming Idiots
By Tom Rooney
March 10-25
Directed By: Sara Desoto
Carl and Phil decide that the ladder to success at the post office is missing a few rungs. They know that big money is waiting for people with entrepreneurial spirit and sound business judgement. They have lots of the spirit but little of the judgement and their new gourmet health food restaurant flounders. Zippy's, a popular cross town spot, has been crowded ever since Cy Manamalancia, a notorious mobster, was shot there and that was over twenty years ago. What if someone could get murdered in their restaurant? Flaming Idiots is a contemporary farce which takes place entirely in the restaurant kitchen and requires five doors for slamming.
Winner! 1992 New American Comedy Festival Award
*SELECT SEASON SPECIAL*
Speech and Debate
By Stephen Karam
April 7-16
Directed by Laura Vohs
Three teenage misfits in Salem, Oregon discover they are linked by a sex scandal that's rocked their town. When one of them sets out to expose the truth, secrets become currency, the stakes get higher, and the trio's connection grows deeper in this searching, fiercely funny dark comedy with music.
"…savvy comedy…bristling with vitality, wicked humor, terrific dialogue and a direct pipeline into the zeitgeist of contemporary youth…Karam has a keen ear for how teens talk, move and think, how they view each other and the adult world…and uses both the advantages and perils of cyberspace to make amusing, original points…" —Variety.
"A triumph…hilarious, cliché-free, and immensely entertaining…The play's real accomplishment is its picture of the borderland between late adolescence and adulthood, where grown-up ideas and ambition coexist with childish will and bravado." —NY Times.
"A strong, rangy play…beautifully nails the indirection and crossed-wire communication of teenagers bubbling over with contradictory needs and insecurities." —NY Newsday.
25th Annual Putnam County Spelling Bee
CONCEIVED BY Rebecca Feldman
ADDITIONAL MATERIAL BY Jay Reiss
MUSIC AND LYRICS BY William Finn
BOOK BY Rachel Sheinkin
May 12- June 03
Directed by Eric Nelson
The 25th Annual Putnam County Spelling Bee has charmed audiences across the country with its effortless wit and humor. Featuring a fast-paced wildly funny and touching book by Rachel Sheinkin and a truly fresh and vibrant score by William Finn, this bee is one unforgettable experience. An eclectic group of six mid-pubescents vie for the spelling championship of a lifetime. While candidly disclosing hilarious and touching stories from their home life, the tweens spell their way through a series of [potentially made-up] words hoping to never hear the soul-crushing, pout-inducing, life un-affirming "ding" of the bell that signals a spelling mistake. Six spellers enter; one speller leaves! At least the losers get a juice box. A riotous ride complete with audience participation, The 25th Annual Putnam County Spelling Bee is delightful den of comedic genius.
Winner! 2005 Tony for Best Book
Winner! 2005 Drama Desk Awards for Best Book
*SELECT SEASON SPECIAL*
She Kills Monsters
June 08-24
Directed by Logan Vohs
A comedic romp into the world of fantasy role-playing games, She Kills Monsters tells the story of Agnes Evans as she leaves her childhood home in Ohio following the death of her teenage sister, Tilly. When Agnes finds Tilly's Dungeons & Dragons notebook, however, she stumbles into a journey of discovery and action-packed adventure in the imaginary world that was Tilly's refuge. In this high-octane dramatic comedy laden with homicidal fairies, nasty ogres, and 90s pop culture, acclaimed young playwright Qui Nguyen offers a heart-pounding homage to the geek and warrior within us all.
WINNER! 2013 AATE Distinguished Play Award
"Deceptively breezy and rather ingenious. The whole enterprise is kind of dopey and kind of invigorating and kind of remarkable. It will slash and shapeshift its way into your heart." - The New York Times
"Nguyen is a refreshing, break-the-rules writer — he has a ready embrace of pop culture, high-school speak and 'High Fidelity' cool, and he also has a mission to redeem gaming geeks everywhere...She Kills Monsters, delivers exactly what it promises, is generally a blast" - Chicago Tribune
"Packed with action, wit, and a sizable nerd-quotient, the production is a delight from start to finish" - Theatremania
Beauty And The Beast Jr.
MUSIC BY Alan Menken
LYRICS BY Howard Ashman, Tim Rice
BOOK BY Linda Woolverton
July 21- August 12
Directed by Tessa Demmings
Based on the original Broadway production that ran for over thirteen years and was nominated for nine Tony Awards, and the Academy Award-winning motion picture, Disney's Beauty and the Beast JR. is a fantastic adaptation of the story of transformation and tolerance. Disney's Beauty and the Beast JR. features some of the most popular songs ever written by Alan Menken and the late Howard Ashman, along with new songs by Mr. Menken and Tim Rice.
SUBSCRIPTIONS:
For Season Subscription information call the Sam Bass Box Office at 512.763.7228 or go to SamBassTheatre.org. Sam Bass Theatre is located inside The Round Rock Memorial Park 600 N Lee Street. Subscriptions are currently on sale to renewing subscribers only. New subscriptions will go on sale in mid-June.
The Sam Bass Black Box Series and the Holiday Special Event is not included in the Sam Bass Theatre Season Ticket Subscription.
About Sam Bass Theatr A non-profit organization, Sam Bass Theatre creates intimate theatre experiences that ignite the imagination, inspire the spirit, and engage the community. The Sam Bass Community Theatre (SBCT) has been offering quality live theater to the Round Rock/Georgetown/Austin area for over thirty five years. Proud to be the first theatre company in Round Rock, SBCT strives to create thought provoking, entertaining, and enchanting live theatre all year long. We respect, value and celebrate the unique attributes, characteristics and perspectives that make each person who they are. We also believe that bringing diverse individuals together allows us to collectively and more effectively contribute to the development of the arts in Central Texas.
Sam Bass Theatre's 2016-2017 Season is sponsored in part, City of Round Rock.
--
Sam Bass Community Theatre
600 Lee St.
Round Rock, TX 78664