Review: The Hunchback of Notre Dame by Playhouse San Antonio
by Kurt Gardner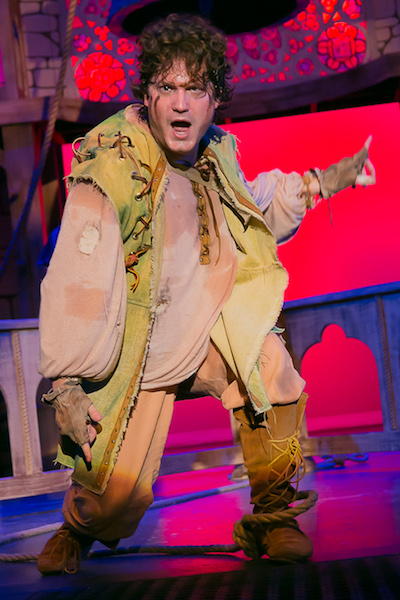 The theatrical adaptation of Disney's
The Hunchback of Notre Dame
makes its Texas debut at the Playhouse San Antonio in a spectacular production that teems with talent and stunning stagecraft. With a book by Peter Parnell, music by Alan Menken, and lyrics by Stephen Schwartz, it's a strikingly somber version of Disney's animated film. The Playhouse has wisely maintained this serious tone, and the result is a mature piece with considerable emotional heft.
The primary characters include cruel and hypocritical Dom Claude Frollo (Bob Galindo), the uncle of the hunchback Quasimodo, whom he'd reluctantly adopted after his wastrel brother died. There's the heroic cathedral guard, Captain Phoebus de Martin (Quinn Johnson), whom Frollo sends to search for the fiery gypsy Esmeralda (Alyssa Lopez). Finally, there's the tortured bellringer himself, Quasimodo (Nick Szoeke). Esmeralda casts a spell on all three of these men – even Frollo, who otherwise considers the gypsy people to be heathens and criminals.
The performances are excellent. Galindo is a suitably hissable Frollo. Johnson portrays a noble de Martin, while Lopez's Esmeralda is full of spirit. Szoeke is definitely the focal point here as Quasimodo, adapting pained body language and strangled vocalizations that happily fade away during his musical numbers, revealing the splendid singing voice that those who'd seen last year's The Secret Garden at the Playhouse will recall. Sean Salazar provides some welcome comic relief as the high-spirited gypsy chieftain Clopin. There are 30 cast members in all, contributing their vocal talents to the show's many musical numbers.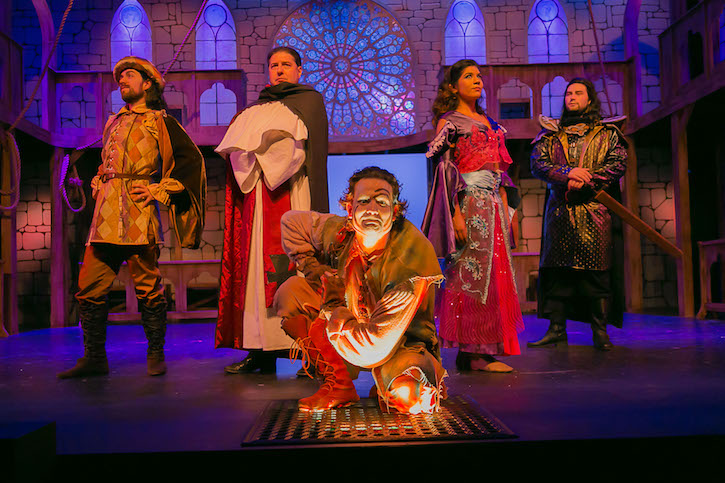 The songs themselves are far more complex than one would expect in a Disney adaptation. Don't expect to find any peppy "Under the Sea"-style toe-tappers here. Instead, these are deeper compositions that reflect the drama inherent in the piece – "Heaven's Light," "God Help the Outcasts," "The Bells of Notre Dame," and "Hellfire," to name just a few.
George Green directs this sprawling piece with a deft hand, and it's seamless. Nicholas Ponting's enormous cathedral set is a sight to behold, with Jeremy Whittington's carvings of saints and gargoyles hanging from columns, gigantic bells, and a spectacular stained-glass window serving as the centerpiece. It's beautifully lit by Dan "Doc" Heggem. Combined with the fine costume design by Noel Jordan and Darrin Newhardt's outstanding musical direction, these efforts yield a production that has to rank as one of the Playhouse's most impressive offerings.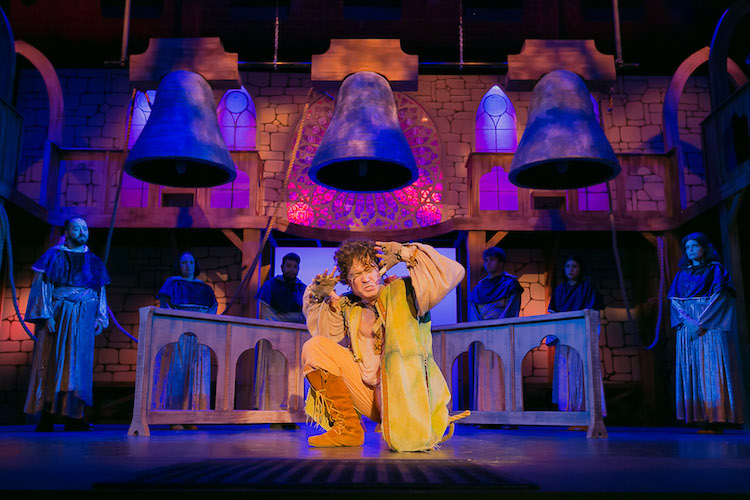 The Hunchback of Notre Dame plays Thursdays, Fridays and Saturdays at 7:30 p.m. and Sundays at 2:00 p.m. through October 15 at the Playhouse San Antonio, 800 West Ashby Place. Tickets can be obtained online or by calling (210) 733-7258.
Kurt Gardner's theatre reviews also appear at BlogCritics.org.
---
The Hunchback of Notre Dame
by Alan Mencken, Stephen Schwartz, Peter Parnell
Playhouse San Antonio
Fridays-Sundays,
September 15 - October 15, 2017
Sep 15 - Oct 15, 2017
Thursdays - Saturdays at 7:30 p.m., Sundays at 2 p.m.
General admission $35, students/military $25, children $20