Review: Come from Away by touring company
by David Glen Robinson
Come From Away, the lauded Broadway musical, is now on stage at the Bass Concert Hall on the UT campus, running until February 23rd. The touring show stops in Austin for a brief run before moving on. Its tale of people trapped in events over which they have no control is a source of inspiration with the sole message that life is full of wonder, and it is a gift to be a human being.
The story scenario takes place the week of 9/11, September 11, 2001 to about September 15, 2001 and the ten-year commemoration of that week. All air flights in North America were grounded on 911 after commercial airliners were used as suicide and murder weapons in attacks destroying the World Trade Center towers in New York and damaging the Pentagon in Washington, DC. United Flight 19 crashed into an empty field in Pennsylvania when heroic passengers and crew sacrificed themselves to thwart the aircraft's intended attack by highjacking terrorists on the White House. Incoming transatlantic flights were ordered to ground at the first available airfield, and that historical nexus was the huge but little used airport at Gander Newfoundland. Dozens of flights landed before their originating points could cancel the flights. Nine thousand grounded travelers more than doubled the population of the small town of Gander, about 6000 people. And so, the potential number of stories for this show is 15,000 plus the stories of the animals being transported on the flights. The everyday facilities of the ill-supplied town could not accommodate the stranded international travelers. Therein lies the tale.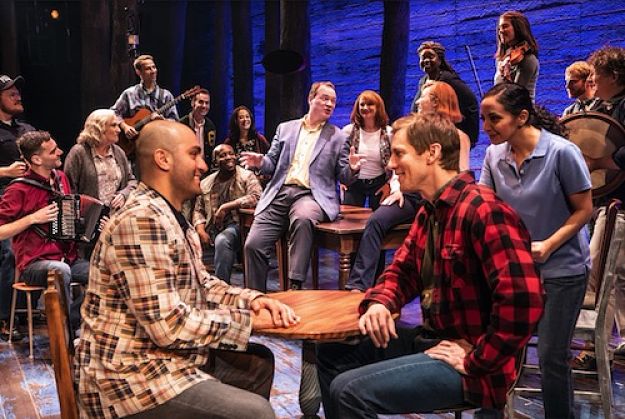 Indeed, the challenge and brilliance of the book, lyrics, and music by Irene Sankoff and David Hein lay in choosing the stories to be told, of the travelers and the townsfolk. The casting and auditioning process must have been difficult in the extreme, but the dozen principals chosen were all triple-threat Broadway actors who danced, sang, and acted through dozens of characters, hewing comically to Canadian maritime provinces accents as well as those of the international travelers. This was all done without condescension or mockery, but in praise of the strength, culture, and dry humor of small-town Canadians and the international travelers who came off flights asking, "Where are we?"
The cast changed characters with simple shifts of costume pieces, singing songs and performing sketch stories through the period of stranding. Only a few stories can be listed here: the Kevins, the fighting and drinking gay couple that split up, one partner of which has a connection now to Austin; the first major airline female chief pilot, who kept her flight passengers united until they all could leave for their destination; the mother of an NYC firefighter who tried constantly to contact him by phone, a tragic story; the love affair between two divorced people with homes on different continents; the bonobo chimpanzee that gave birth, assisted by the SPCA representative; the Egyptian cook who endured the humiliation of a strip search by a woman but eventually left with recipes of Canadian maritime cuisine—fish and cheese; the Gander policeman and mayor who didn't sleep for five days but still managed to drink a lot; the travelers who had to kiss a codfish to become official Newfoundlanders (a bar scene); and the scene of people of three world religions singing and praying in their own separate ways in the same place at the same time.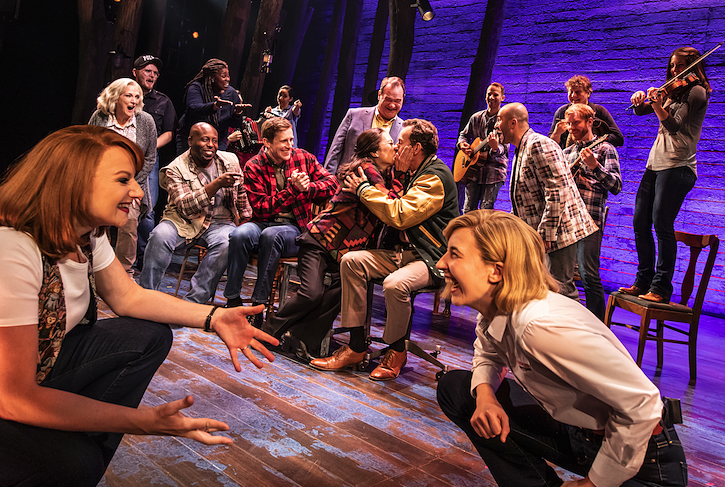 All these stories, tied together by overwhelming events, were presented seamlessly under the direction of Christopher Ashley, who is rapidly becoming a dominant force among Broadway directors. Superlatives fail, descriptions fail, words fail to account for the inspiration offered by these stories of human beings at their best in the worst of circumstances.
The Bass Concert Hall of Texas Performing Arts is a truly incredible facility for productions such as Come From Away with demanding production requirements. The lighting design was complex almost beyond comprehension, but it allowed focal spotlights to fall gently and instantly on singers anywhere they began singing on stage. The lighting sets and changes also eased scene transitions to give the scenes overlapping qualities and a crisp pace. The coordination of the design fields and stage direction demonstrated professional excellence. The rotating stage, more than any other element, gave movements to the scenes akin to dream imagery, with singers and stage sets seeming to float in and out of light and darkness, from story to story.
Come From Away is highly recommended for all, but is running only for a short time. The work is beyond entertainment; it redeems meaning and hope from a dark event in our recent history, and, for the new complexities in which we find ourselves, it never fails to elevate the human spirit.
---
Come from Away
by Irene Sankoff, David Hein
touring company
Tuesday-Sunday,
February 18 - February 23, 2020
Evenings at 8 p.m. except Sunday, February 23, with a 1 p.m. matinee and 7 p.m. evening performance, and a 2 p.m. matinee on Saturday, February 22.
Know Before You Go
Parking
Payment is required to park on the university campus. Guaranteed parking is available online with pre-payment for $12.33 until 10 pm the night before the event. Or, you can pay $15 (cash or credit) at garages, or at the entrances to campus surface lots (credit card only). Valet is also available.
---
Looking For Your Seat?
---
Venue Policies
Large bags, purses, backpacks, signs, and outside food and drink are not allowed.
---