Review: 9 to 5, the Musical by Georgetown Palace Theatre
by Rick Perkins
Who hasn't seen the hilarious movie starring Dolly Parton, Jane Fonda and Lily Tomlin?
Office politics, boorish behaviors and sweet revenge among dear friends, all rolled into a confection of tasty fun for the ages.
Dolly Parton sure has hit pay-dirt with her stage musical adaptation, even making an appearance via the large projection onstage. She guides us into the story and comes back for a well deserved encore to send everyone home singing the theme song hit.
Director Emily Taylor took the sold out raucous crowd on a wild theatrical romp Saturday night, and gangs of ladies came ready to celebrate!
Before the show, I was blessed with a fateful encounter of a gaggle of gals all dressed up in their Dolly shirts and Parton apparel. Serenading together outside the theater, a lively crowd came to have a grand time. This production delivered on all cylinders.
Singing from a recorded score, hitting every note and cue, this wildly talented cast sure gave the crowd their money's worth.
The ensemble was energetic and lightning fast on their elaborate dance moves choreographed by Quinton Weathers.
Quite an achievement to have so many folks all dancing in perfect unison and keeping the action flowing quite nicely.
Each of the three leads—Meredith Brand, Bianka Torres, and Sharon Burley— had a fine voice that filled the house. I was seated in the balcony's back row and never missed a note.
The tender harmonies in the sentimental moments played well and the chorus numbers rang out like show stoppers. David Blackburn was music director, with the assistance of Nick Xitco.
'I Just Might Make It' was a stand out number that was inspired on every level; a sweet blending of the well trained voices.
Huge kudos flow out to Faith Castaneda for her double service as stage manager and for her magnificent lighting design. I can't imagine a show going so well without her sure hands making the magic happen. How many hats can one woman wear?
Torres, as the Dolly role, gave us a tender rendition of 'Backwoods Barbi' which brought emotional tones and resonance to provide a show highlight.
The very appreciative crowd gave well deserved enthusiastic applause breaks several times in both acts. So nice to hear the interplay with a sparkling show and a lively crowd wanting to receive these gifts of talents.
Some of the subject matter almost seemed shocking to me, with the cursing and dated misogyny towards women. The central trio of ladies smoked a joint together and the audience hooted their approval. And this was in Williamson county!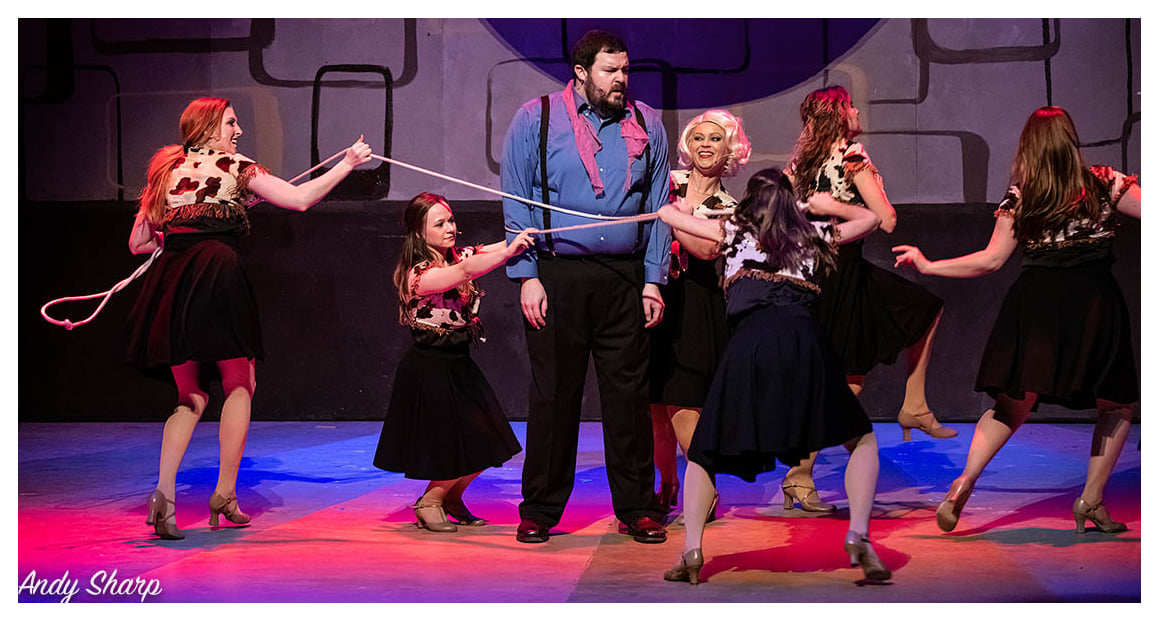 The revenge rodeo; Judy's dream sequence and several other outstanding moments made this an evening to remember. No wonder their sales are so strong. Good work!
You really can't go wrong seeing a musical at the Palace.
These hard working folks deliver professional-level performances all the way.
Lovely to see some of their students from the thriving educational programs involved as well. Stars of future hits at the Palace.
EXTRA
Click to view the Georgetown Palace theatre's online program for 9 to 5, the musical
---
9 to 5, the Musical
by Dolly Parton, Patricia Resnick
Georgetown Palace Theatre
Fridays-Sundays,
March 04 - April 03, 2022
This production will be presented inside at the Springer Stage, the Palace's historic proscenium theatre on Austin Avenue.
For all performances at the Springer Stage, Palace Playhouse, and Smith Performance Center, masks will be encouraged for the health and safety of our performers, staff, and patrons
.
Ticket prices are as follows: Adult-$36, Seniors (55+) / Military / Students-$33 *Student Rush Tickets $24 at the door with student ID. All fees are included in ticket pricing. Tickets are on sale now at
GetPalaceTickets.com
.
The theatre will be seated at 100% capacity.