Review: Zeus in Therapy by Tutto Theatre
by Michael Meigs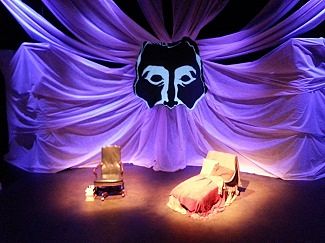 Tutto Theatre's Zeus in Therapy by the late UT classics professor Douglass Stott Parker is dazzling, and at times, as his brilliant wordplay coincides with the gesturing and capering of the astonishing Greek chorus, it is simply stunning.
'Stunning' is a word thrown about lightly in the casual talk of our day. But I mean it literally. The brilliance, complexity and sheer entertainment value of this staging and this cast is sufficient to blow your circuits, if you're trying to absorb everything this production is offering you.
Perhaps only literature geeks and poetry lovers stand in danger of that. You may be happy simply to settle back in your seat in the Rollins Theatre and ride with this lengthy evening on any of its several levels.
Most of us have at least a rudimentary recall of Greek mythology, perhaps from storybooks in middle school. You can enjoy the revelation of the stories of this quirky, cranky bunch of deities: Zeus himself, the all-powerful principal god with that rampant lust; Hera his demanding wife and sister ("wifster"); the Titans who pre-dated the Greek gods and old Cronus, Zeus's father; trident-brandishing Neptune and hammer-swinging Hephaestus; Dionysus, god of wine, born from the thigh of Zeus; cup-bearer Ganymede; the incarnations of all the lovely maidens who gave Zeus's life its zest; and a vast additional number of mortals and immortals.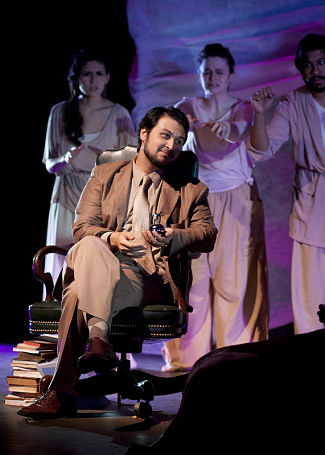 This is no color-by-the-numbers version of those stories. Parker uses our own modern mythos of Freudian analysis to relate the tales. Zeus is closeted with his therapist, the patient, non-judgmental and ever-silent Court Hoang -- and variously accompanied by nine additional avatars of himself, collectively dubbed 'Big Zee' and numbered from Zeus alpha (Α) through Zeus iota (I) plus another Zeus as a youth.
Any and sometimes all of those chorus members may be voicing the Big Guy's stream of consciousness. Some in the audience may be momentarily disconcerted, but the convention quickly becomes clear. The Talker is Zeus; all others who dance, float, participate, embody and evoke, constitute everything that is Other in his narrative (even though, as he points out, he himself is everything, all the time).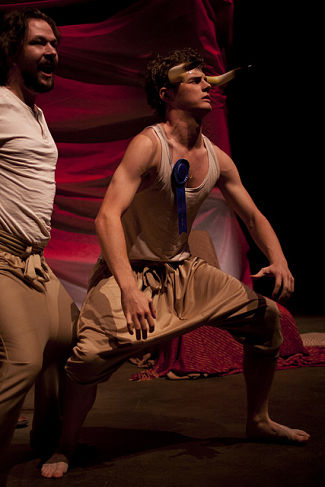 Jaffe and colleagues have converted roughly half of Parker's wryly comic and erudite pieces into staged action. They were obliged to choose and edit, for otherwise the production would have run until 2 a.m. No text was added. The author's language is exquisite, a clear and beautifully articulate stream of invention directed at the therapist and audience -- with the power of a firehose. And these actors know how to talk the talk. Closing one's eyes and simply listening would be a voyage into the fantastic.
Jaffe and choreographer Lynn Randon make that reductive approach virtually mpossible, however, for they create such a riveting sequence of mime, clowning and balletic dance that shutting one's ears and simply watching would also be enough.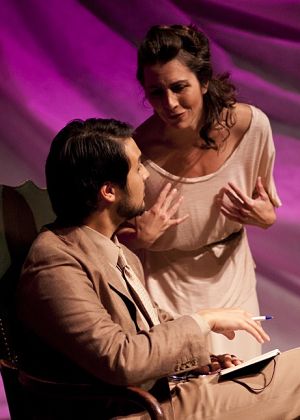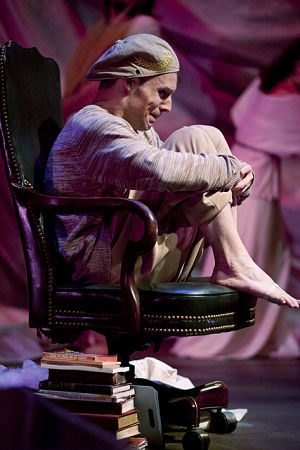 All the technical arts intensify these experiences: Justin Cox's stark set design (yes, watch that face of Zeus on the center wall-- it is, in fact, flickering and changing); the music by Chris Humphrey and the otherwise silent Court Houang, for a capella performance or accompanied by cello, lute or didgeridoo; costumes and make-up brilliantly realized by Austin Rausch; and the evocative lighting design by Natalie George that is dramatic, mood-enhancing and yet never intrusive.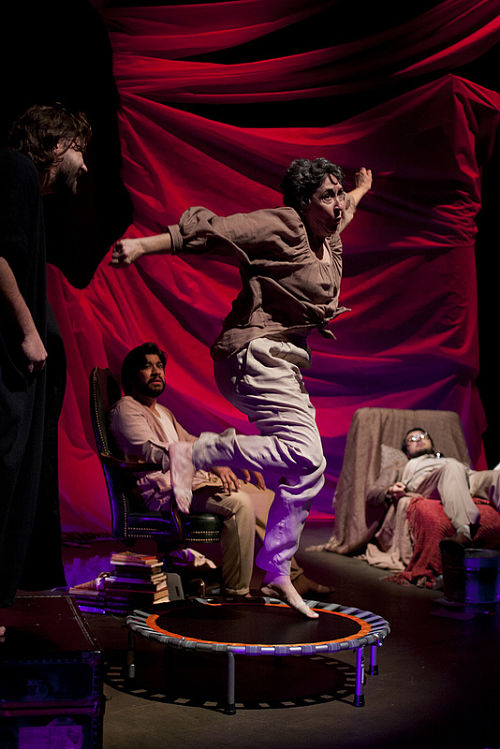 Jaffe seems to have had his pick of Austin's thespian talent, who appear to be having the time of their lives. Justin Scalise, veteran Shakespearian clown and Hamlet, has an enormous voice in that tiny frame and features that can be wickedly mobile. Nathan Osburn and Mario Ramirez look like imposing wrestler twins, one from Anglo highlands and the other from the Rio Grande valley; Suzanne Balling as Artemis and Karen Alvarado as Aphrodite could be sisters, a pair of confident, attractive, sexy, brainy goddesses. Annamarie Kasper is the essence of fragile femininity and Julie Linnard that of confident womanhood; Chris Humphrey is senior to them but not a whit less energetic or less talented -- Hera on a trampoline is a sight to behold. Joe Hartman has the smooth confidence, energy and untouched good looks of Ares, god of war.
John Austin as the youngest Zeus and as Ganymede is a revelation. This Boston-College-bound recent graduate of Westlake High School has the gift, and he matches the mimetic ability and confidence of the immense talents around him. As the evening progresses, we see Austin repeatedly represent to us the lost enthusiastic innocence of the Talker who obsesses so inventively in these stories. And in the final instant of this performance we see him once again, garlanded and hopeful on far stage left, ready to bound forward yet again for the first time into the arms of the achingly enticing Annamarie Kasper, far stage right.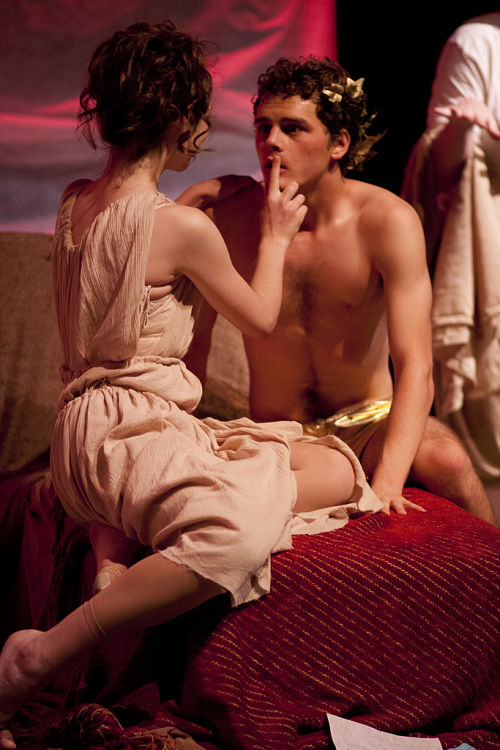 Douglass Stott Parker would certainly have enjoyed this inventive staging of the series of pieces he began writing in 1979. He died in 2011 at the age of 83, having taught at UT for forty years. He had also translated theatre pieces and established parageography (the study of imaginary worlds) as a new field of academic inquiry. He loved jazz and played the trombone. The academic journal Didiskalia dedicated a 2011 number "to Douglass Parker, who embodied the interplay between scholarship and practice, between an acute understanding of the ancient world and a keen sense of modern audience."
Tutto Theatre's captivating and astonishing interpretation of Parker's pieces is the most accomplished, innovative and inventive theatre piece I've seen in a very long time. Jaffe and friends do the playwright full justice, and they grace us all with their version of the ancient Greek concept of mimesis, the concept that works of art are to be understood as models for beauty, truth and the good.
Zeus in Therapy plays only one more week at the Rollins Theatre, Wednesday, August 21 - Saturday, August 24 at 8 p.m., with 4:30 matinees on Saturday and on Sunday, August 25. Tickets are available on-line via The Long Center.
Essay feature by Tom Palaima: Information Age, Writing as Therapy, Douglass Parker, Tutto Theatre, James Pennebaker and "Zeus in Therapy" at the website of UT's program for Aegean Scripts and Prehistory, August 8
Feature by Katherine Catmull for the Austin Chronicle, August 15
Feature by Hannah Neumann in the Austin Statesman's Westlake supplement, August 15
Feature by Mitch Harris in LStyleGStyle magazine, undated
Review by Jeff Davis at www.austin.broadwayworld.com, August 18
Review by Elizabeth Cobbe for the Austin Chronicle, August 22
EXTRA
Click to view the program broadsheet for Zeus in Therapy
Hits as of 2015 03 01: 1523
---
Zeus in Therapy
by Douglas Stott Parker
Tutto Theatre
August 16 - August 25, 2013
Rollins Theatre
Long Center
701 Riverside at South First,
Austin, TX, 78704