Review: You're A Good Man, Charlie Brown by The Wimberley Players
by Michael Meigs
As fresh as the ink of the morning paper on a bright fall day, the Wimberley Players' staging of You're A Good Man, Charlie Brown is big, bold and beautiful. And so is the cast; director Jim Lindsay has handpicked some of the most attractive talent from the region.
Did you know that this musical by Clark Gesner is approaching its 50th birthday? You'd never know it from this production. The original version was done in 1967, and in 1998 performers using the revised script presented in this Wimberley production took two Tony awards. And Charlie Brown himself, if he weren't ageless, would be almost ready to qualify for Social Security, for Charles Schultz's first four-panel strip featuring him was published on October 2, 1950.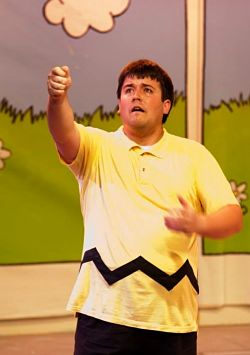 A musical for six players, presented as a series of lively songs and skits featuring some of the most memorable tropes and plights of the Peanuts gang, the work is a favorite of high schools and amateur groups. Director Lindsay chose to expand the cast by two women to to calibrate the choreography, so Wimberley's augmented edition includes both that little red-headed girl (the fetching Lindsay Katherine Powell) and Kate Clark (Frieda, a fine singer and captain of the dance ensemble).
Schultz drew the comic strip for fifty years, so that tiny community of primary schoolers has a rich and diverse history of incident. The situations onstage are instantly recognizable and bring smiles to faces in the audience. Ryley Wilson in the title role has Charlie's yellow shirt with the zig-zag, a fugitive kite, and that mild, yearning and baffled presence. Kristi Brawner as Lucy van Pelt is adorably heedless, loud and self-certain -- comically capturing childish speech and emphasis with her frequent prolongation of initial consonants ("You're a Buh-LOCKHEAD!")
Part of the pleasure of seeing mature but young actors in these roles is the irony of age difference: grown men are returned to the tentative innocents they once were, while the actresses giving Schultz's girls their endearing brashness are at the same time very attractive young women.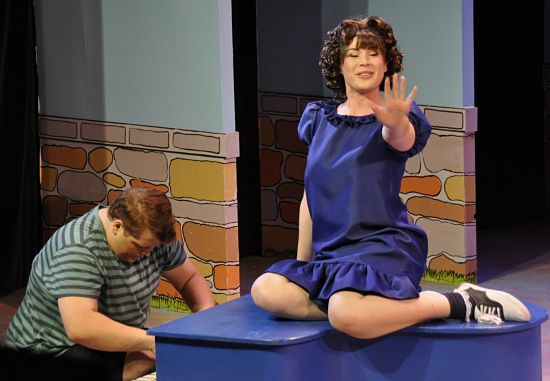 They all sing and perform with enthusiastic abandon on a set that cleverly evokes the comic-strip origins of these stories. Costumes by Kathy Maldonado are done in bright colors and patterns reflected in Carroll Dolezal's set decoration. Across the rear wall of the playing area hangs a colorful cartoon-like drop on a wide duo-fold muslin panel. With each change of scene the stagehands turn the pages to a new scene, just as if we were paging through the Sunday comics.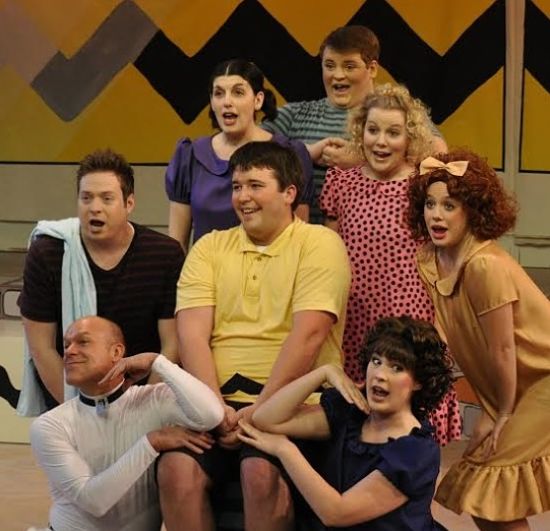 I will admit that I missed my favorite recurring situation, Lucy's annual encouragement of Charlie to try to kick the football. But Charlie and his hapless baseball team are here (singing T-E-A-M), Lucy sets up her sidewalk psychiatry practice for 5 cents (The Doctor is In), and James Springer as Shroeder does his best to ignore the adoring Lucy draped across his piano as he fingers Beethoven's Moonlight Sonata. Rachel Hoovler as sister Sally Brown, a blonde junior edition of know-it-all Lucy, does numbers with Snoopy (Kirk Kelso) and Shroeder (My New Philosophy). Clutching his security blanket as Linus, Brandon Myers is quiet, knowledgeable and supportive -- as long as no one takes away his comfort object.
And how about that Snoopy? He's a pet more human than many of us, one who's never in the doghouse either literally or figuratively, preferring instead to be on the roof, playing with the kids or flying in his imagination. Kirk Kelso's a marvelous beagle, clad in white with a tidy black collar. An actor of wide experience, seen at Austin's City Theatre and elsewhere, he unleashes a fine tenor, sparkling wit and impressive physical dexterity. In the avant-finale number Suppertime, Kelso's execution of the razzle-dazzle of Lindsay's vaudeville choreography evokes shouts of laughter and approval.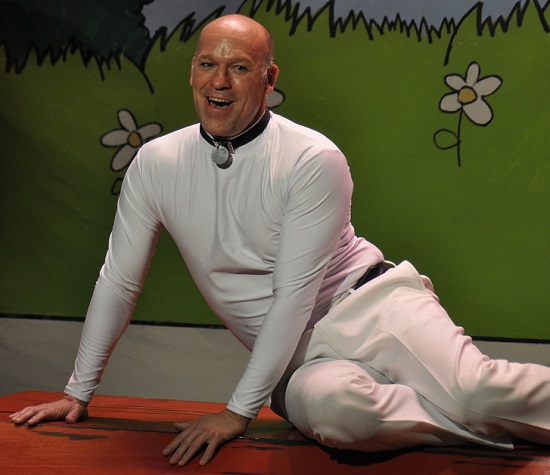 The simplicity of character and situation in the comic strip and the stage production is deceptive -- after all, Schultz's half-century of work was the subject of a number of serious analyses of its moral, sociological and theological content. The polish, confidence and dash of the choreography and song in You're A Good Man, Charlie Brown reinforce the cartoonist's basic message: Life can be beautiful if we reduce our concerns to the most elemental ones: finding a friend, supporting one another despite our egos and faults, and simply celebrating the fact that we're here with one another.
EXTRA
Click to view excerpts from the program of You're A Good Man, Charlie Brown
Hits as of 2015 03 01: 108
---
You're A Good Man, Charlie Brown
Wimberley Players
November 15 - December 08, 2013