Review: W.K. by Gale Theatre Company
by Michael Meigs
Gale Theatre Company has hit the ground running -- and jumping and performing gymnastics -- since founders Katherine Wilkinson and Celina Chapin arrived in Austin last year. They advocate and organize 'devised theatre,' performances of collective authorship that coalesce through exercises and improvisation. They explained the process in a six-minute video via Indiegogo last October that brought viewers into the studio with a group of intent and very fit participants.
That group did Florence, a piece centered on Florence Lawrence, early star of silent films, in early December at the quaint city-owned space in Sparky Park in the Hyde Park neighborhood. Space and seating were limited because of the narrow confines. I was able to slip into the last performance on December 15 thanks to Chris Fontanes of Bottle Alley Theatre, a Gale Theatre collaborator, who graciously gave me his place that evening. Now, a scant month later, co-founder Chapin is performing W.K., a duo with Aaron Alexander, the Austin multipurpose actor who has appeared frequently in the town's non-commercial live theatres and with Polyanna Theatre, resident at the Long Center.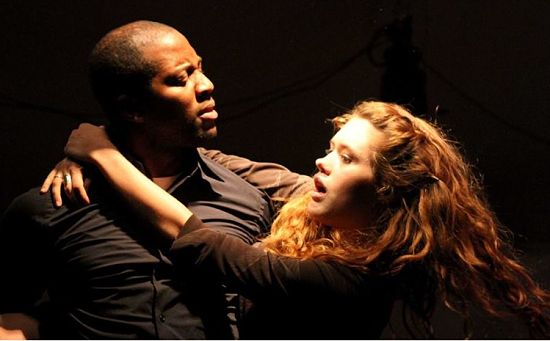 I found both pieces riveting, full of energy, movement and strong conflict. Gale's devised theatre takes place along the dim boundaries between ballet, improv and scripted narrative theatre. That makes them exciting and often unpredictable. Those unfriendly to the methodology could criticize the works as self-indulgent, flamboyant and unresolved.
I'm an ardent advocate and follower of text-based narrative theatre, stories crafted by one or several writers and interpreted through the complex and rewarding process of team artistry. The harder the text, the better I like it, and of course I'm both a Shakespeare junkie and an admirer of modern classics, those texts of quality retained through the decades and the centuries because of the depth and vivid characterization of the writing.
Over years of watching and writing about Austin theatre, I've also been drawn inevitably to admire the courage and ingenuity of those who craft this town's remarkably original new stage creations. I don't follow improv, for the most part, although I admire the creativity and seat-of-the-pants daring of improv performers; nor do I often follow dance or aerial arts, even though I acknowledge performances by gifted and highly-disciplined dancers and gymnists are often awe-inspiring. There's so much to see and so little time to see it in!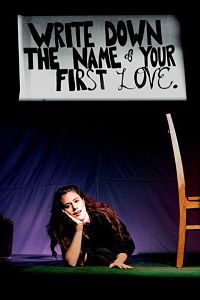 Intentionally blurring those boundaries, Gale Theatre grabs me by the lapels and pulls me into a stage-lit playing space that sets their own pulses racing. They have the insistence of vibrant youth, not the calculated caution of wisdom sayers.
With the one-word title Florence, the eight-person cast set the framework of the story: the rise and fall of that actress, conceived as a series of balletic vignettes and strongly conflicted encounters.
The title W.K. is entirely opaque. The director's message in the program sheet is vague: "W.K. is an ode to the ones we love most, the ones who truly see us, the ones we will always long for somewhere in our heart. Above all, we hope to bring you a performance that is, if nothing else, human."
Is director Wilkinson -- K.W. -- turning her own emotional experience inside out as W.K.?
That's a question that doesn't really require an answer. As audience members enter the Vortex space, Chapin and Alexander stand silent at stage center going through a sharply defined and precisely coordinated set of gestures, over and over again. We new arrivals clutch pencils and slips of paper thrust into our hands at the theatre door. The action begins with a silent but furiously active and impressively delivered set of instructions that require us to reach back to recall the names of our first loves. We yield those memories up to the performers for a dramatic but puzzling rite of disposal.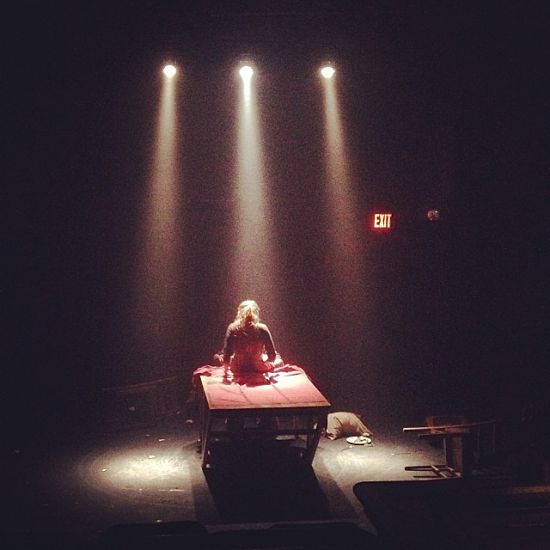 Chapin and Alexander become architypical Young Woman and Young Man, gymnastic-balletic Adam and Eve, as they mime, dance, declaim and deliver over the course of just under an hour the story of encounter, courtship, intimacy and dilemmas of commitment. Their energy is fabulous and the choreography of movement is -- well, let's use that current cliché in its original sense -- awesome. These assured, lithe performers have devised images and tableaux that burn themselves into your memory, in part thanks to the lighting magic of Jason Amato.
This is a piece -- noted by the program as a work in progress -- that thrusts us into the excitements and agonies of establishing the relationship of a couple. It does not resolve that arc, however, and the piece ends abruptly, as if inventiveness had suddenly failed in the rehearsal process, leaving the devisers in need of a scriptwriter. We can, I hope, anticipate further progress for the work.
---
Thursdays-Sundays,
January 17 - February 01, 2014
Thursday - Sunday at 8pm