Review: Well by Different Stages
by Michael Meigs
This mischievous comedy deserves a better title. By calling it Well, Lisa Kron implies that it's about exactly the opposite: about illness. That subliminal message is reinforced in Different Stages' press releases.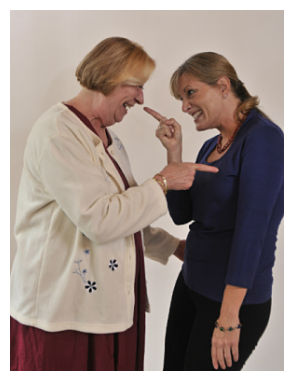 Even an impish twist of punctuation would have done it. Call it Well? so as to capture the mother-daughter dialogue at the heart of the play, in which monologist Lisa Kron pushes beyond the strictures of stand-up comedy and tale-telling, confiding to the audience that she's going to bring her very own mother onstage to illustrate her stories. Jennifer Underwood is in fact right there on stage as you enter the theatre, snoozing in her La-Z-Boy armchair in a nest of newspapers, files, kitsch and collections, and she doesn't wake up until Sarah Seaton as narrator/monologist has confided this approach to you.
Or maybe the title could be Well. . . . to suggest that there are plenty of unsettled issues between chatty, nervous, self-centered Kron and her straight-talking frumpy mom. Lisa Kron has put together a story mocking the resident allergy clinic to which she fled as a university student; her mother Ann remains convinced that just about everything stimulates allergies. Despite them, Ann Kron unexpectedly became a civic leader in a disadvantaged neighborhood in Lansing, Michigan. Ann had moved there with her young daughter because she resolutely believed it important to live with persons different from oneself. Her daughter Lisa experienced that experiment in cross-cultural living as tensions, occasional bullying and a feeling of not belonging.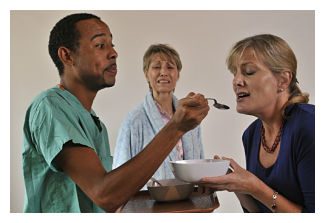 Even better, though, would be
Well!
as an exclamation of surprise and delight. While trying to tell the story, narrator Kron is submarined by playwright Kron, because in Pirandello style, her characters take on lives of their own. Theatrical conventions get turned inside-out ("What?" exclaims narrator Kron, who has been standing in a spotlight pouring her heart out to the audience, "Mom, you mean that you've heard everything I've been saying?"). Her Mom the character gleefully greets the audience, offers them something to drink and happily distributes bags of chips.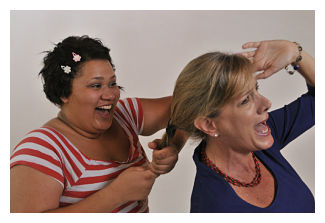 The cast of personable actors play multiple roles as neighbors, patients and playmates. Of them, Chelsea Manasseri keeps turning up as an unwelcome, unprogrammed memory of an envious bully from Kron's childhood. Mom's interruptions and alternate takes of events put the narrator's plot into a mess; the cast revert to actors, confused by the sequence, and the narrator addresses them by their real names as she tries to rectify things.
Both characters and actors are impressed by Mom's dour charm, and they begin ignoring the narrator. Her tidy plot disappears and events more closely resemble the unpredictable encounters of neighbors and friends. Seaton as the narrator becomes increasingly rattled, begins to address Underwood by her real name, and withdraws in a mock huff, leaving the stage clear and open for one of Austin's most appealing matriarchs. Jennifer Underwood is that rare bird, the experienced actress who radiates such wisdom and warmth that she makes you long for a big hug, a cup of herbal tea and a long afternoon chat in the homey mess that's her living room.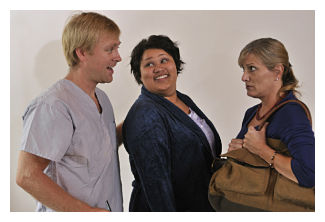 Another 'well' might be the bubbling spring of invention that Kron draws upon to make fun of herself and to deliver an homage to Ann Kron. This is an evening of humor and surprises, and there's not a touch of malaise to it. Sarah Seaton as Kron rides these twists and turns with convincing dismay and emotion. Her mother -- Sarah's mother, not Kron's -- was seated next to me in the front row that evening and proved to be as courteous and sociable as the fictional mom ("She certainly had a lot of words to remember!").
Well is a play with heart and humanity. Director Norman Blumensaadt and Different Stages deliver again, providing entertainment and just the right dose of moral tonic. And that's something to which no one is likely to develop an allergy or aversion.
Review by Adam Roberts for the Austin Chronicle, November 24
Review by G. Topscher for austinist.com, December 1

EXTRAS
Click to view program for Well by Lisa Kron, produced by Different Stages at the Vortex Repertory
Hits as of 2015 03 01: 1786
---
Well
by Lisa Kron
Different Stages
November 11 - December 03, 2011