Review: W. (Woyzeck) by Austin Jewish Repertory Theatre
by Michael Meigs
He's the inevitable choice for Woyzeck.
Joey Hood's intense, unfllinching stage presence has intimidated and attracted audiences many times here in Austin, often in the primal cavern of the Hyde Park Theatre. He has worked memorably for Graham Schmidt's Breaking String Theatre as it explored the menacing world of contemporary Russian theatre.
The enduring image I retain of Joey Hood is that from I Am The Machine Gunner by Yuri Klavdiev, another solo performance. In a script melding a young street criminal with the World War II experiences of the young man's grandfather, Hood became a Universal Soldier. That was particularly appropriate, since he's been working at Ft. Hood near Killeen for seven years, performing live in theatre pieces that must certainly be more effective training tools and psychological outreach than traditional military instructional films.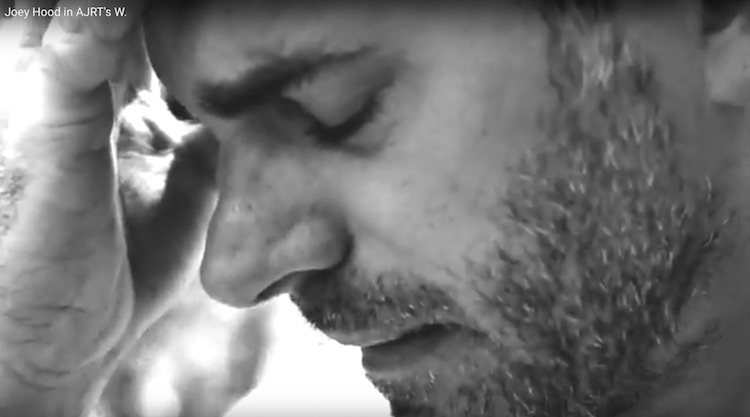 Director Adam Roberts applies Hood's intensity to a solo adaptation of Georg Büchner's Woyzeck, an equally intense imagining -- almost a hallucination -- of a tawdry domestic murder case from the 1830's, in which a 30-year-old army corporal stabbed to death his common-law wife.
Büchner, a radical for his time, was a political exile in Switzerland when he died at the age of 23. His dramatic work was discovered some 60 years later. Woyzeck exists in four versions, successions of scenes that depict the soldier's miserable existence. Mostly monologues, occasionally dialogues, they jolt from one viewpoint to another and present a brtual vision competely different from the smoothly plotted and highly rhetorical drama of German Romanticism. Woyzeck was first brought to the stage at the end of the 19th century, and it was hailed as a precursor of German naturalism, a piece unique and completely out of its own time.
W is Joey Hood's solo performance of this dark matter, done in the shadowy light of the black box theatre of the Trinity Street Players. The brooding, ominous tone is established from the moment you arrive on the 4th floor of the hosting First Baptist Church. You'll have received a program down on the ground floor, but beyond that there's not a soul to be seen. All three doors to the theatre space are closed. You're obliged to wander the walkways, pursued by a throbbing chord that does not change. Eventually one of those doors opens, apparently by itself, and the waiting theatre goers discover the shrouded, curtained way into a space where seats have been dispersed and draped objects are positioned on the stage. A scratchy, murky black-and-white projection plays on one of the draped sheets, offering no coherent images or continuity.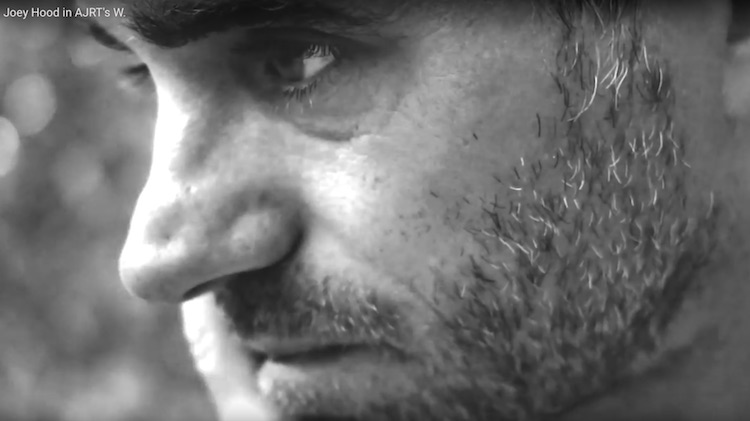 Lighting is consistently low and highly directional, often casting objects and characters in stark contrasts of highlight and shadow. This dark world is one of nightmare. Tyler Mabry's music drifts unobtrusively behind the action, sustaining the feeling, and Jared Slack's video projections flit toward patterns in black and white but dissolve as if overwhelmed.
Among the characters one meets in this dim world is Woyzeck's commanding officer, stretched out beneath a sheet on a barber chair, abrasive and mocking, speaking not to W. but to someone -- perhaps us, the audience -- about his subaltern's incompetence. Rising, pivoting, and holding the sheet as an apron, Hood becomes Woyzeck, abashed and intimidated, stammering responses to the captain. In later scenes we meet Woyzeck's grim and indifferent wife, a pedantic and scornful physician, a ringmaster as narrator/voice of God, a performing circus horse representing stupidly conventional bourgeois thinkers, a ramping ape derided as the common man.
W's desperation intensifies throughout, to a point where it's clear that he has no choices and almost no will of his own. The frenzy of the murder and the desperation of its aftermath offer as bleak a look at human existence as any I've ever seen.
W is a short piece, only 70 minutes long. The unpredictabiity of the plot, the in-your-face intellectualism of the distancing (a technique to become known a hundred years later as 'Brechtian') and above all the power of Hood's acting make it a vital although harrowing experience.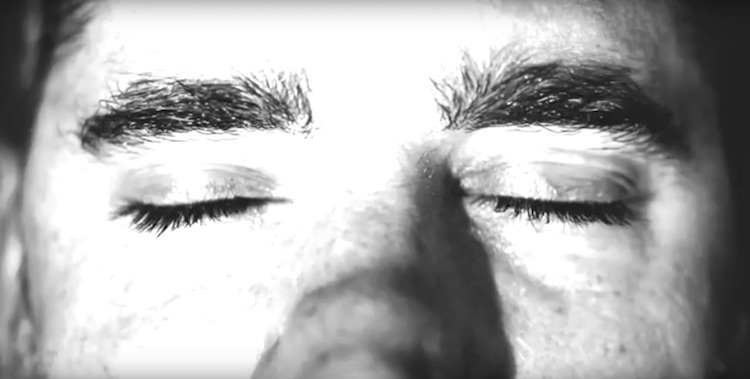 Stages across Central Texas and the United States all too often feed us a Disneyfied diet of cotton candy, safe comedy and heart-warming reassurance; with Zachary Christman's adaptation of the John Hood translation of Woyzeck, Adam Roberts and the Austin Jewish Repertory Theatre in partnership with Trinity Street Players reach deep into the heart of human despair.
EXTRA
Click to view the program for AJRT's production of W.
---
W. (Woyzeck)
by Georg Buchener, adapted for solo performance by Zachery Christman
Austin Jewish Repertory Theatre
Thursdays, Saturdays-Sundays,
August 17 - August 27, 2016
Trinity Street Players
Black Box Theatre, 4th floor, First Baptist Church
901 Trinity Street
Austin, TX, 78701
Thursdays, Saturdays and Sundays at 8 p.m. at Trinity Street Players' black box theatre at First Baptist Church, 901 Trinity Street, Austin.
Tickets are $12 and $15 plus handling fees via