Review: Voces de Vivo by Teatro Vivo
by Michael Meigs
The sense of community at Austin's Teatro Vivo is tangible and reinforces the appeal of the consort. One has a warm, expectant feeling, much like the anticipation of attending a school production where one knows many of the actors. At a high school or college play, one is additionally disposed to forgive occasional slips or stumbles because one likes the participants so much. Teatro Vivo's familiar participants don't require that indulgence. They are credible, creative and thoroughly at home on the stage.

The change of venue from the Long Center to the humble 200-seat theatre at the nearby Dougherty Arts Center reinforced that sense of community.

With my June review of Petra's Sueño by Rubert Reyes I expressed some apprehension about the "new approach" announced for this evening of four one-act plays, each written by principal company members – in the order framed below, Michael Mendoza, Natalie Marlena Goodnow, Celeste Guzman Mendoza, and founder Rupert Reyes.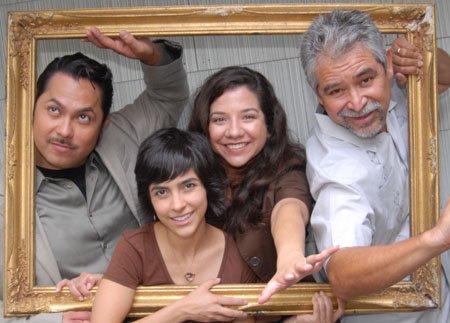 Their new approach is the gentlest possible change of course. The four one-act plays were generally crafted to appeal to all, including those who are not bilingual, and the four authors produced stories and meditations that focused on inclusiveness. Their reading of the Latino community in Austin and in Texas was a positive one.

The turnout was good for the Thursday "pay-what-you want" audience, which filled about half of the seats. Both Latinos and "Anglos" (gringos?) attended, with a good mix of ages.

The pieces were very different from one another. In order:



"Munti" means both "tree" and "human being" in a southern African language, a fact that Natalie Goodnow cheerfully footnoted as coming from Barbara Kingsolver's book ("as all of you Oprah fans know!"). Natalie offered us a solo piece of reflections and personal anecdote, a sort of biography/confessional tied to trees - - both real ones and trees as allegories for human experience. She lifted lightly into describing the progression of her own feelings about her bicultural origins, about rootedness and the appeal of relocation, travel, and finding one's rightful place. This was a light, eloquent flight of fancy, artfully and delicately accompanied on cello and percussion by musicians Tavis Jeffords and Josh Casiano. Her stage persona seemed very close to her own – after all, in the program she calls herself "a teatrista and educator who believes in the power of performance as sacred, as healing, and as transformative." She must be a great motivator for young persons participating in the workshops she mentioned. In closing, Natalie invited audience members to use the pencils and paper distributed before the performance to communicate thoughts about these themes, to be left on a table in the lobby with similar contributions from earlier spectators.

Celeste Mendoza structured Adela's Altar very much along the lines of the Petra plays – the aged semi-lunatic Adela is in the church sanctuary for hours every day, cleaning ineffectually and carrying on a continual dialogue with God. As portrayed by Yesenia García, Adela is a cartoon -–a very funny and lively one, to be sure, with a bright red wig, thick glasses, and a continual stream of observations both in Spanish and in English. Adela reveals herself as something of a "sacred fool," frustrating her stiff supervisor Martiza (Vanessa Alvarado), distracting her own thoroughly acculturated daughter, ragging Ipod-wearing custodian Chuy (Rob Rowland), and offering God's advice to an "illegal" mother seeking asylum with her U.S. citizen child (Karen Alvarado and Alma Ixhchel Flores-Pérez). This last generous-hearted response earns her an overnight stay in jail and gets her fired from her volunteer job at the church. Adela's garrulous relationship with God prompts her supervisor to speak with Him, too, in a private moment, so that we share in the pain, loss and confusion of her repeated miscarriages. The piece ends with unexpected abruptness, as Adela's daughter in matter-of-fact fashion thanks her supervisor for barring the church to her; we were caught up a bit short, feeling that perhaps a coda was required, to deal with the feelings either of the banished Adela or with the deep despair of her supervisor. Though we all enjoyed the characterisation of Adela, I wonder whether we might have benefited from a less farcical approach to her; placing her closer to our own experience of the distracted elderly might have deepened our feelings for her, making the final scene a sharper commentary on family and frustration.



Las Amandas is the most difficult and most rewarding piece of this set. Michael Mendoza has authored a text that is directly in the tradition of the Latin American "cuento." Mario Ramírez delivers his lengthy, lyrical account of two Amandas, mother and daughter, who were abandoned by the guitar-playing dandy "Jucho" (for Jesús). In contrast to other Teatro Vivo pieces, this narrative is really bilingual – in order to appreciate it fully, one needs both languages. The narrative line is certainly available to monolingual English-speakers, but the full effect of this cross-generational, cross-border story, bound deeply with loss and longing, arrives when one can traverse the mental and linguistic boundaries.

The young-looking Ramírez initiates the story with a book in hand, as if he were reading or remembering passages from the text. Director J.T. Bundick chose to have him walk onstage in a place of memory, where the uncredited actress playing both Amandas is the mother, dreamily cleaning house and carrying for her cages and cages of songbirds. At stage left, throughout the piece, the neatly dressed"Jucho" strums his guitar. At times during the recital of the story, Ramírez becomes the momentary avatar of young Juncho, dancing with Amanda. At times striking black-and-white family photos appear on the back wall and Ramírez comments upon them. The older Amanda loses "Jucho" as he first seduces her younger sister and then disappears, supposedly to the Great North. The younger Amanda, living in the United States, later returns to search for her roots and sees, briefly, a courtly figure who might be her father. There is no crisis or dramatic unraveling of plot; the story is unrolled as a skein of memory with no hint of future. It is profoundly moving.

The scenic presentation of the place of memory is effective but eventually becomes distracting. My imagining of the presentation would have lowered the general lighting most of the time and left the Amandas immobile or offstage more; and I would have reduced "Jucho"'s quiet crooning to his guitar by about half. Because the real feat was that of Ramírez as narrator, delivering to us a vividly written and intimate text. His mastery of image and narrative was impressive, and he delivered it as if there were no periods but only semi-colons, a rushing remembrance that would have profited from occasional pauses for recollection or emphasis.



With 2 Souls and A Promise, veteran Rupert Reyes offers us a meditation that starts in whimsy and finishes with reflections on social equality. Young lovers Joe (Mateo Barrera) and Lisa (Audrey Rose Pérez) cuddle at night on a mountaintop beneath the stars and exchange romantic promises for their souls to search out one another, should they ever be separated. Uh-oh! And yes, when Lisa immediately insists on going alone to get the car, she hits the wrong gear and precipitates it over a cliff, leaving Joe alone in life. We see Lisa as a departing soul, cross-shaped in a choir robe, confused and then really angry at this turn of events before she whisks away into the darkness. In the distance, one hears the birth of a child.

So far, so good, and in line with Reyes' most recent Petra frolic on the comic machinations of the supernatural. Two scenes follow, echoing dialogue and some movement. In the first, Joe, aged and infirm, is surprised when his son Pablo brings home a new classmate, Lily (Pérez), with an uncanny resemblance to Joe's young love Lisa. The comedy arises as son Pablo seeks Dad's advice on wooing the young lady, who is feeling eerily attracted to the older man.

The second modulation of the idea delivers us the aged Joe with Pérez this time as his daughter. Again, the offspring unexpectedly brings home a classmate for dinner, and Joe and the visitor feel a strange affinity. Visitor Albert is handsome, deferential and enthusiastic about their shared class in Chicano lit. Only hitch: he is black. Reyes has fun playing Joe's ill-concealed hostility with the growing awareness of supernatural bonds between them. With this second skit Reyes deepens the piece considerably, moving from a comedy of identities to one of social reconciliation. His premise recalls that of influential American 20th century philospher John Rawls, who elaborated a theory of social justice from the concept of the "original position" and the "veil of ignorance." In briefest summary, Rawls argued that those not knowing conditions and attributes awaiting them after birth would prefer a society that maximizes liberty, cooperation and mutual respect.

As Joe the teenager Mateo Barrera is a bit stiff, but as the two versions of the older Joe, he provides a full portrait of the staid, conservative and lonely father. His timing is perfect. Audrey Rose Pérez is appealing in each of her triple roles, which are close variants of the same fresh-faced young lady. Daniel Antonio Cardoza serves well as the lanky, bashful son Pablo in skit 1; and Aaron D. Alexander as the unexpected dinner guest Albert gives us the picture of a bright young man who is unthreatened and engaged even in the face of suspicion. He is the embodiment of Reyes' idea of Latino social solidarity across classes, races and even cultures.

---
Voces de Vivo
by Nathalie Goodnow, Rupert Reyes, Celeste Guzman Mendoza, Michael Mares Mendoza
Teatro Vivo
August 08 - August 17, 2008