Review: Twelfth Night by University of Texas Theatre & Dance
by Michael Meigs
Traffic was at a near standstill at the University of Texas campus in Austin last Saturday half an hour before the opening of Twelfth Night. I had to take a circuitous route, commit myself to a long line ol cars waiting to enter the parking garage near Longhorns Stadium and fork over a $10 'event parking' fee. But not because of the production at the 244-seat Oscar Brockett Theatre at the UT Department of Theatre and Dance. I'd run into the mess of folks arriving for the touring production of The Sound of Music at the 3000-seat Bass Concert Hall.
I made it to the Shakespeare production on time, along with UT students, groups of high schoolers and some UT faculty. The art and magic employed in this 400-year-old piece by Shakespeare greatly exceeded, I'm sure, the familiar set pieces of the touring version of the 1959 Rodgers & Hammerstein musical and its 1965 film. But comparisons are odorous, as Dogberry tells us elsewhere in Shakespeare's world. The clever vigor of these undergraduate actors assured me I'd made the right choice.
The thrust stage for this Twelfth Night is a rough square with simple platforms, tall rear panels for video projections and what appears to be a smashed legless petite grand piano stranded at the forefront of the playing area. Lights go down and a roiling storm briefly thrashes through the video panels. For long moments in the dimness a tall portly figure hums, lolls about the stage, banishes the violence of the storm with a wave of his hand and picks up a conch to hear the encapsulated sound of the sea.
This is Feste the clown, played by Trey Curtis. In this simple set-up director Robynn Rodriguez firmly establishes Ilyria as a place of magic. For this opening moment Feste has the mysterious magic powers of Ariel in The Tempest, and that prepares us for transformations. We even accept the absurdity of Duke Orsino's court being furnished with a destroyed piano that will be played by the extravagantly hirsute and mutely comic Josh Cole as the musician.
The story of twins Viola and Sebastian separated by a shipwreck provides plenty of opportunity for misapprehension, the theme of the play. Dramaturg Samuel Blake supposes that Twelfth Night's separated siblings are an echo of Shakespeare's own twin children Judith and Hamnet (deceased five years earlier at the age of 11), but that's a tenuous explanation. Siblings and gender disguises feature elsewhere in Shakespeare's comedies, including in the 1599 As You Like It, and it's not until Act IV of Twelfth Night that confusions between the timorous Viola/Cesario and her robust brother Sebastian become the stuff of comedy in this piece. This is a plot device that goes back to Plautus and earlier, but it's sure-fire for comedy because the audience knows more than the characters. And Shakespeare's been here before, not least with the double set of twins in The Comedy of Errors in the early 1590s.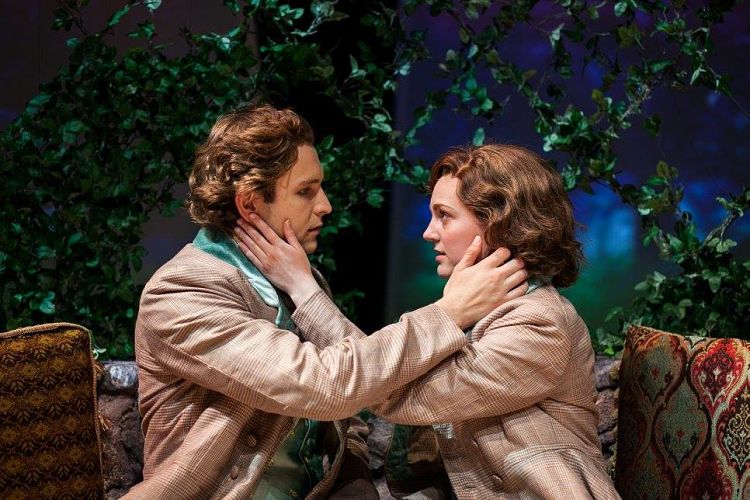 The magical setting established from the opening scene assists us in accepting the contrivance that folks in Ilyria and elsewhere mistake one twin for another. Kristen Rainey and Jake McDermott do have something of a resemblance, but he's a head taller than she. They wear identical garb (in different sizes) and comb their hair alike, but only dullards or the enchanted are likely to mistake one for the other. But we as spectators are in on the secret, and the laughter in the house showed that even Shakespeare newbies were enjoying the comic confusion.
In male habillements and counterfeiting herself as Cesario the eunuch, the shipwrecked Viola joins the court of Count Orsino (the brooding gravel-voiced Keith Machekanyanga). Viola loses her heart to the count, who tolerates her as just another pretty boy and sends her off to deliver his entreaties of love to the gracious Olivia (Rama Tchuente), shut away in deep mourning for the death of her brother. But love is both blind and insistent. Olvia is captivated by this fresh-faced insistent young messenger.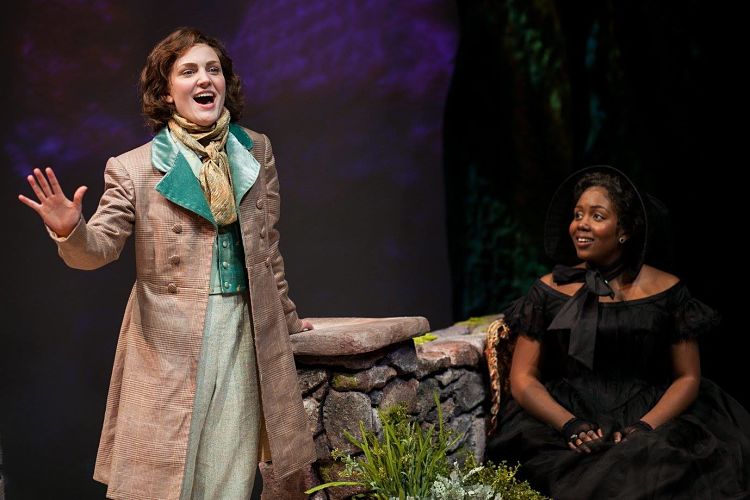 Director and cast have great fun with the clowns and gulls in this piece. Riotous Sir Toby Belch (Austin Greenawalt) continually urges on the impossible ambitions of foolish Sir Andrew Aguecheek (Ian Price) with the help of serving wench Maria (Adriana Scamardi). Haughty Malvolio, steward of Olivia's household, tries to contain them but quickly becomes their dupe, a foolish figure and then, distressingly, a blindfolded and much abused captive. Scene designer Teena Sauvola pulls off some technical magic of her own when it comes to inventing the cell for the unfortunate Malvolio.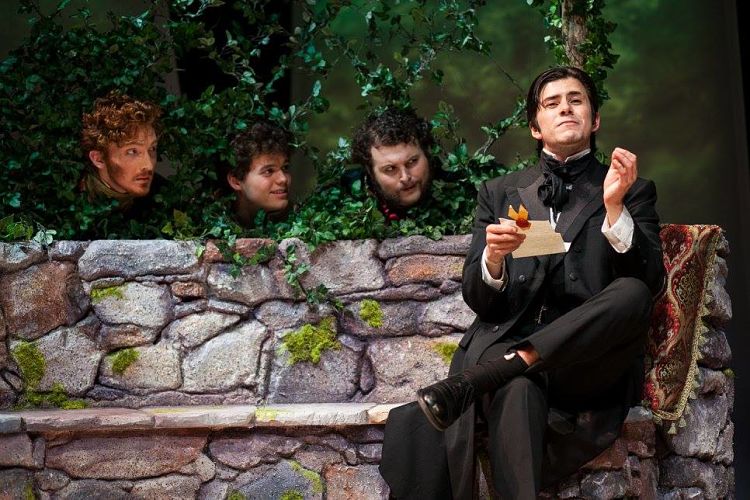 Director Robynn Rodriguez is clever in her choice of physical types to fit these characters. Long-limbed red-headed Greenawalt carries off the figure of wastrel Sir Toby with aplomb, and Price's rotundity, mugging and astonished voice offer a fine counterpart. Surely many in the audience were impressed to see that Adolfo Lambert as Malvolio has features much like those of James Robert-Collier, who plays the shrewdly duplicitious under-butler Thomas Barrow in Downton Abbey. Lambert's Malvolio is more annoyed than malevolent at the top of his household game, and the happy imaginings spurred in him by his adversaries' forging of a letter supposedly from his mistress are sweetly vulnerable rather than absurd.
The entire cast has mastered lines and scansion. Some are more accomplished than others. Probably the best Bard-talker on stage is Jadon Hadley in the relatively minor role of Sebastian's devoted friend Antonio, who dares follow him into enemy territory. Wth precise articulation and pace Hadley sets a through line for his character. Examples of such calibrated craft were more common before 2013, the date when UT suspended its MFA program in acting. Machekanyanga as Orsino and Tchuente as Olivia are notably eloquent, and attractive Adriana Scamardi as Maria the tricksy housemaid to Olivia is particularly vivid in a role sometimes is interpreted as a simple drab.
Curtis' tenor voice gives Feste's songs a pleasing air, and the recorded music used for the smashed piano is appropriately reflective, both for the opening scene's sweet strain and dying fall and for later brief interludes. Lighting by Yi-Tai Chung serves both mood and character illumination. Costuming appears to place this Ilyria somewhere in times of the romantic but unaccomplished voyage of Byron to the isles of Greece in 1824. Costume designer Andie Day, assisted by a staff of nearly three dozen employees and students, provides eye-catching accoutrement, including a full-length captain's coat in dark tan leather for Antonio, a prize for any mariner.
The theatre further meets its pedagogic aims by running a Twitterback discussion with the dramaturg after some of the performances. To a longtime devotee of Shakespeare the 140-character exchanges ranged from the thoughtful to the inane ('The first sailor guy is kinda hot'), but when fishing for young plaice, the more hooks the better.
EXTRA
Click to view the program of Twelfth Night by the University of Texas Department of Theatre and Dance
---
Twelfth Night, or What You Will
by William Shakespeare
University of Texas Theatre & Dance
Tuesdays-Sundays,
February 26 - March 06, 2016
Performances
February 26, 27, 28 March 1-5 at 7:30pm
February 27, 28, March 6 at 2:00pm
$15.00 - $26.00
Presented by Texas Theatre and Dance
Reviews, Resources and More
Texas Theatre and Dance website
Maps and Directions
General Ticketing Information
Theatre and Dance on Facebook
Theatre and Dance on Twitter
PARKING INFORMATION
The University requires all faculty, staff, students, and visitors to pay for parking on campus. Please be aware when you come to a performance that UT parking has changed and new signage has been posted in regards to the changes. All parking on campus – both ADA and non-ADA requires a permit or payment of fees – this does include the ADA on Robert Dedman Drive. Patrons to the Texas Performing Arts complex are encouraged to park in university parking garages or LBJ surface lots. A discounted parking rate of $6 can be purchased on-line at: https://utparking.clickandpark.com/. The discounted parking is only available online until 10pm, the day prior to an event. Please read signs carefully.
$10 Event Parking is also available for purchase in person on the day of your event at the entrances to the surrounding surface lots and garages. Day of event parking is Cash Only.