Review: Tru by Zach Theatre
by Michael Meigs
Jaston Williams and director Larry Randolph take us to another place and time with Tru, now on an extended run at the Zach's intimate theatre-in-the-round Whisenhunt stage. Michael Raiford's clever low-level set is Truman Capote's UN Plaza apartment in New York City in 1975. It's a long long way from Greater Tuna, where Williams and Joe Sears romped, mugged and portrayed a whole looney town -- or, for that matter from Thornton Wilder's Our Town in which Williams played the somber stage manager for the Zach Theatre's production almost three years ago.
Truman Capote was a tiny man, only 5' 3", but he was larger than life in the monotones of the middle of the twentieth century in the United States. He was self-made, for one thing, riding the power of his pen out of a dreary childhood of neglect in south Alabama. Sensitive short stories such as the classic A Christmas Memory and Breakfast at Tiffany's opened doors, and a dreamy come-hither photograph on the dust jacket of one collection scandalized some and intrigued others. In mid-career he spent four years researching In Cold Blood, a novelized true-crime account serialized in the New Yorker magazine and a best-seller when published in 1966 by Random House.
Capote was flagrantly, unapologetically homosexual at a time when most gay men were hiding desperately in the closet. His persona as a coy, sarcastic and extravagant queen astonished middle America, and he became a celebrity on television talk shows. He hung out with the jet set, including Lee Radziwell, sister of Jackie Kennedy, and CBS president William Paley and his wife Babe. Capote wrote almost nothing of note after the huge success of In Cold Blood. He became a professional celebrity socialite and sank deeper into alcoholism and drug addiction. He kept notes on his rich friends, with the idea of writing a Proustian account one day that would be titled Answered Prayers. In 1975 he agreed to allow Esquire magazine to publish four chapters of the long-delayed work. The rich friends who had found him so amusing were shocked to see their lives, peccadillos and anxieties etched in acid. Some were named and others were only thinly disguised. Virtually all of them immediately shunned Capote.
Playwright Jay Presson Allen chose to set this portrait of Capote in that specific moment and place -- Capote's desperately lonely Christmas Eve in 1975. It's a one-man show, two acts drawn virtually entirely from Capote's own published words and broadcast comments. It's a huge and colorful catalog, and Allen has shaped it cleverly into two acts. This script is an invitation to tour de force, and Jaston Williams is simply breathtaking in it.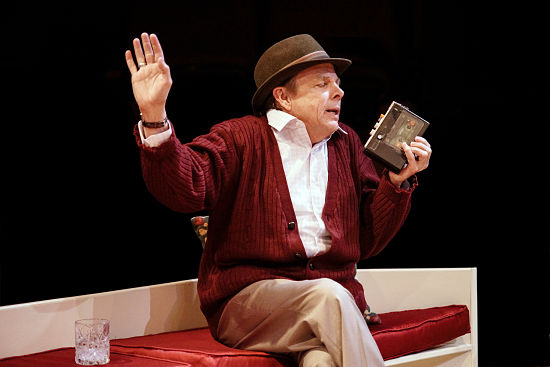 Williams can't shrink to Capote's diminutive dimensions, but he certainly expands to fill the man's astonishing character.
At the opening the character Capote takes telephone calls, mutters to himself and then begins talking to us. The first act is a lengthy, intimate chat, with Capote dishing the dirt on his famous acquaintances and consuming generous portions of vodka. The fiction is delicate and contradictory; he's alone, he's lonely and he's resentful, but he's exercising upon us, his iimagined audience, exactly the charm and wit that he must have used to captivate all those wealthy, idle and insecure folks. Comic, mocking anecdotes make us laugh; his moments of self-pity and frustration make us initially uneasy.
In the second act, set a few days later, Williams as Capote describes his lonely childhood. He reads passages from A Christmas Memory. He resolutely abstains from the booze, although one sees his naked desire for it. Williams builds toward the end to a intensity that's near delirium, culminating with a verbal collage of images from memoirs and writings, from cottonmouth moccasins writhing in the river to the sudden sickening drop of a condemned man through a gallows trap.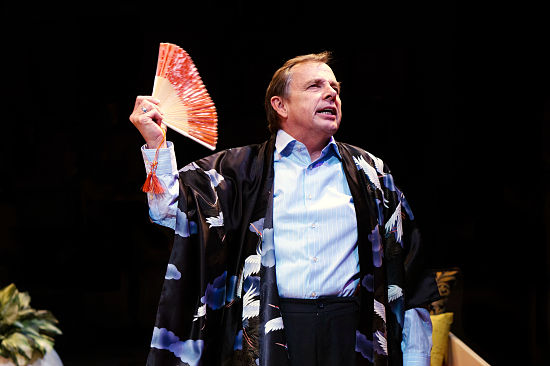 Much of the evening is wonderfully comic. Williams is confiding, often cheerful and frequently devastatingly funny. There was a delicious moment on opening night when a cell phone went off in the audience and he berated the unidentified audience member. His archly threatening correction was so spot-on that one could almost imagine it had been in the script.
Watching the deft gestures and the intricate, subtle choreography of this characterization, one can't help feeling an affection both for Jaston Williams the actor and for Capote, his subject. The actor is invoking the author in an exercise that's almost spiritualistic, and we see his sly joy at doing so. No, he's not 5'3" but with some padding and generous costuming he does achieve the older Capote's ungainly shape and gait; his accent may be closer to south Texas than to south Alabama but the precise and prissy articulation is spot on.
Younger audience members might miss some of the mid-century references -- for example, not many of those under 50 are likely to have read In Cold Blood -- and in a day when the President advocates gay rights in his second inauguration speech they may not understand what an extraordinary and in fact courageous creature Truman Capote was. But virtually everyone is likely to respond to Jaston Williams' portrait of a sensitive, brash and hurting man who risks falling off the wagon the same way he has fallen off the social carousel. It's a noble portrayal and a captivating evening of theatre.
Comments by Cate Blouke for the Statesman's Austin360 Seeing Things blog, January 21 (366 words)
Review by Elizabeth Cobbe in the Austin Chronicle, September 24
EXTRAS
Michael Lee's audio feature for KUT-FM's program 'Arts Eclectic,' January 22
Click to view excerpts from the program for TRU at the Zach Theatre
Hits as of 2015 03 01: 3045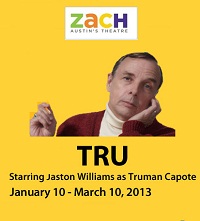 ---
Tru
by Jay Presson Allen
Zach Theatre
January 10 - March 10, 2013