Review 2: The Wars of Heaven, Pt. 1 by Trouble Puppet Theatre Company
by David Glen Robinson
The Salvage Vanguard Theater, one of east Austin's premier warehouse theaters, lends itself to darkness. An intentional, cultivated sense of gloom prefaces Trouble Puppet Theater's vast imaginative updating of John Milton's Paradise Lost. For the 21st century, the work is reentitled The Wars of Heaven, Part 1. The production is ambitious in taking on this monument of world literature, but Trouble Puppet has climbed monuments before and knows how to do it. Milton's visionary 1667 epic poem translates well into the bright imagination of the puppet universe. The gloomy Salvage Vanguard house filled with literary and puppet theatre aficionados before the show.
For high school and college students of Milton, know that the core theology of the vision remains. There is a war in Heaven, and Lucifer, The Shining One, is cast out, falling seven days and seven nights to a place he builds that we call Hell but he names Pandemonium, "All Demons." The theological changes come very quickly, and the first change is that Lucifer is a female along with all her Fallen. The second change is that The Fallen were not cast out of Heaven; they chose to leap over the rail.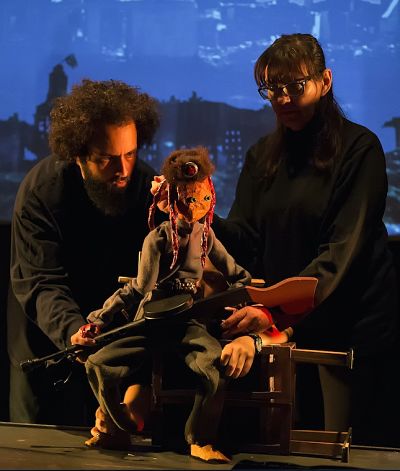 Gender conflict and roles and the issues of hierarchy and equality take center stage in this 21st century staging of a core story of Western civilization. One wonders if an earlier generation, not so long ago, would have updated Milton to observe the conflict between Marxist socialism and democratic capitalism along with all their embedded issues.
A more fundamental shift from original Milton is that the war is not resolved at the Garden of Eden, but plays through the wars of humanity at all times and all places, giving a spiritual subtext to all the unexplainable horror in human mortal conflict. Here the staging and artifice of puppet theatre are shown to greatest advantage, especially the more intensive and innovative use of shadow puppetry. We gain a sense of all time existing in synchronicity throughout eternity, nodes capable of being visited and relived at will by the Divine. We visit WWII Stalingrad, Old Kingdom Egypt, Roman Britain, the Columbian advent of 1492, and the revolution of the North American colonies.
The kink in the eternal plan is that a male angel and a female demon make a separate peace. The fact that they resolve to stop killing in the midst of warring eternal forces gives the audience the sense of a trilogy's worth of strong material and imagery to come. Truly, we are a long way from the last peaceful lines of the poem:
The world was all before them, where to choose
Their place of rest, and Providence their guide.
They hand in hand with wandering steps and slow,
Through Eden took their solitary way.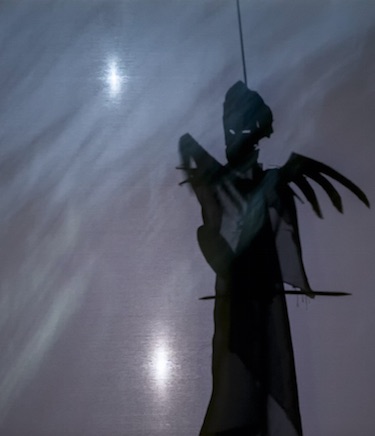 Trouble Puppet's well-trained corps of puppeteers is put through its paces in this production. The table puppets, well-designed as always (a quality alluded to ironically on the company's 10th anniversary t-shirt), are also exceptionally well costumed, with the much deserved credit going to Lucie Cunningham. The new fabrications led enjoyably through all time, featuring such surprises as the dry humor of puppets repeatedly firing and reloading flintlock rifles. Travis Bedard's voicework gives magical life to his characters, as does Ellie McBride's. Noel Gaulin's shadow dance as The Almighty is exquisite. He sets forth the facts of Creation and Eternity before withdrawing to His throne in the Empyrean. Gaulin's dance and movement talents tend to be overshadowed by his immense acting talent, but this show may help in part to right the balance.
The Wars of Heaven Part 1 gives us a soundtrack of original music composed by Justin Sherburn. He is one of those Austin musical talents who can call forth musical ensembles at will from among the vast pool of Austin musicians. The soundtrack of this show is available free for listening or download at Sherburn's page at Montopolis Music. The music and sound effects were arranged and played seamlessly in the show through the lapidary work of K. Eliot Haynes, assisted by Josean Rodriguez.
The ultimate credit for the multi-media integration of the show goes to Connor Hopkins, the Trouble Puppet artistic director. He has assembled a capable company of artists whose enthusiasm shows through on stage.
The Wars of Heaven Part 1 is highly recommended for all literary-minded adults.
Artistic vision: Trouble Puppet has it.
View the results through May 17 at Salvage Vanguard Theater on Manor Road in east Austin.
---
The Wars of Heaven, Pt. 1
by Connor Hopkins and Trouble Puppet Company
Trouble Puppet Theatre Company
Thursdays-Sundays,
April 30 - May 17, 2015
Thursdays - Saturdays at 8 p.m.; Sundays at 6 p.m.
Tickets are $12–20 at BrownPaperTickets
ASL interpretation offered (date TBA).
Group sales welcome. Director/cast talkbacks available for groups of five or more.
**Not created for children. Contains cursing and violence (war). Probably OK for ages 13+.**