Review: The Undoing of Nonet by The Kathy Dunn Hamrick Dance Company
by David Glen Robinson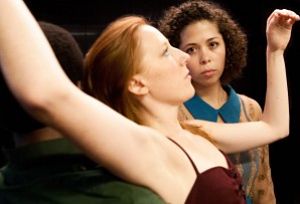 The Kathy Dunn Hamrick Dance Company (KDHDC) is said by many to be the best modern dance company in Austin, and it also receives notable positive mentions statewide. Part of this reputation is built on the company's athletically powerful performances and embrace of abstract communication, a hallmark of all modern dance inherited from Martha Graham. And while much of modern, or contemporary, dance in the 21st century has moved more toward narrative story dances or drifted into performance art, Kathy Dunn Hamrick Dance Co. remains rooted in abstraction for its core inspirations. The contrast between this form of performing art and narrative, discursive plays is the very reason I recommend this show to the theatre-going public. Here is something the theatre fan doesn't often see and may find unexpectedly enjoyable.
The commitment to the abstract does not at all suggest that KDHDC performances lack affect or fail to address human feeling. Their current show, The Undoing of Nonet, is a case in point. It's a meditation, or riff, on the power of abstraction to enlighten, inspire and redirect thought and feeling.
The first encounter with The Undoing of Nonet is with its title. It suggests a story of the misfortunes of a female named Nonet. But is anything as it seems? A nonet is an ensemble of nine, one more than an octet. And whether person or thing, what is undoing or coming apart here?
The first few minutes of the dance refuse to resolve the matter. An ensemble of nine dancers steps onstage as the lights fade up. Their costumes lack uniformity; instead, they show great variety. One dancer in particular is garbed in a floor-length dress and old-fashioned flowered bonnet. She is very much a character. Nonet?
The ensemble forms a line, and multiple canons ripple through the group. The line moves upstage and downstage, breaks apart, aligns on the diagonal, and suddenly the character dancer is gone. Nonet is undone. The balance of the hour-length performance is left to a group of eight dancers who perform in various combinations, entering and exiting as needed to accomplish their work.
The first half of the performance is immensely physical, the dancers demonstrating the KHDC trademark athleticism. They perform multiple lifts, carries, and inversions, mastering every level from the floor to the lighting grid (more about the lighting design later). The first half has a vertiginous and lightning-quick dynamic. Its powerful qualities are built partially on the live music accompaniment by line upon line percussion (no, they don't capitalize their name), an ensemble of three percussionists. In the show, each plays mixed sets of percussion instruments. They begin with an explosion of sound, followed by complex rhythms streaming across the stage, keeping pace with the dancers.
Spectacular partnering marks the strong section of the piece. Shari Brown and Alyson Dolan are well matched, slender as whips and with the same cabled strength. They move together and exchange lifts, then engage in seemingly effortless carries that create starlike shapes with spoking arms and legs. Just when I told myself I wanted to see more, they stopped. Later in the show, the two dancers surprised me again by performing another partnering sequence, albeit one with different gestures.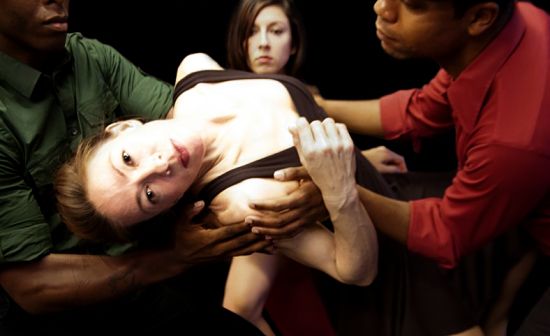 Steven Pruitt's lighting design serves the purposes of the dance but stands additionally as an artistic work in its own right. Standard flood lighting bulbs hanging from flexible cords point straight down. The instruments are arranged in a square of from 80 to 100 bulbs. They form a plane above the stage, one that has the illusory effect of lowering the ceiling of the dance space. Dancers can and do reach up to jostle the bulbs from time to time, and these actions activate and randomize the illumination on the stage. That's not all -- designer Pruitt can alter the luminosity of each bulb to create a multitude of lighting sets. This design interacts strongly with the performers.
I have seen one similar design in the past year, that of Steven Shirey for Breaking String Theater's production of Timothy Braun's Three, or the Sound of the Great Existential Nothingness. I'm wondering if such interactive lighting designs may be an emerging trend. If so, you read it here first. Be that as it may, Pruitt's design drapes layers of light and shadow across the dancers, like multiple layers of tulle or lace over a figure, and then shifts the layers through time and across space. This work is certainly worthy of a B. Iden Payne award nomination.
The second half of the performance is more emotional. The dancers slow a bit. Their partnering and group work become more sinuous. Their faces become more expressive. When they look at each other, they see things. What things? In the welter of abstraction they have built around us, that is difficult to say. I am the kind of audience member who, when flooded with abstract images, forms his own impressions out of the mass. This is a valid response and one welcomed by any creative artist. Art very much should motivate us and point out new pathways. The Undoing of Nonet launches us in new directions of mind and heart.
Line upon line percussion shifted to xylophone strike plates set across cords and wooden panels. This gave the strike plates a softer and flatter quality when struck. The dance wound down softly, as well. One after another, performers exited, not to return, after increasingly lyrical passages that all seemed to be long, lingering farewells. The movement all ended with Shari Brown melting to the stage to form an exquisite shape of encircling arms that seem to hold and bid the departed to tarry and yet remain with us in the fading light.
And to be too meta by half, The Undoing of Nonet is the farewell dance of longtime company member Roxanne Gage. Roxie leaves to "retirement," she says, after a national career centered in Texas. In addition to lengthy and highly regarded stints with top rank repertory companies such as Sharir Dance Company and, of course, KDHDC, Roxie claims academy teaching in every dance form, including cheer. She may leave the stage, but she surely remains on the scene.
People sometimes say to me that they don't "get" a dance, or what it is that the choreographer is trying to say. It's generally less important to "get" the performance, although specific important messages may be conveyed, than it is to make something of it meaningful to oneself. That engagement is the evidence that a performance has resonated with its audience.
For that reason I recommend The Undoing of Nonet to all, and especially to the theatre-going public. People who buy tickets to live performances are already open to the unfettered enjoyments of this show. People new to live performance have in The Undoing of Nonet an excellent opportunity to begin a most artistic and pleasurable journey.
---
The Undoing of Nonet
Kathy Dunn Hamrick Dance Company
Thursday-Saturday,
December 05 - December 07, 2013
Friday at 8 p.m. and Saturday, December 7, at 3 p.m. and 8 p.m. Tickets are $17 general admission, $12 for students and seniors, available via the KDHDC website.