Review: The Trial of Ebenezer Scrooge by Gaslight Baker Theatre
by Michael Meigs
Ebenezer Scrooge is everywhere around Austin this Christmastide.

At his fictional debut in London in 1843 the old curmudgeon endured a long, long Christmas Eve but came through transformed and redeemed, much to the delight of the reading public early in Victoria's reign. Dickens intended the novella as an uplifting scold and a humanitarian lesson --and a money-maker. He didn't make much from it, particularly once unscrupulous publishers started churning out unauthorized editions. Within a year there were eight theatrical versions of the Christmas Carol in London, only one of them authorized, with another two in New York.

Dickens did establish an enduring set of characters and he was influential in shaping Anglo-Saxon celebration of the holiday. Some assert that the greeting "Merry Christmas" stems from the mouth of Scrooge's nephew Fred and others maintain that our celebratory, family-oriented rituals of the holiday are urbanized versions of 18th-century manorial customs admired by Dickens and depicted in this story.

Scrooge lives again for us this year in Austin and nearby, with -- count 'em -- seven straightforward versions (two conventional theatre pieces, two one-actor presentations, a version for children and a version by children, and a musical) and five spoofs (including Inspecting Carol, now underway both in Wimberley and in San Antonio). Pretty good for a 166-year-old.


The novella lends itself to such treatments, for Dickens' lively story is told with lots of dialogue, much of it vivid and quirky. If you can't get to one of those 13 productions, you can always download the book from Project Gutenberg in any of several versions, including the delicious 1895 edition amply illustrated by Arthur Rackham.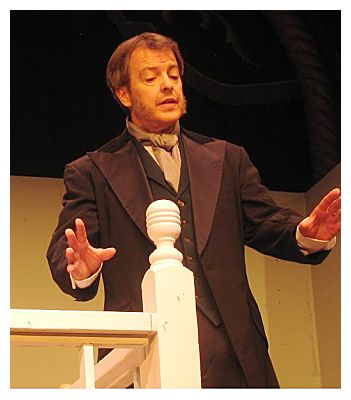 The Trial of Ebenezer Scrooge is playing in Lockhart, but it's really a Greater Austin metro production, drawing many of the cast and crew from Austin and Wimberley. Director Stephen Reynolds has appeared onstage in all three locales, and he enticed five talented members of the Austin Gilbert & Sullivan Society to take principal roles. It's too bad that the play is not a musical -- but the entr'acte features a lovely melody or two by the ladies with Derek Smootz at the piano.

Playwright Mark Brown has taken the familiar story and turned it inside-out, rather like a well-worn argyle sock, so that a bright pattern is visible in unexpected configuration, perhaps with a thread or two hanging loose. It is set one year after Dickens' tale.

The title of Brown's piece is misleading. It implies that Scrooge himself will be in the dock, defiant after having lapsed from his miraculous conversion. Quite the opposite -- this is not a criminal action, but rather a civil suit in which Scrooge is the plaintiff. Gary Yowell, stiff in his sideburns and Scroogely disappointment, is pursuing damages for mistreatment, kidnapping, and personal humiliation.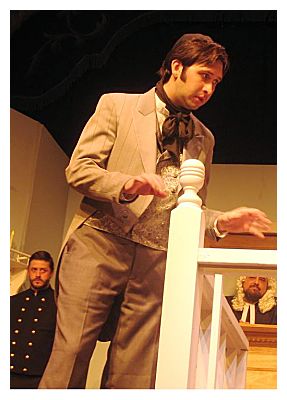 Scrooge acts as his own attorney. Derek Smootz is his adversary, the urbane barrister Solomon Rothschild. Gruff, impatient judge Carl Galante is holding sessions in an apparently spiritualist London in which ghosts can be called to testify for our amusement. Toward the finale, when Scrooge is defining conditions for a settlement, we perceive that Rotschild's clients are, in fact, Marley and the spirits of Christmas past and Christmas future.


Kevin Gates as the bailiff is sent out twice during the action to haul into court their colleague the ghost of Christmas present, without success. The ghost's refusal is announced with a mocking "wah-wah" ending to an instrumental Christmas carol played offstage. Our bailiff reports that the ghost is too busy on that Christmas Eve. Playwright Mark Brown doesn't provide much of a rationale for this. Perhaps Christmas Present would immediately see through the cagey game that Ebenezer Scrooge is playing?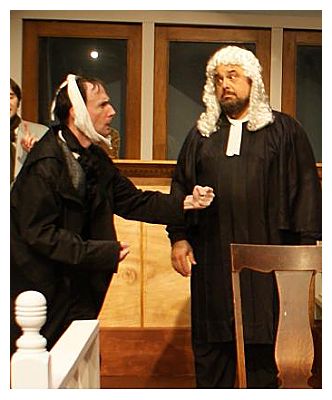 In any case, Brown makes up for that absence with his concept of the ghost of Christmas Yet To Come -- a darkly veiled figure that speaks no English, instead using translator Dana Peschke to explain musical gibberish that sounds vaguely eastern European. Jason Foreman has fun producing this audible nonsense, and he establishes Yet To Come as a sort of resigned, innocent hard-working spook that just can't fathom what this Scrooge is up to.



Arthur Dibianca as Marley's ghost is priceless. He takes Best In Show with his look of constant astonishment and high, keening voice, rather as if life as a shade with bound jaws had left him amazed to be able to say anything at all.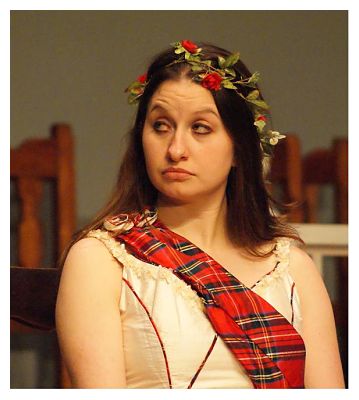 Angela Irving's wonderfully expressive grimaces and characterizations as the Ghost of Christmas Past and as Scrooge's housekeeper Mrs. Dilber are fine fun. Also double-cast, Katherine Wiggins is appealing and demure both as charitable visitor Mrs Wainwright and as Belle, Scrooge's former fiancée.

All will come right in the end, of course, and the revelation of Scrooge's stratagems and his ultimate aim will illustrate to you just why he was so successful in operating his counting house -- that "squeezing, wrenching, grasping, scraping, clutching, covetous old Sinner!"


UPDATE: GACA "A-Team" review by (uncredited), December 7
UPDATE: GACA "A-Team" review by Stephen Fearing, December 21
Review by Thomas Jenkins of two San Antonio "Christmas Carol" variants in the San Antonio Current, December 16
EXTRAS:
Click to view program of The Trial of Ebenezer Scrooge at Gaslight Theatre, Lockhart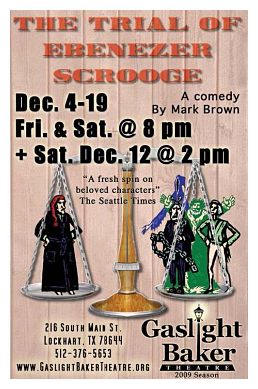 A Christmas Carol plays in and near Austin at: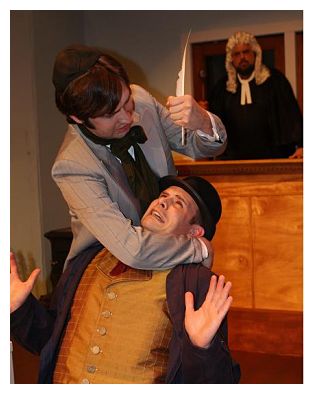 Austin Playhouse (Bernadette Nason's one-woman interpretation)
Boerne Community Theatre
The Company Theatre ("Bah Humbug," Damien Gillen's touring one-man interpretation now in its 7th year, playing in Austin on December 12 at Pioneer Farms and at the Dougherty Arts Center, afternoon of December 20)
KidsActing at the Center Stage, a version by children
San Pedro Playhouse, San Antonio (a musical theatre version)
Scottish Rite Children's Theatre (a version for children), and
St. Mark's Episcopal Church (St. Mark's parishoners)

Christmas Carol variants or spoofs play in and near Austin at:

Cameo Theatre, San Antonio: Inspecting Carol (in which a community theatre group thinks that its version is to be inspected by a theatre expert)
Gaslight Baker Theatre, Lockhart: The Trial of Ebenezer Scrooge
Harlequin Dinner Theatre, San Antonio: Scrooge's Rude Awakenings
Overton Theatre, San Antonio: An Actor's Christmas Carol (with the Three Spirits of Acting)
Way Off Broadway Community Players, Leander: The Farndale Avenue Housing Estate Townswomen's Guild Dramatic Society's Production of "A Christmas Carol"
Wimberley Players: Inspecting Carol
Hits as of 2015 03 01: 850
---
The Trial of Ebenezer Scrooge
by Mark Brown
Gaslight Baker Theatre
December 04 - December 19, 2009