Review: The Strange Case of Edward Hyde and Dr. Jekyll by Trouble Puppet Theatre Company
by David Glen Robinson
Trouble Puppet Theater Company has opened a new work adaptation of classic popular literature, The Strange Case of Edward Hyde and Dr. Jekyll, at Salvage Vanguard Theatre on the east side. Admiring fans of Trouble Puppet have waited a while for a new production from the intrepid puppeteers, and they will find the results well worth the wait. This new work shows theatrical growth while retaining the freshness and keen imagination for which Trouble Puppet is known.
The story is taken from Robert Louis Stevenson's The Strange Case of Dr. Jekyll and Mr. Hyde. As the title suggests, Stevenson's story turns topsy-turvy, dashing Victorian science and British class stratification against Marxist socialism. The tone resembles George Bernard Shaw's calls for social reform; most famously, Shaw's cries for social and gender equality in Pygmalion. Trouble Puppet takes an unflinching look at the results of failing to reform, pointing to the gold standard of real-life serial murder mysteries, Jack the Ripper. Trouble Puppet never hesitates to veer from one story to another, and here as always the steering is adroit.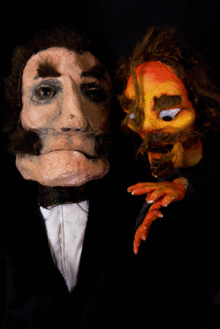 Artistic Director Connor Hopkins drives Trouble Puppet's vehicle, and his creative adaptation of Stevenson's novel establishes the core of this quality production. Hopkins makes it a dialogue-heavy story with puppeteers voicing their puppets with colorful character accents appropriate to Victorian times. Jose Villarreal, Noel Gaulin, Zac Crofford, Dallas Tate, and Travis Bedard in particular capture the grit and grime of foggy, coal-dust, back-alley London where everyone fears to tread without the sword-cane at the ready.
Justin Sherburn has composed a beautiful soundtrack of 21st century music, thoroughly escaping the ghetto of horror movie soundtracks, and adding a nearly unique aesthetic dimension. Taking Sherburn's music as his meat, K. Eliot Haynes crafted the music and sound effects seamlessly throughout. Sherburn's and Haynes' sonics are worthy of many awards.
Monica Gibson and Lucie Cunningham share credit for costume design, providing a very pleasing and consistent Victorian aesthetic of dress, characterized by coppery fabrics set off with purples, browns, and deathly black.
This uniform costume suite, prevailingly low lighting levels, and, oddly, the consistent skin tone used for all the main table puppets conspired to form one of the few negatives in this exceptional show. Anyone sitting farther back than about the third or fourth row would find it difficult to distinguish visually among the main characters. This was true both for early character developing scenes and for action scenes where the figures did not speak or cite each other's names. Good audience discipline was required in the first half of the show, but during the Halloween night performance this reviewer noticed that some audience members had lost focus early. Of course, careful attention was amply repaid in the spectacular second half, and few if any attendees left the theatre at intermission.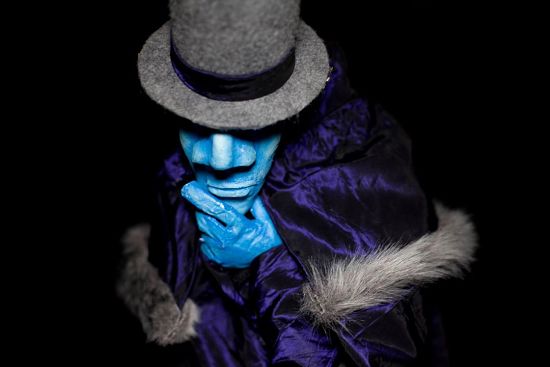 Trouble Puppet Theater Company soldifies its reputation as a stage interpreter of classic literature with The Strange Case of Edward Hyde and Dr. Jekyll. The puppets, costumes, sets, music, and story comprise a near-unique evening of art for anyone with even the slightest interest in the fine arts. Theatre purists can be reassured, as well, for the company follows a rigorous theatrical approach, structuring its presentation around the actor (puppet/puppeteer) interpreting a written, narrative text in movement and speech .
The producers advise that the show is for those older than about the age of fifteen, since it features coarse language and charnel scenes of horror. For all but the young set, this show is highly recommended.
---
The Strange Case of Edward Hyde and Dr. Jekyll
by Robert Louis Stevenson, adapted by Connor Hopkins
Trouble Puppet Theatre Company
October 30 - November 23, 2014
Thursdays - Saturdays at 8 p.m., Sundays at 6 p.m.
Tickets $12 - $50 via BrownPaper Tickets. Tickets for the show and party are $25 and include food, drink, and live music by the Invincible Czars. Our last Halloween party sold out; we strongly recommend buying in advance. Tickets for just the party are $12.