Review: The Secret Lives of the InBetweeners by The Vortex Repertory Theatre
by Michael Meigs
Aaron Brown's musical at the Vortex benefits from a strong cast, Bonnie Cullum's assured direction, and a bouncy score, well executed by a five-piece band including piano, keyboard, guitar/bass, drums and a cello. You can relax and laugh, sympathize with the dilemmas of poor Joe (Jonathan G. Itchon, below) and his acquaintances, and generally have a good time.

But as for those Inbetweeners -- they seem to be the target audience for this piece, folks of university age or just beyond, who are likely to sympathize with an aspiring artist suffocated by the selfish embrace of his horrible mother (Jennifer Coy, seen only in silhouette, even during the curtain call).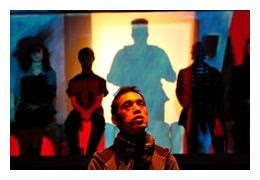 This is plotting by the numbers. Central character Joe is frustrated artist who flees vulnerable woman photographer Tina (Sarah Gay) who's powerfully attracted to him ; comic relief is hairy geek Waldo (!) (Trey Deason) who lives in a computer game dream world but falls for a sassy, self-assured blonde, Charlotte (Jo Beth Henderson). Joe is putting on a play featuring Charlotte, so geek Waldo insinuates himself into rehearsals as the prop manager. Tender Tina obsesses over Joe, asks Charlotte for advice, has her telephone messages to Joe erased by the wicked Mom.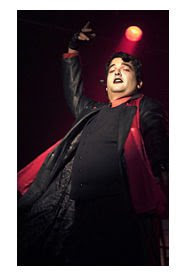 Okay, we could probably work with that. But what comes along then? A mephistophelian figure Fear (Rudy Ramirez) in black clothing, mascara, and black lipstick, balanced by Hope, a sort of happy urban gypsy played by Betsy McCann.
Let's review the Greatest Writing Clichés once again: #1, "It Was All Just A Dream"; #2, "He Dies and Goes to the Afterlife and Gets Another Chance"; and now this one: #3, "Indecisive Human Has a Devil on One Shoulder and an Angel on the Other, and the Supernatural Guys Make A Bet on Temptation and Salvation."
In all this mess, the most interesting character is None of the Above.
Errich Petersen as Harry is probably meant to be the real-life devil. In a coffee shop he overhears the girls dramatizing Tina's plight and he intrudes, coming on to Tina with the casual assertion that she should pay attention to a real man. They expostulate and leave, but Tina comes back for her forgotten cell phone, and she's hooked. Harry is rich, or he pretends to be; he is out for a good time; and when Tina gets knocked up, bad old Harry urges her to turn to "a doctor that my parents have."

One problem with this stereotype is the actor. Errich Petersen is simply too credible for the character. He doesn't camp it up, so we can hiss him; he has good control over himself, his emotions, and his singing. I wound up thinking that the whole musical would have been a lot more interesting if it had been written about Harry. Oh, sure, give him a tough love lesson; but that would be a better dénouement than the one we get -- Joe finally storms out of Mommy's house to seek his fortune and Tina finds him for Instant Happiness.

Okay, maybe that's too cranky a summary of these goings on. I will confess that I'm far beyond the age of the Inbetweeners, so maybe that's why a predator is more attractive than a martyr.

Every one of these actors is talented and they give their all. Never mind me. Go and have a good time, cut 'em some slack. Especially if you're an Inbetweener!


Joey Seiler's review on the Statesman Austin360 blog, February 9.

Pre-production interviews by Priscilla Totiyapungprasert of the Daily Texan, published February 12

KUT.org audio piece published February 16

Review by Ryan E. Johnson on Austin.com, February 18
Hits as of 2015 03 01: 1306
---
The Secret Lives of the InBetweeners
by Aaron Brown
Vortex Repertory Theatre
February 06 - March 07, 2009