Review: The Nina Variations by Steven Dietz, Gobotrick Theatre Productions
by Michael Meigs
Two persons, forty brief scenes, a scant hour and twenty minutes in a playing space about the size of a writer's study – this was the most deeply satisfying theatrical experience I've had since beginning my exploration of Austin theatre last year.

The Nina Variations is a theatre-maker's dream, crafted by Stephen Dietz from the material of Chekhov's The Seagull. Coincidentally, last year's production of that play by Broken String Players at the Off Center was my first evening of Austin theatre.

This beautiful evening will be caviar to the general, in part because to appreciate its creativity fully the audience should have at least a vague acquaintance with Chekhov's quietly comic melancholy, with the source play and with its characters. Playwright Dietz does give us a quick refresher in Scene 4, as Treplev (Aaron Hallaway) gives a list of the characters with comments on their relationships, illustrated with whimsical drawings, back-projected.

Chekhov always gives us a large cast of characters. Family members, friends, local officials, servants and others spend much of their time in desultory talk with and about one another. The trivial mixes with the transcendent. There is a slow overall movement through his plays, but just as in real life, the present moment is the most important. And the present moment is often filled with longing, with banter, with philosophizing, with small absurdities.

The Seagull, set in a remote Russian province, opens as family and friends gather by an improvised stage by the lake. Treplev, the neglected son of a famous actress, is staging a play, a new sort of play, in which he has confided the single role to Nina, the neighbor girl whom he adores. As dusk gathers, Nina delivers before the idly curious group of onlookers Treplev's impossible text, a soliloquy evoking a time hundreds of years from now, when mankind will have perished and the earth will have changed unutterably. When they titter at his concept and at the red-eyed devils that appear to accompany his words, Treplev angrily breaks off the presentation.
Much, much more happens in the play. But Act IV, set years later, gives us Treplev once more, a recognized though anonymous author, scribbling in his study. His beloved Nina has returned to town, after running off to live with the successful novelist Trigorin, who neglected and abandoned her even though she bore his child. Nina is now a working actress. She comes unannounced to the door of Treplev's study. After a brief encounter, a scene of less than three pages, she leaves him, leaves the town, and leaves the province. Shortly afterwards, as Treplev's family and acquaintances play cards, they hear a distant explosion. The family doctor goes out, comes back unperturbed, reassures everyone, then draws a friend downstage to tell him, in confidence, that Treplev has just shot himself. Curtain.

For The Nina Variations we are allowed into the house just fifteen minutes before the announced starting time of 8 p.m. Treplev is there, seated at his desk, wrapped in thought, scribbling, revising, thinking, scribbling some more.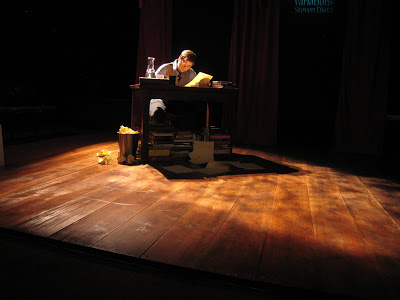 There is a faraway, droning chord, almost obscured by the low surge of the ventilation system. We sit. We watch Treplev. If we are so minded, we can empty our thoughts, quiet those drunken monkeys of the mind, and absorb the scene of the writer at work, emblematic not only of Treplev's dilemmas but also of those of playwright Stephen Dietz. After that contemplation, eventually the distant music changes, a young woman walks irresolutely out of the shadows beyond the stage, and Nina initiates the action.
Dietz takes this relationship, respecting fully the characters involved, and offers variations, in the musical sense, on Chekhov's scene. What more might they have said? How could Treplev have opened his heart to her? What could she have said to him about the patent scandal of her profligate life with Trigorin or the early death of their child? What if they re-explored the script from Treplev's failed drama, or changed roles, or tormented one another, or free-associated in Chekovian style about the meaning of art, of form, of love, of eternity, of one another? What if somehow they had overcome the inevitable characteristic of Chekhov's characters, that of not quite listening and instead speaking past one another?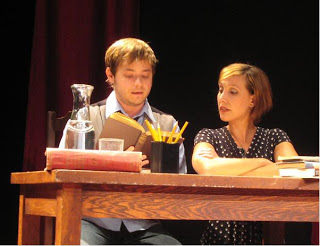 Dietz rings the changes, and the bells peal out in ever-changing sequences. Or, changing the metaphor, his Treplev and Nina rise and bank through the imagined world of the play like paragliders following thermals over a familiar landscape, giving us new views and unexpected possibilities. They close with one another or they confront. Treplev mocks the use of a seagull as a symbol. They dream. They give us their premonitions. In a powerful moment Treplev speaks from the lonely lakeshore about his thoughts as he lifted the pistol to his head.

The variations are marked only by the silent change of a number discreetly projected on a back curtain. Initially I found this off-putting – shouldn't we receive an audible signal, a quiet ding to emphasize each beginning again? But the scenes are variations, not alternatives. Without explicit, insistent demarcation, those many possibilities assume simultaneous existence for us. They exist because Dietz imagined them, Aaron Hallaway and Rachel McGinnis embodied them, Will Hollis Snider directed them, and the whole apparatus of theatrical production gave them life.
Add to that intellectual stimulation the fact that the acting is of the very highest quality. It had to be – with two characters working one another and working the text, any false note would have thrown the whole exercise into the "interesting but so what?" category. Their pacing, silences, concentration, gestures, congruence of character to the originals in The Seagull – nothing was lacking.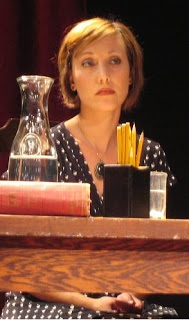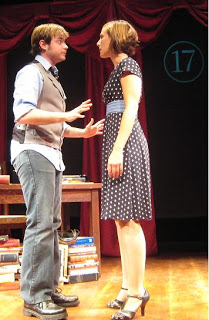 In other productions of The Nina Variations, directors have chosen to populate the stage with several Ninas and Trigorins, thereby suggesting that outcome is tied to individual traits. Here, in contrast, by embodying their characters consistently with conviction and apparent spontaneity, Aaron Hallaway and Rachel McGinnis raise for us the issues of actions, responsibility, uncertainty and risk.If only I had said. . . .




In opening moments Hallaway appears too young to play Treplev, but his intelligence and emotional openness overcome that handicap promptly. McGinnis, assured, unapologetic, alternately amused by Treplev and annoyed by him, is never a victim and always alluring.

This is such an intimate play in substance and in setting that in style much of the acting approached cinema technique. Small gestures, visible thought, naturalistic diction, throwaway lines. At times the volume was so subdued that phrases or whole sentences went missing for me in the soughing of the ventilation. But anger or emotion flared as well – such as Treplev's response to Nina's word game, taunting her repeatedly with "Masha" – the name of the provincial girl hopelessly in love with Treplev. Laughter was there, as was hope.
Gobotrick's Nina Variations is a brilliant, consistent, heart-rending series of riffs on Chekhov's characters, one which preserves Chekhov's sensibilities and reminds us gently and insistently that life is here, life is now, life is immediate, and all our choices are full of meaning.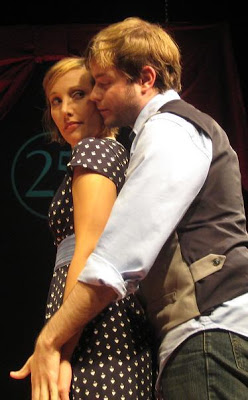 Joey Seiler writes a perceptive review, Austin Statesman, November 19

Austin actress Jennymarie Jemison's post on the Nina Variations, with a response from Rachel McGinnis (who played Nina), November 26

[Click for Ryan E. Johnson's perceptive review on Austin.com]

[Click here for the Act IV scene between Treplev and Nina, contained in teaching materials prepared by the Vienna (Austria) Theatre Project for the first European presentation of the play]
2 COMMENTS:
---
The Nina Variations
by Steven Dietz
Gobotrick Theatre Productions
November 06 - November 22, 2008