Review: The Lucky Spot by Austin Community College
by Michael Meigs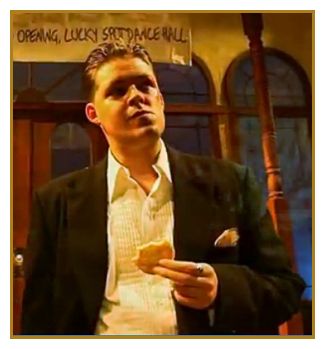 These pralines come in a very handsome box. Peter Sukovaty's design for the interior of the Lucky Spot dance hall in rural 1930's Lousiana is graceful and meticulously detailed, the lighting is rich and subtle, and the music that accompanies and accentuates the action includes dance music and even a couple of Hank Williams numbers. It's just before Christmas, but you can almost smell the Louisiana marshes when those doors at deep center stage swing open.

Playwright Henley creates a pair of strong opposed egos at the heart of her piece: short-spoken tough-guy gambler Reed Hooker who won this dubious property in a card game and Sue Jack Tiller at Angola Penitentiary, his wife, set for early holiday release from her sentence of three years for throwing downstairs the woman she caught in Hooker's bed. James Hawkins as Hooker is a brooding presence, a rock out of place in the marshland. Yesenia Garcia as Sue Jack is the vital force of this piece of theatre, creating a complex, attractive character bruised by life and indifference but capable of warmth and joy. Henley tantalizes us with these two and the grim gap that subsists between them. Call 'em angels with dirty faces; we know that they've been living hard lives and we want to see the grand opening bring them together again and make them happy.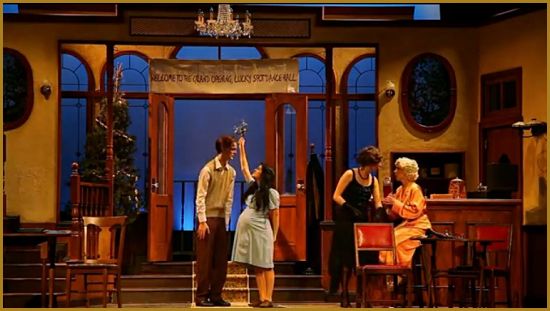 Henley hangs the other characters on that central structure like ornaments on a Christmas tree. Dip into your box of Louisiana quaint and you come up with Cassidy, the none too bright orphan won by Hooker in a card game; stringbean "Turnip" the necessary clerk and flunky to Hooker; a gentle blond dingbat named Lacey, the only one of the imported dime-a-dance girls who didn't have the train fare to leave Hooker in the lurch; and the obligatory solo client at the celebration, a widowed farmer lonely on Christmas Eve.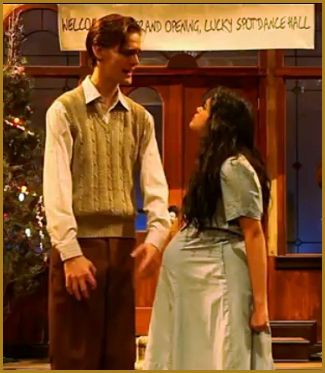 Credible adversary to Hooker is Carmichael, from the family of the former owner. Jonathan Mangrum as Carmichael can brood just as well as well as Hooker and he's got the bullish non-nonsense go-ahead force of a man without scruples or morals.
Director Selby Brammer moves these characters smartly against one another, making the most of the ample space on that awkwardly high stage. The ACC Drama Department's promotional video captures key moments of confrontation and celebration, suggesting movement and vitality. The first act is in fact a busy one, establishing the supporting roles and bringing Sue Jack unexpectedly on the scene, but for the second act Henley does not give her characters very much to do. The ironically named Lucky Spot is not lucky in the least, for no one but bad guy Carmichael achieves his goals.
The actors embrace the secondary characters and give them convincing life and vitality. Tall, thin and bushy-eyebrowed Cole Christensen makes Turnip the clerk well-intentioned and generally puzzled with life, never more surprised than when he receives a compliment about the depth of his ability at conversation. Much shorter, sweet and rounded, Briana Loera as the very pregnant Cassidy plays simple without playing stupid, even managing to make her renunciation of marriage dreams a credible decision. Nicole Doorish with her musical lilt and her cultivated awkwardness is a delight - her Lacey is a striving, would-be swan. Richard Craig, who played Molière's imaginary invalid not long ago at the City Theatre, doesn't have a great deal to do as Sam, the widowed farmer, but he does it with a mild and diffident air entirely appropriate to the character.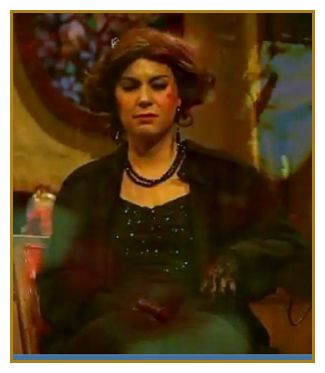 Why have I not seen Yesenia Garcia more often in the more than three years that I've been writing about Austin stages? She appeared heavily wigged and behind glasses as the elderly central character in Adela's Altar by Celeste Mendoza in an evening of one-acts done by Teatro Vivo in October, 2008. Garcia is a graduate of Southwestern and an MFA-Acting graduate of the University of Texas with a list of credits from elsewhere. Now an adjunct professor for the Austin Community College drama department, she owns and runs the production firm C2C Multimedia.
The Lucky Spot was an opportunity to observe and appreciate the intelligence and mastery Garcia applies to the creation of character. Let me express the modest hope that she'll find a way to take more time from merely necessary professional business and make herself available to some of the other stages in this town.
EXTRA
Click to view the program for The Lucky Spot at Austin Community College
His as of 2015 03 01: 2186
---
The Lucky Spot
by Beth Henley
Austin Community College
November 04 - November 13, 2011