Review: The Flaming Idiots by Zach Theatre
by Michael Meigs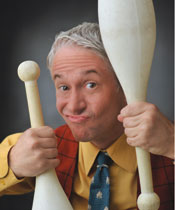 They juggled and joked together for 20 years, and now they're back, while they can still do it. In his program note, Rob Williams -- the beaming little guy in the yellow shirt -- says that the Zach gave them the step up from renaissance fairs and comedy clubs to the world of regional theatres, network television and off-Broadway. They disbanded in 2004 but last year resurrected the act, playing in Edmonton, Canada, then moving to the New Victory theatre in New York City, and now back home to Austin.

Well, maybe "home" in a sentimental sense. Williams lives in Los Angeles and tours internationally; Jon O'Connor, the big guy, coaches a Minneapolis-based juggling group, the Jugheads; and Kevin Hunt, he of the now-gray frizzy hair, lives in Louisiana on the north side of Lake Ponchartrain.

It's a highly polished show. Bright, fast and funny with the patter and the surprises. They love this stuff. They must, because they've been doing it for so long. . . .you can catch them on YouTube in a 1991 video from television, doing the same clever variations. In fact, you can get YouTube looks from last year's tour, doing their goofiest stunts. Rob Williams makes a baloney sandwich with his feet; the three of them scramble through a 25-second escape from three straitjackets strapped together, just in time to rescue an audience member (funny, the guy in the video from last year in Edmonton looks just like the fellow at the Zach last night).

This is the stuff of vaudeville, as Rob reminds us. But vaudeville bills were extensive and varied, delighting the public with singers, jugglers, sketch comedy, music and acrobatics. Incorporating the jocular, talented three-piece band led by Allen Robertson into the business and pulling spectators out to participate, the Flaming Idiots do their best to mix it up and to provide the variety. In addition to the Indian clubs and the flaming torches, they even juggle bean-bag chairs in a delirious disproportionate dance.

It's all juggling and comedy, and it's all spectacle. Don't expect any narrative other than the quirky bounce of their funnymen personalities: the yappy happy Gyro (Williams), the big expressive dingbat madcap Pyro (O'Connor) and the laconic Minnesotan dreadhead Walter (Hunt). Williams and O'Connor are pretty good at not bonking Hunt's noggin as the flying clubs ruffle his mop of hair.

They're slappy and happy, and they cheerfully acknowledge missed catches. Some of those are intentional and part of the comedy, others are simply mistakes. None of that superhuman Asian precision here! But that's one of the reasons that we enjoy them.

After all, why should clowns retire? These guys still love their routines, and they'll be gigging your funnybone and making you marvel as long as they can.
Here's are scenes from the current show and a brief interview made when they played at the New Victory Theatre in New York this past December:
Review by Kate Ergenbright in the Daily Texan,February 1
Review by Preston Kirk for ACOT/GACA's "A Team," February 9
In an interview of the trio by Kaitlin Ballard in the Statesman's Sunday "Life" section, they reveal that the Austin Fire Department has revoked their permit to juggle flaming torches, February 21 (not yet on-line)
Review by Wayne Alan Brenner for the Austin Chronicle, February 25
EXTRA
Click for excerpt from program for The Flaming Idiots at the Zach Theatre
Hits as of 2015 03 01: 2756
---
The Flaming Idiots
by Rob Williams, Jon O'Connor, Kevin Hunt
Zach Theatre
January 28 - March 28, 2010