Review: The Carpetbagger's Children by Different Stages
by Michael Meigs
The Carpetbagger's Children, staged in 2005, was the penultimate of the Texas playwright's dramas, the next-to-the-last of from 40 (according to Wikipedia) to more than 60 (according to the New York Times). Like many of his dramas, it is set in the mythical town of Harrison, Texas, based on his birthplace Wharton, a crossroads southwest of Houston. Foote's final play was, aptly enough, a reworking of his earlier Dividing The Estate. He died last year at the age of 92. With Foote's previous consent, the Austin-based Marchbanks Foundation has established a $30,000 prize to recognize new American plays of exceptional quality, to be awarded every other year.
Well and good, one might say, and it's appropriate that Norman Blumensaadt and Different Stages should honor the playwright. Robert Faires pointed out last January in the Austin Chronicle the incongruity that this staging is only the fourth time in the past 20 years that Austin has seen a production of Foote's work.
That means I've seen half of them. As it happened, while traveling through Austin in 1998, well before imagining our own migration to this town, my daughter and I attended Don Toner's production of The Young Man from Atlanta at the State Theatre. That work, and the fact that a mainstream Austin theatre would do an elegant and deeply felt production of it, lingered in my memory. They shaped my perception of Central Texas and of Austin.
The Carpetbagger's Children is a memory piece, set in the late 1800s and cast as a series of monologues delivered by three sisters. It is a 90-minute one-act play.
The image on the poster may be misleading. One does get a sense of land and emptiness from the narrative, as these women build the picture of the Yankee soldier who fell in love with Texas countryside and Texas farmland. In turn and each alone, they deliver their narratives in the intimate, confined and dimly lit interior of the Larry L. King Theatre at Austin Playhouse. Each speaks directly to the audience. Each occupies a defined area of the set, a generic 19th century parlor and office, but they do not ever really speak to one another.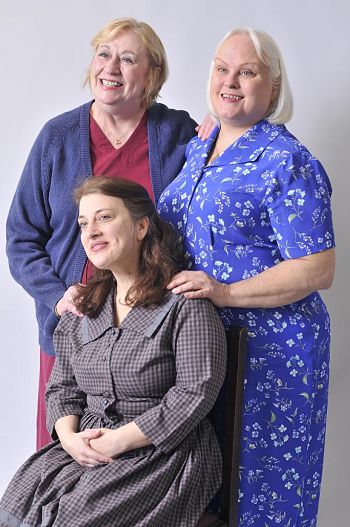 We receive the story just as grandchildren or great grandchildren might receive family history. Separately, uncontested, without asking impertinent questions.
The figure that emerges most vigorously is the absent father. His influence persists. Over the town, as Reconstruction tax-collector, acquirer of distressed properties and as respectful ally of leading citizens; and over his family in an Old Testament sort of righteousness of judging, disposing, and imposing the requirement that his lands must never be dispersed, not even after his death.
Kathy Rose Center is the "good" sister, Cornelia. Balanced and with a head for figures, she becomes her father's choice to run the estate when her only brother proves distracted, attracted to questionable womankind, and something of a fool. Moving about a work desk at center stage rear, Kathy Center plays Cornelia as cordial, quiet and certain. Grimly rocking at stage right, Jennifer Underwood is her opposite as the tart-tongued Grace Anne, the rebel who eloped and incurred Father's life-long displeasure and a formal banishment. At stage left in an armchair, Anne Hulsmann is the cheerful, tuneful, not-too-bright youngest, Sissy.
Foote puts a relatively straightforward family saga into their monologues. At moments the vanished patriarchs from their own 60 years of history come to life for us. Cornelia cites Father's solemn, self-certain pronouncements. Grace Anne mimics with knife-sharp derision the ravings of their senile mother. Ever present in the story is the land itself, the Estate that produces the revenue supplied to the good sisters and denied during Father's lifetime to the single bad seed.
Foote crafts that world vividly. During his 92 years of life he saw that era of limits and small town certainities slipping away, for good or ill. His work preserves it for us, rather like a snowscape within a paperweight. He emphasizes the smallness and continuity of these lives in that mythical town of Harrison.
William Faulkner undertook a similar epic construction with the fiercely imagined and violent cycle of novels set in the fictional Yoknapatawpha County, Mississippi. Foote's vision of Harrison is more ambiguous and elegiacal than Faulkner's. Sitting in the dimness in the Larry L. King theatre in the company of these talented actresses, one lives for a time the conflicts, the character and the modest, unthinking valor that brought these smalltown women through their decades.
Family endures; the Estate lasts.
Review by Robert Faires for Austin Chronicle, March 25
Comments by local reviewer on Yahoo groups, March 25
Hits as of 2015 03 01: 2537
EXTRA
Click to view program of The Carpetbagger's Children by Different Stages
---
The Carpetbagger's Children
by Horton Foote
Different Stages
March 19 - April 10, 2010