Review: Tartuffe by Vortex Repertory Theatre
by David Glen Robinson
We've entered Austin's hot summer of theatre. Get involved, there's Zach Theatre's Duke Ellington's Sophisticated Ladies, the experimental and satisfying MAST at Salvage Vanguard Theatre, three musicals by Summer Stock Austin at the Long Center, Hairspray at Zilker Hillside Theatre, Terence McNally's Love! Valour! Compassion! at City Theatre, 7 Towers' Closer at the Dougherty Arts Center, and the new original The Tree Play by old Austin hand Robi Polgar coming soon to Ground Floor Theatre.
And standing up proudly to them all is The Vortex's Summer Youth Theatre production of Tartuffe by Molière.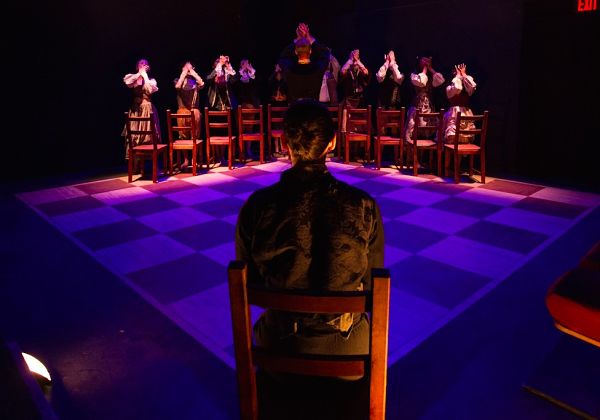 Molière wrote Tartuffe in 1664 and premiered it the same year at Versailles. This was an ill-starred premier as the King and church banned the play within a few days of its opening. This action was taken for the play's too-close juxtaposition of fraud and churchly piety. Although in context of comedy, some characters even declaimed all piety as fraudulent. The church threatened to excommunicate anyone who saw it, read it, performed in it, funded it, or helped to produce it—in public.Upper-class French took this as their cue and mounted it for private showings in their palaces and chateaux. Those French! The unpleasantness was ironed out in a few years and various versions ranging from three acts to five acts and cleaned up or dirtied down were produced thereafter.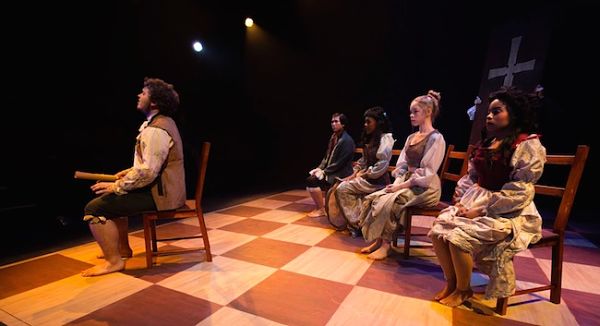 Fast-forward to the twenty-first century and the Summer Youth Theatre 2015 production of Tartuffe. The all-teenage cast is fearless, they know their lines, they're clear even when shouting, they dance sharply and well, and thus armed they dive straight into the world's foremost play about hypocrisy and deception. They perform on a human scale chessboard set with a few additional chairs, a tabletop and a tablecloth with which to change scenes. But rather than dully dropping character between scenes and striking the furniture, the nimble performers dance the scene changes and actually morph themselves into furniture pieces, while wearing their period costumes and wigs by Stephanie Dunbar. This complex stage action relies heavily on the choreography of Earl Kim. The stage play and choreography remain clever and inventive from first to last. Katherine Wilkinson of Gale Theatre directs, and altogether the play pays great respect to Tartuffe and Molière and gleams with the kind of collective brilliance that feeds the world's fascination with live theatre. The oldest actor is seventeen.
Tartuffe is Vortex's Summer Youth Theatre 2015 showcase.It is indeed spectacular. Its first virtue is the English text, translated from the French by Constance Congdon, which maintains the form of the original's twelve-syllable rhyming couplets, known as alexandrines. This meter and rhyme scheme gives the play a beautiful sound and rhythm that the young cast captures and conveys thrillingly.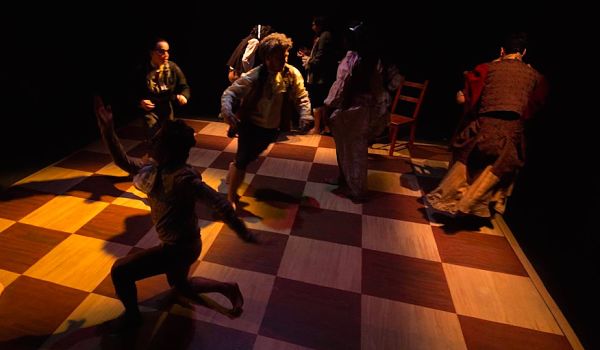 The production's second and all-encompassing virtue is the supreme theatrical taste and choice-making of artistic director Bonnie Cullum and director Katherine Wilkinson. Choice is all, right up there with good taste, and their Tartuffe conveys the play's eminence while making it accessible to twenty-first century audiences. The production choices also escape the "stock" look of most summer productions, thereby showing greater respect for their students and the audiences that come to see them.
The show will probably be put to bed by the time this writing is posted. The cast must disperse and prepare for the coming school year; the audience must rest and enjoy the anticipation of 2016's Summer Youth Theatre, at the Vortex as always.
---
Tartuffe
by Molière
Vortex Repertory Theatre
Thursdays-Sundays,
July 24 - August 01, 2015
July 24-26, July 30-31, August 1, 2015 8pm - 6 nights only.
at The VORTEX, 2307 Manor Rd. Austin, TX 78722
Free Parking. Bus Route.
The Butterfly Bar @ The VORTEX opens nightly at 5pm with full bar, hand-crafted cocktails, and snacks.
Patrizi's @ The VORTEX opens nightly at 5pm with delicious homemade Italian food.
Tickets: $25 Adults/$15 Students
www.vortexrep.org or 512-478-5282
Limited seating. Advanced Reservations Recommended.
Radical Rush offers limited free tickets each performance in the spirit of sustainability, accessibility, and the gift economy. Radical Rush tickets released at 7pm each night--first come first serve! In-person only.