Review: Talking Pictures by Gaslight Baker Theatre
by Michael Meigs
Horton Foote tells quietly intimate stories set in the vast space of memory that is small-town Texas. That stretch of storytelling is nicely captured by the set and the surroundings of the Gaslight Baker Theatre in Lockhart. Talking Pictures reveals itself on a set of large plaforms standing in vast empty space, with the proscenium of the theatre-turned-movie-house-returned-to-theatre arching behind the notional outline of a house in east Texas.
These stories are like a set of Russian dolls, each held inside the next. Foote's play takes place in 1929, and Myra Toliver the principal character boards with the Jackson family, supporting herself by playing piano accompaniment to silent pictures at the local movie house. The Baker Theatre in Lockhart opened in 1920 as a vaudeville hall and silent movie house. Myra's job is at risk because the cinema owner is about to give in to the pressure to install a sound system. The Baker Theatre flourished and then later languished, closing its doors in 1984.
An important character and witness to this story is young Katie Bell, full of questions about talking pictures, rules of social behavior, and the world beyond the narrow, narrow scope of the mythical town of Harrison. Foote himself was 13 in 1929, the year he chose for these events. He would go on to gain renown for his plays and movie scripts, many of which were attached to the experiences of his Texas boyhood. It's easy to intuit a double story here: in the foreground is the patient struggle of Myra the piano player, piano teacher and single mother, but very much in evidence behind it is Katie Bell's puzzling out what's expected of a girl and what she's allowed to do (one plaintive inquiry that helps establish the narrow confines of her world: are Methodists and Baptists allowed to marry one another?).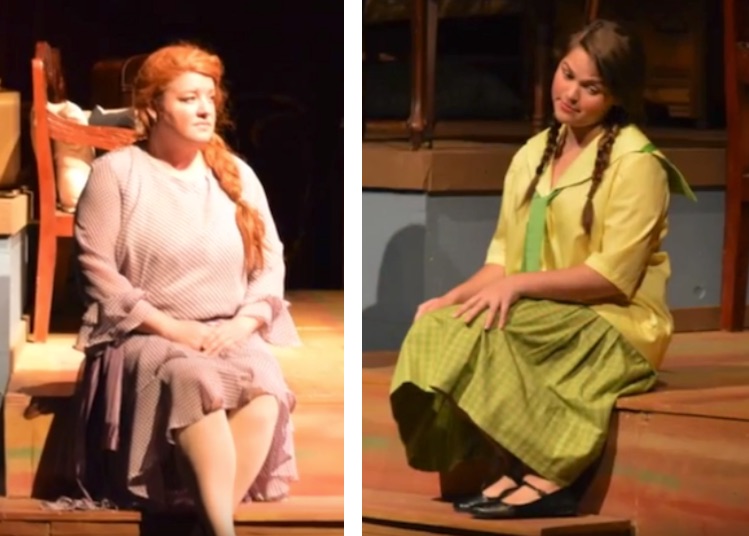 The quiet subtleties of Foote's story might have been lost in the vastness of this playing space, but director Nina Bryant's casting and blocking do much to keep them warm and very much present. Tysha Calhoun's Myra is constrained and hemmed in by circumstance. Her son Pete (Deacon Snider) wants to escape to his remarried father's big house in Houston, and her reticent potential suitor Willis (Matt Janke) hasn't been able to get a divorce from Gladys (Robyn Gammill), the wife who ran off with another man. Calhoun moves carefully and deliberately through her crises, allowing Myra moments of tense emotion only very infrequently; the rest of the time her character adheres to a received notion of the dignity and endurance of a woman dependent upon others.
The Jackson family provides rooms both to Myra and to her would-be suitor Willis, and they're a microcosm of their own. Their stability is uncertain, for the father (Eric Beck) is a railroad engineer subject to arbitrary reassignment if another railroader with more seniority decides to 'bump' him. Judith Laird as Mrs. Jackson is a cheerfully conventional soul with little notion of the wider world and lots of advice for her two young girls, Katie Bell and Vesta. She's comic and yet endearing throughout.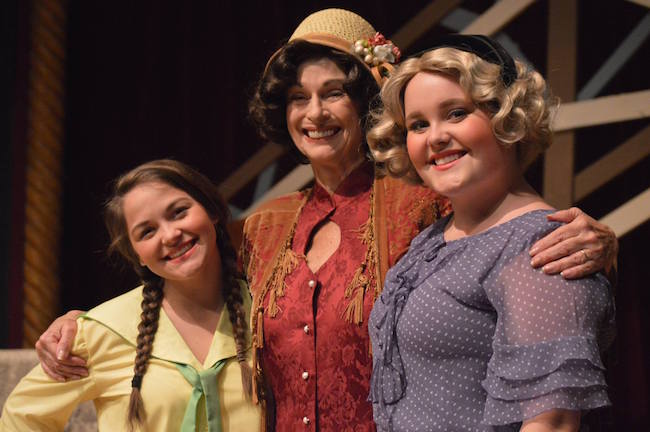 It seems inevitable that the outside will intrude, and it does: gently, in the case of the earnest Mexican boy Estaquio Treviño, son of an unsuccessful Baptist preacher, and loudly, in the characters of Willis's flamboyant and selfish wife Gladys, her desperate lover Ashenback (Stephen Fleming), and Myra's former husband Gerard. Will Mercer as Gerard is a fine tragicomedy all on his own, shambling and exuberant, maudlin and charming.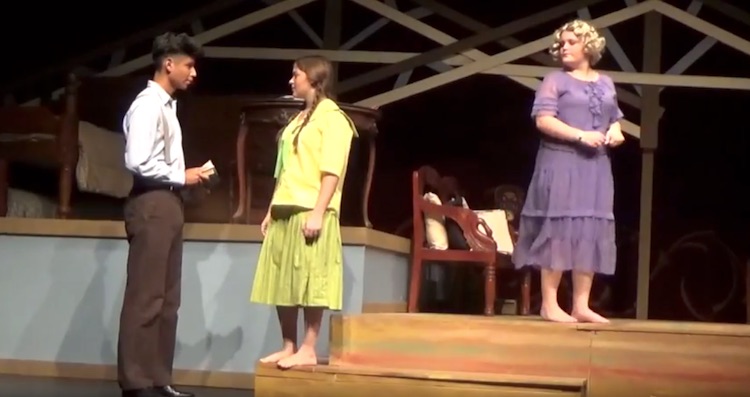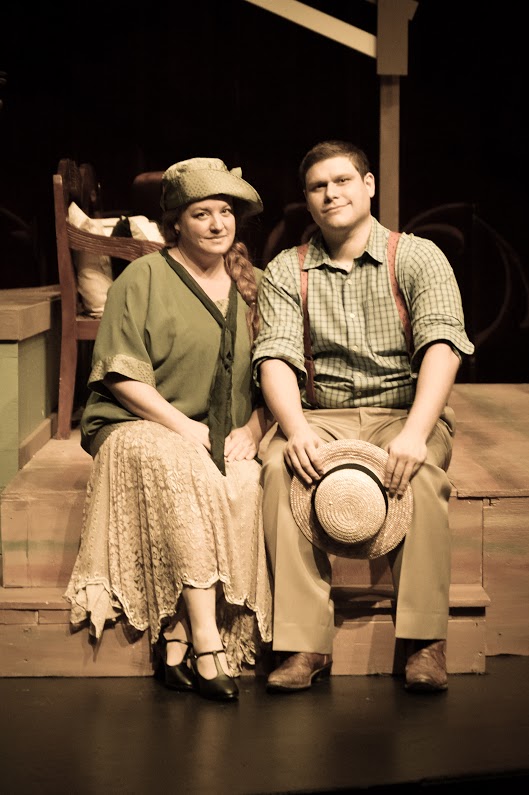 Foote plots neatly through these events to secure Myra a safe place in Harrison, no longer subject to the uncertainties of the talkies or the Jacksons' benevolence. With the young girls Katie Bell and Vesta he creates an ongoing dialogue of pull-and-tug in which Vesta (Lauren Hartwick) admonishes her sister with received attitudes while Katie Bell remains ever wistful and wondering, surely destined someday to slip away from the all-encompassing strictures of Harrison. These two young actresses are high school classmates, and their sisterly antics are amusing and entirely believable. Maddison Welvaert as Katie Bell shows a particular gift for continually inhabiting her character, remaining watchful of all about her. Like Tysha Calhoun as Myra, she overcomes the immensity of the playing space by responding with quietly dedicated attention without a whisper of overacting.
I find it poignant that Talking Pictures is not, in fact, a film or 'talking picture'; it is a succession of live scenes. The talkies replaced the silents, but the power of live narrative theatre is undiminished today, if somewhat neglected.
In addition to presenting the pleasures of Foote's script and evocative locations, Talking Pictures offers us the Gaslight Baker itself. Not the physical space, but rather the alliance of talents and volunteers that 'put the ART in LockhART' - providing the citizens of the town the opportunity to compare their concerns with those of the fictional family in mythic Harrison. If Foote can be compared to Chekhov, as director Nina Bryant suggests, then certainly the Gaslight Baker Theatre Company itself can be seen as the outermost of those nested Russian dolls, containing and preserving all the character types and primal memories of a simpler Texas society.
EXTRA
Click to view the Gaslight Baker Theatre's program for Talking Pictures by Horton Foote
---
Talking Pictures
by Horton Foote
Gaslight Baker Theatre
Fridays-Sundays,
August 21 - September 05, 2015
Fridays and Saturdays at 8 p.m., August 21st - September 5th. Matinees at 2 p.m. on Sundays, August 23 and 30 and on Saturday, September 5.
Tickets and reservations on MyGBT.org or at the Box Office (512 376-5653)
The Gaslight Baker Theatre is located at 216 S. Main St., Lockhart, Texas.
"We are an artistic organization dedicated to creating quality experiences that entertain and stimulate all who come through our doors."