Review: Stay by Wimberley Players
by Michael Meigs
The Wimberley Players give Sheila Cowley's Stay a quality production with a strong cast and superb production values. This piece by the Florida playwright had its premiere with the Players Theatre in Sarasota, and its transfer between local theatres ready to try out new work is an encouraging sign that not all such venues are in lockstep with the likes of Arsenic and Old Lace, Neil Simon and the Texas gothic comedies of Jones, Hope & Wooten.
Deanna Lalich is Leanne Abrams, a quietly moody physician separated from Mark, her journalist husband of twenty years, played by Aaron Johnson. He's one of those lost sheep that keeps returning; although he has a new girlfriend, he inevitably gravitates back to the apartment to pick up clothes, books and the mothering of his perhaps-soon-to-be-ex-wife. Early in the opening act Mark deposits a legal document requiring Leanne's signature, presumably necessary for some sort of no-fault divorce.
Flashbacks designated by special lighting effects take us back to the couple's earliest years, when Mark had just gotten his big job and Leanne was on her way to med school. Playwright Cowley explores repeatedly the dynamic between them, with Mark's excited, distracted talk about The Places He'll Go and Leanne's ever-patient tracking and correcting of his schedules. We hear this trope again and again, with Leanne always resorting to a wistful, unsubstantiated, "It'll be all right. . . ."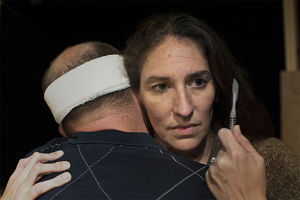 These two appealing actors work that territory as far as it can be worked, but their relationship never becomes more vivid or understandable. Cowley is asking us just to assume the best and believe that they're real people. Though Leanne turns out to be an opthalmologic surgeon, a wizard in transplanting corneas, we never hear her talk about medicine other than to lament that a girl patient of hers is still waiting for transplants. Cowley has Mark the journalist bubble about the exotic destinations that his media organization is sending him to, and evidently has been sending him to for the past twenty years, but other than that the character doesn't have a thought in his head. The two don't give us any real insight into their de facto decision not to have children, and we hear almost nothing about their history or relationship, other than his bouncing off the walls with enthusiasm like a five-year-old and her solid acceptance of him like an eternally indulgent mommy.
The title Stay voices Leanne's yearning for her husband, and the promotional photo of the blindfolded Mark and the contemplative Leanne suggests the central ploy of this plot. Applying her medicines, Leanne deceives Mark into thinking that he has been in a car accident and has only just roused from lengthy unconsciousness to find himself with eyes blindfolded, utterly dependent upon the wife he would sort of like to stay with if only he wasn't fascinated by his much younger female editor and feeling obliged to stay with that woman, who's pregnant by him.
Act 1 is a fairly lengthy set-up to this situation, but the incipient claustrophobia of the one-set, two-character story is lightened somewhat by a couple of technically and artistically very clever scene shifts from their home to Leanne's office. There she interacts with the affable senior physician Ben Cohen, played by Will Mercer. These scenes offer some heavy handed and hard-to-believe exposition: the sympathetic Dr. Cohen not only has no idea of Leanne's marital problems but is cheerfully preparing to celebrate the couple's twentieth anniversary. And so is his offstage young son.
Scott Wade's set design is terrific, both conceptual and effective. The Abrams' house is done in cool blues and graceful curves, with a largel window stage center featuring an abstract design of circles and an eerie painting of an iris at stage left. A stairwell curves away to the upstairs recesses of the house, and a tidy little kitchen is neatly inserted at near stage left. That central window is rigged to give maximum impression of falling rain outdoors, and Bill Peeler's light design reinforces both that effect and the sudden flashbacks in the history of this couple.
Cowley's plot twists into developments that are hard to swallow. Perhaps one could accept husband Mark's credulity as he fails to question the story of an automobile accident or inquire further; maybe the man is so simple that he wouldn't think of all those outside events that should have been pressing upon him as a followup to such a catastrophic event. His friends and colleagues from his high-powered job apparently disappear from his consciousness when his wife hides his cell phone. But early in Act 2 there are two appalling breaches of medical ethics in this story, either of which should have called the whole medical establishment howling down onto these events, and they do not remain concealed from at least one very directly concerned outsider.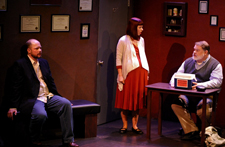 That's Mark's new girlfriend Sandra Kinsky. Pretty, heavily pregnant Sandra has a wry, matter-of-fact in-your-face sarcasm that lifts the story from bathos close to comedy. It's hard to believe that in the succession of scenes that constitute the second half Sandra wouldn't have called the cops or the hospital or at least the insurance company, but there you are, relying on the suspension of disbelief. In this role the very attractive Leigh Shelton is precise and unsurprised, fullly capable of dealing directly with these clueless people, and playwright Cowley gives her some fine one-liners, including the very last remark spoken in the piece. (There's an awkward moment then as the lights go down, for the story's been spun out so far that we're not quite sure that it's really over yet.)
Stay is a concept piece, a one-trick pony that can be made to work by talented director David McCullars, his capable cast, and the Players' fine technical support. It explores mutual dependency and offers two very different views of women's need for mates. It's an argument for the need for deeper reflection and a sense of purpose within a relationship, and it brings into relief some of those career vs. relationship issues that in the press of everyday life so many of us are tempted simply to postpone.
EXTRA
Feature by Michael Lee at KUT-FM (2 min.)
Hits as of 2015 03 01: 883
---
Stay
by Sheila Cowley
Wimberley Players
September 13 - October 06, 2013