Review: Sleeping Beauty, musical by Vortex Repertory Theatre
by Michael Meigs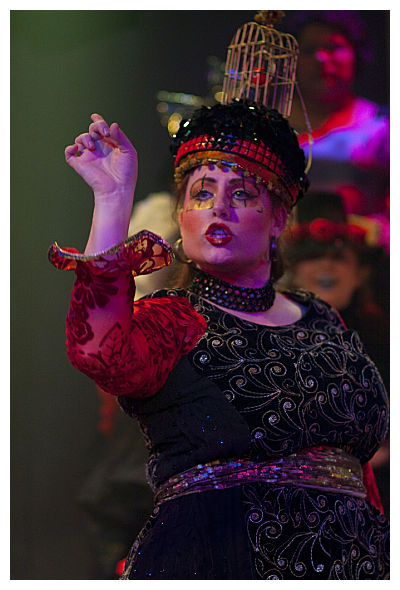 The Vortex's Sleeping Beauty is a riot of costumes and color, music and dance. Bonnie Cullum and composer-librettist Content Love Knowles keep that cast of 20 swirling in the vortex around the spiral staircase at stage center, animated by Knowles and three other musicians perched high above stage right. Many of the players play double roles. Costumes by Pam Fletcher Friday and Griffon Ramsey are inventive, playful and brilliantly colored, with the witty use of found fabrics and objects, as if the players had discovered a treasure trove of dress-up clothes in grandma's attic.

Jennifer Coy as the Fool deserves the lead image for this musical. In good fool tradition, she is the only real adult in this happy ensemble of gifted adult-sized characters and artists. Coy has a brash, raucous side to her, a knowing wink at this nonsense, and she winds it up with a solo epilogue addressing the audience, making sure that they enjoyed the spectacle and crowing, "And now let's all have a drink!"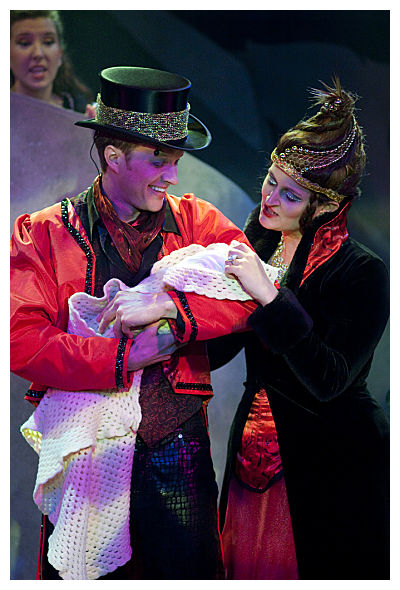 Playtime at the Vortex gives us a sprightly retelling of the Sleeping Beauty story full of incident and relatively bereft of deeper meaning. The first act establishes the court, the statuesque Queen (Betsy McCann) yearning for a child, some Disneyesque jumpin' jive in the castle, a long funny number as the Queen is offstage in labor, celebration, and a long, long naming song that saddles the kid with about fifteen names.
And then there's the extended business of fairies bringing gifts. Because the heedless top-hatted King (Adam Smith) neglected to invite her, the impressively salamander-like fairy Ixlamere (Suzanne Balling) curses the newborn with the prediction that she'll prick her finger on a spindle and die.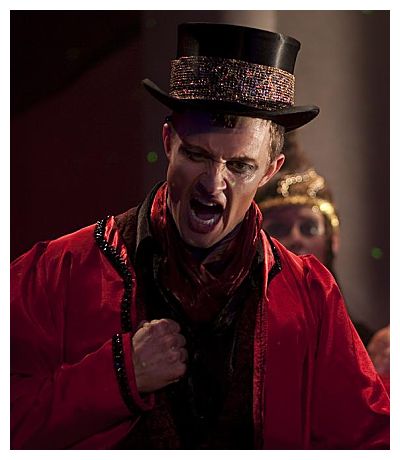 Even though another fairy takes the death-sting off that curse, the King like a mean Daddy declares that he will handle this all by shutting up all the spindles and confining his daughter to the castle forever. We won't see Princess Briar Rose (Julian Lorenz) until Act II, but the poor kid is grounded before she ever gets on stage.
She turns out to be a spoiled brat, fruit of all that doting and coddling. Inevitably, as the fairytale tells us, she manages to find a spinning wheel and she insists on touching the spindle, putting herself and the whole castle staff into long term hibernation. The central stair turns on its axis and mirabile dictu! we're looking at a malicious green thicket with fatal attractions for a succession of unsuccessful Princes Valiant.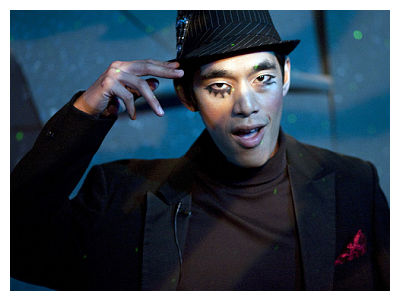 Cool guy Jonathan Itchon shows up in his striped snap-brim fedora and after some singing and hoofing makes his way into the castle. He finds that curious sleeping maiden and momentarily thinks better of it, but the show must go on. The prostrate bodies begin to twitch and wake and eventually, so does Briar Rose, none the worse for wear. We're not sure if she has learned anything from all this, other than the fact that a spindle needle can really mess with your mind.
Going to Sleeping Beauty at the Vortex is like going to watch Mardi Gras in New Orleans, except that it's a bit more chaste and chaperoned.
The creative team do a really impressive job with this one. For instance, from the first moments as we file to our seats, the twilit playing area sparkles with Jason Amato's kaleidoscopic, pointillistic colored light effects. Three resident fairy spirits coo, slink, observe us with delight and whisper amongst themselves in a cryptic musical language. Cullum and choreographer Gabriel Maldonado fill up that space with movement, actors frolic, and Knowles scores it with a varied and entertaining blend of musical styles, from alpha-wave contemplation to a 14th century saltarello to Broadway-styled ballads and marches.
The story is simple and linear, close to the Grimm brothers' version of the fairy tale, with none of Bruno Bettleheim's brooding. No complexities or significant reinterpretations -- the Queen and King get their baby, the baby gets her name, the royal family get presents and the curse, the princess gets her adventure, the prince gets the girl. Everything occurs in fairy tale land and at the end of the evening we are sent off without much to mull over, except perhaps for Act II's slightly ghoulish images of the princes who perished in their thorny quests.
Life is a cabaret, old chum.
Review by Jeanne Claire van Ryzin, Austin Statesman's "Seeing Things" blog, April 8
Review by Olin Meadows for AustinOnStage.com, April 13
Review by webmaster at TheatreAustin, Yahoo groups, April 15
Sizzling review by Bastion Carboni at Austinist.com, April 16
Review by Elizabeth Cobbe for the Austin Chronicle, April 29
EXTRA
Click to view the program for Sleeping Beauty at the Vortex Repertory
Hits as of 2015 03 01: 3011
---
Sleeping Beauty, musical
by Content Love Knowles
Vortex Repertory Theatre