Review: She Stoops to Conquer by The Classic Theatre of San Antonio
by Michael Meigs
She Stoops to Conquer, approaching its last weekend in San Antonio, is elegant, witty, and stylish. Director Allan S. Ross recreates the conventions of the 18th century English theatre, including the use of a nearly bare stage, a painted partition at the rear, and the actors' respectful but self confident acknowledgment of the ladies and gentlemen of the public.

Goldsmith's work is a clever comedy of manners in which the men are all self-important bumblers of one sort or another and the women are there to set them right. There's rakishness; tom-foolery; and a decisive old harridan ruling her country manor, her husband, and her foolishly impulsive son. And, of course, courtship.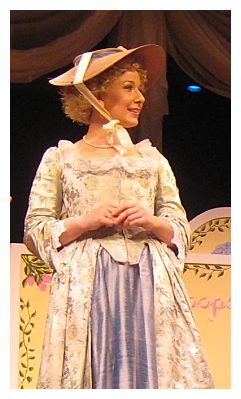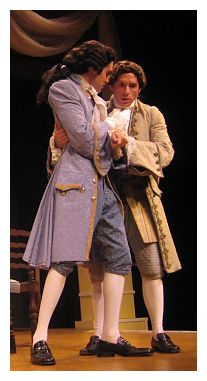 Charles Marlow has been dispatched down to country by his grumpy old father to inspect a prospective bride, Miss Kate Hardcastle. Although Charles is quite the ladies' man below stairs and in the pubs, the approach of an eligible young lady of quality quite paralyzes him. So it goes at their first encounter. The twinkle-eyed Kate is vastly amused by this, particularly by the fact that the shuddering Charles can't even look her in the eye. In subsequent encounters she disguises herself as a serving girl and inflames Charles' passions (as in the program image, above).
That masquerade is facilitated by the fact that her lumpish step-brother Tony Lumpkin (Rick Sanchez) has fooled Marlow and his friend Hastings into thinking that the rambling old house is a wayside inn. The two young eligibles assume that Kate's father the pompous and forgetful Mr. Hardcastle (Carl Rush) is a particularly intrusive inn-keeper.
Shake into that mixture harridan Mrs. Hardcastle's desire to marry off lumpish Lumpkin to his cousin Miss Neville, who is plotting to elope with Marlow's friend Hastings. There's a letter that goes astray, baffles Lumpkin, is recovered by Miss Neville, and eventually winds up in the wrong hands. . . . and a casket of jewels, Miss Neville's inheritance, that also goes walkabout.

These are familiar comic conventions. It's all in fun, and all will come out well in the end. Part of the cast's considerable achievement here is their delivery of Goldsmith's exquisite language as they craft characters who are deliciously ridiculous and quite wrapped up in themselves.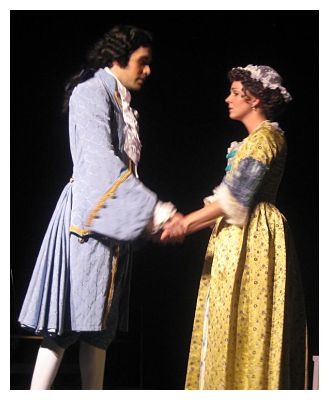 Chelsea Fry as our heroine Kate is the sensible one, and Courtney Coston as her cousin Miss Neville would be equally in control, if only it weren't for her passionate attachment to Hastings' plan for them to run off penniless to France.

Rick Sanchez shines as Lumpkin. He has the impetuousness of a great baby -- drinking and carousing, showing himself as irresponsible, illiterate and full of foolish cunning. Even though they cordially despise one another, Lumpkin and cousin Kate pretend an attachment to keep autocratic Mother Hardcastle (Terri Peña Ross) at bay. That gives them ample opportunity for comic pinches and quickly covered antagonisms.

Ross and his cast set a fine rhythm to this, assisted by wry asides to the audience and the comic convention of having props proffered promptly over the screen at rear by an unseen hand. The costumes are superb.

Richard Lukens in multiple roles and Cindy Rodriguez as the long-suffering maid cart the minimal furnishing on and off stage, and they dutifully announce the locations of each succeeding scene. He bows and gestures, she curtsies to us, and we feel properly welcomed into the locales and into the action of the play.

It's a pleasure to see this classic text taken with such élan and played with verve and polish, very much as it must have appeared at Covent Garden in March of 1773.

At that time, at least according to Goldsmith in an article published anonymously, She Stoops to Conquer was part of a shift from melodrama and genteel sentimental comedies to the "laughing comedy" of social satire.

It was a great success then, and it has been regularly performed ever since. Allan S. Ross and the Classic Theatre cast show us, with panache, why She Stoops remains in the English-speaking repertory.
Review by Ashley Lindstrom in the weekly San Antonio Current, October 14
EXTRA
Click to view program for She Stoops to Conquer by Classic Theatre, San Antonio
Hits as of 2015 03 01: 2659
---
She Stoops to Conquer
by Oliver Goldsmith
Classic Theatre of San Antonio
October 15 - November 01, 2009