Review: Pygmalion by Different Stages
by Michael Meigs
The production of George Bernard Shaw's Pygmalion playing at the Vortex is a sparkling interpretation by Norman Blumensaadt and the Different Stages cast and crew. This is a production not to be missed by anyone who appreciates the magic of narrative theatre.
Practically all of us have seen the film version of Lerner and Loewe's musical interpretation, My Fair Lady. It was relatively faithful to Shaw's 1913 play, so there'll be moments when you'll suddenly find yourself expecting one or another of the principals to burst into song. But unlike many other contemporary musical works for the stage, Pygmalion isn't a collusive attempt to recreate a mass consumption item such as a film or Broadway extravanganza in your own home town. Blumensaadt reaches back to the original play script published in 1916 and niftily animates Shaw's fun, wit, vivid characters and social criticism.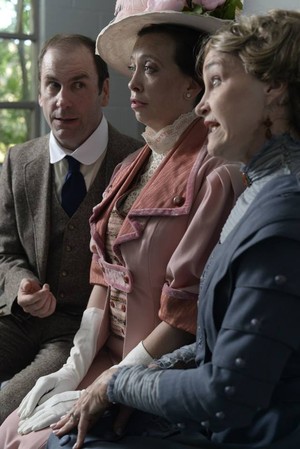 Even the title emphasizes the author's erudition: Pygmalion was the sculptor of Greek legend who fell hopelessly in love with one of his own creations. In Shaw's ironic interpretation it's the creation, the transformed Eliza Doolittle, who wishes to fall in love, or at least in like, with gruff Henry Higgins, her mentor. In a fine feminist/humanist/personist outcome many generations before our late-twentieth-century rethink of gender roles, the playwright gives Higgins a convincing curtain argument that invites Eliza instead to stick around as just another one of the boys, a confirmed old bachelor engaged in brainy pursuits and pleasures, scornful of society's self-perpetuating myths of romance.
Pygmalion is superbly cast and featres faces familiar to local theatre buffs. These folk make it a pleasure to be up close and personal with Shaw's creations. And what's more, they do it so convincingly that one almost completely forgets the convention of the stage, that unspoken agreement that the audience will pretend to believe that what they're seeing is real. Tom Chamberlain as Higgins, Craig Kanne as Colonel Pickering, Andy Brown as Alfred Doolittle, and Bobbie Oliver as Higgins' mother fit their characters like gloves, live them as if to the manner born, and flesh them out completely. Costuming tidily supports the illusion.
But Amy Lewis as scruffy Eliza and her successive evolutions outdoes them all. With her tall figure, enormous eyes and vivid emotions, she's a revelation in each successive reveal. In the course of this captivating evening Lewis applies fine comic timing, wily ruse and mugging while a waif-like flower seller; she's a brave, canny, distrustful negotiator with linguist Higgins; she transforms like an emerging butterfly at Mrs. Higgins' 'at home' evening; and after exquisitely manifesting her emotional reactions without a word in a lengthy scene following Higgins' triumph, she furiously takes on the dismissive and apparently heartless Higgins. Lewis, a lighting designer, is more often on station up behind her audiences than in front of them — her emphatic 'thumbs-up' to the techs during the curtain call was a reminder of that —but in Pygmalion she's a comic chameleon and a heart throb. Her performance is a triumph.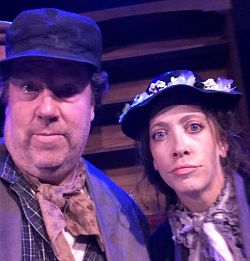 Set designer Ann Marie Gordon and director Blumensaadt provide fine intermezzos as they weave Shaw's five acts into today's conventional two-act formula. Action moves from Victoria Station to Higgins' digs to his mother's London manse; and in the second half the change is from Henry's digs back to mom's. The move in each case is effected by a cleverly choreographed cast of servants and menials, precisely shifting furniture and props. It's done with such art that one almost expects someone to start juggling. Once the change is complete the team of 19th century stage ninjas gather, pose as if for a photograph for the rotogravure and take their formal farewell of us.
Those clever sequences make momentarily apparent something of the art of the director, with his attention to movement, timing and rhythm. The entire action of Pygmalion moves with similar grace and speed, providing one delight after another. Talk is funny and pungent, never shading into the long-winded lectures of some of GBS's other works.
If you don't know Shaw, here's your opportunity. Take a jaunt off to turn-of-the-last-century London with Amy Lewis and the rest of the Different Stages ensemble, try out the 'new small talk,' and recharge your wit. You'll be transported, delighted and entertained.
---
Pygmalion
by George Bernard Shaw
Different Stages
8pm

Thursdays - Saturdays

7pm

Sundays
No performance
Friday, July 4
Added performance
Wed, July 16