Review: Petra's Pecado by Teatro Vivo
by Michael Meigs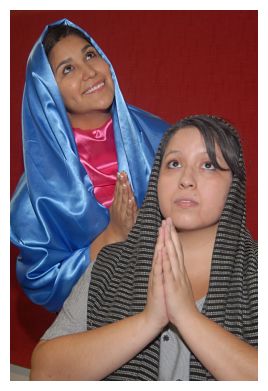 First, a gentle admonition to the transcribers at the Austin Statesman: the title is not "Petra's Pescado" (Petra's Fish). Teatro Vivo's newest presentation is Petra's Pecado or "Petra's Mortal Sin," which makes for quite a different kettle of fish.
And it's not "Petra's Picado," (Petra's Nose-dive in Iberian Spanish), the version offered by the Salvage Vanguard in its weekly e-mail.
This is Teatro Vivo's flagship play, the first of three "Petra" works written by Rupert Reyes. In the summer of 2008 when they staged the last one, Petra's Sueño (Petra's Dream), Reyes said he was putting the series to rest.

He had as much success with that declaration as Arthur Conan Doyle had with throwing his wildly popular Sherlock Holmes over the Reichenbach Falls.

Conan Doyle brought Holmes back for a long run. Similarly, giving in to the insistence of Teatro Vivo players and Austin's Spanish-speaking community, Rupert Reyes has brought back the first of the Petra stories. This time the company retrofits it with music. Judging from the excited comments around me in the audience on dress rehearsal night, Teatro Vivo scored another sentimental success.
Rupert Reyes' gentle, scrupulously bilingual drama brings to my mind the multiple meanings of "play," the English noun for a theatrical piece. A Petra comedy is a "play" -- a story presented with a playful, affectionate attitude, appealing to the Tejano values of family, community, religion and shared social concern.

You just don't get the same rich implications if you call it a pieza de teatro or una comedia. It certainly isn't a juego, for that means a "game."

Reyes is writing the modern equivalent of a sainete, the short, informal comic drama often presented as a light addition to classic Spanish drama. The form flourished in the 18th and 19th centuries and eventually provided the foundation for the popular zarzuela, close to American musical comedy or light opera.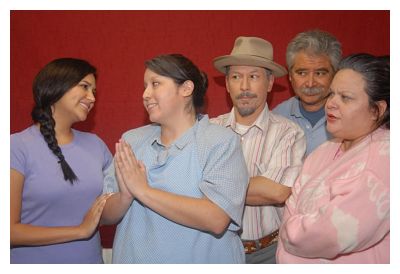 One on-line discussion in 2007 of the sainete quotes Spanish academic V. Ramos' enumeration of the characteristics of the genre. In my translation: "A sainete is characterized by lightness of expression and its realism within a popular context. It documents a given time period and a specific social environment, and it often manifests a fervent pride in Spanish popular culture. The writing stresses simplicity in a presentation wthout artifice or scenic effects. Other principal elements are the use of familiar character types, a defined environment and the to-and-fro of rapid dialogue in a play of psychology, social attitude and theatricality."
Petra's world is like that of Reyes' youth: Manor, Texas, a community in which all the Spanish-speaking families knew one another. Petra is the simple, virtuous woman owner of a tortilla bakery. In this production Victoria Alvarez picks up the role played in previous productions by Irene Gonzalez. Reyes himself again plays Petra's hard working, mild mannered husband Rafael. Petra's competition in the tortilla business is the arrogant, unscrupulous and spike-heeled Tina Tamayo (Karen Alvarado).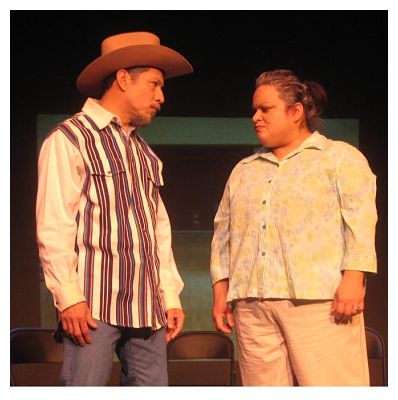 The intrigue is fairly simple: Petra goes to confession, where the new Anglo priest Fr. Johnson gives her the penitential task of putting on a play to celebrate the feast day of the Virgin of Guadalupe, emblematic figure of Mexican catholicism. Petra persuades her husband and three friends to take on the job. One inconvenient point: in that five-person cast, tough lady Tacha (Yvonne Cortez Flores) cordially despises semi-alcoholic Tejano cowboy Chano and his unbridled language. The remaining cast member Clara is dazed, wrapped in dark sunglasses and headscarf, and only semi-communicative.

The familiar and welcome Mario Ramirez covers three secondary roles as the good father Johnson, as a clueless drama teacher, and as Clara's abusive husband. And a charming young woman, Lupita (Diana Martinez) turns up with a positive attitude, fine people skills, and a striking resemblance to the statue of the Virgen de Guadalupe.

All of these costumbrista characters are appealing, and we know all will work out for the best.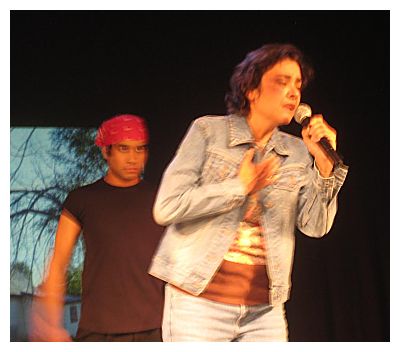 The musical augmentation of the piece is uneven, both as to singing ability and to choice of vocal pieces. Music is pre-recorded and transitions are often awkward.For example, Petra's muted and tentative rendition of Paul McCartney's "Yesterday" doesn't fit the action particularly well. In stark contrast, Letica Rodriguez as Clara sheds her sunglasses,wrap and fumbling to reveal herself in the powerful, dramatic bolero "Mal hombre" as a cruelly abused spouse. Rodriguez, an electrifying singer/performer, blows all the circuits with this one.

Special mention goes to Rudy Sandoval. His comic/tragic Chano is a spiky personality with a withering view of the world. In the course of the play we witness Chano's salvation through communion with the supernatural as he enacts the simple Indio who witnessed the apparition of the Virgin of Guadalupe. Sandoval creates this character with sharp edges and deeply pent-up feelings. His timing is terrific, and he makes this broken man immensely appealing. No wonder that Reyes has cast him as Chano in each of the three Petra plays.

A special note of reminder: Rupert Reyes writes plays that are scrupulously bilingual. All of his characters and all of his actors are at home on either side of the linguistic divide, and Reyes provides texts and actions assuring that any monolingual folks in the audience will understand everything that's going on. Like the best of Austin's bicultural restaurants, Teatro Vivo produces art mixing the best of Texan and Latino culture: distinctive, flavorful and immediately appreciated, no matter what may be the mother tongue of the client.
Juan Castillo's interview of Rupert Reyes for the Statesman's 'Somos Austin': "Petra's Pecado Keeps Pulling Reyes Back In", December 11
Feature with images published by Ramon Ramirez in his blog Austin Vida: "Petra's Pecado, Austin's Darkly Comic Musical," December 12
Listen to Lisa Schepps' interview of Rupert Reyes, Leticia Rodriguez and Diana Martinez, including music and singing done in the studio at KOOP-FM's "Off Stage and On The Air," December 7
EXTRAS
Click below for pages from program for Petra's Pecado by Teatro Vivo
Background on the Virgin of Guadalupe, director's notes
Cast and crew list (continued)
hits as of 2015 03 01: 3357
---
Petra's Pecado
by Rupert Reyes
Teatro Vivo
December 03 - December 20, 2009