Review: Ophelia, adapted from Shakespeare by Dustin Wills for Tutto Theatre
by Michael Meigs
The Ophelia – or Ophelias – of Tutto Theatre Company appearing currently at the Blue Theatre in east Austin is a puzzle and a frustration.

The more deceiv'd Ophelia of Shakespeare has deep resonance in our tradition. She is the enamoured, disappointed, dutiful daughter who returns her lover's tokens per her father's instructions and in complying with filial and social obligation becomes the pawn and victim of both sides.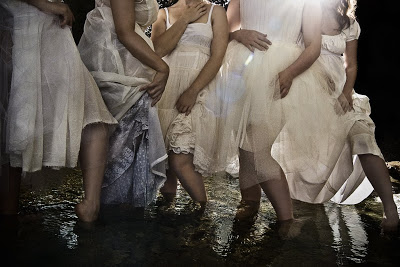 Trapped in an impossible situation, powerless and then bereft of lover, father and brother, she departs from reality entirely. Ophelia sings, babbles of lost maidenhood, dispenses flowers redolent with symbolism and rebuke, then dies unseen, pulled to the depths of a pond as her garments absorb the dark water that pulls her down.
Ophelia was a favorite subject of late 19th and early 20th century painters and writers, including the pre-Raphelite brotherhood in England, a group of mostly male painters and writers given inter alia to swooning over the innocence and vulnerability of young girls. Take these visions, for example (click on image for larger version):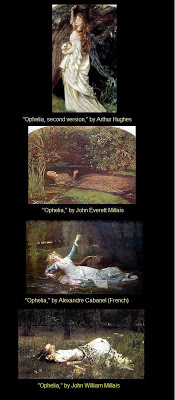 In our own day, psychologist Mary Piper employed the character in Ophelia Revived, a popularized 1994 study of social dilemmas and character changes of adolescent girls. A sample, implying her thesis: "Something dramatic happens to girls in early adolescence. Just as planes and ships disappear mysteriously into the Bermuda Triangle, so do the selves of girls go down in droves. They crash and burn in a social and developmental Bermuda Triangle. In early adolescence, studies show that girls' IQ scores drop and their math and science scores plummet. They lose their resiliency and optimism and become less curious and inclined to take risks. They lose their assertive, energetic and "tomboyish" personalities and become more deferential, self-critical and depressed. They report great unhappiness with their own bodies."

So there you are – the alluring character from Shakespeare, made eternal in plot, verse, and image, interpreted variously, including by gentle lechers and by concerned psychologists, fraught with possibilities for our own day.

No wonder director/author Dustin Wills selected Ophelia for his project – including a UT workshop with staged readings in 2005, and now, after his villeggiatura in Italy, for this first production of a rechristened theatre company.

It just didn't work for me.

Wills chose to split Ophelia into five personae – Ophelias "in love," "impassioned," "on edge," "undone," and "in water." Designer Lisa Laratta and lighting designer Megan M. Reilly create a haunting nowhere for them to co-exist. Upon entering the theatre we find a rectangular space defined by chalk-white rafters with a teardrop pond at the back of it. The five Ophelias gather dreamily around the water.

As a joint persona, these five Ophelias are musical, lively and giggly, with the mischievous mutual confidence of high schoolers – they are high on life and thick as thieves. I half-expected one or another to whip out a cell phone and start text messaging.

There's much movement here. For example, they perch on the five ladders ranged like trellises against the framework. The choreography of these early scenes is novel and appealing, reinforcing the message of untouched innocence. Chanting, singing, and repetition are devices that emphasize the shared identity of the five.

The action of the piece consists of the sequential exploration of these five. Each steps forward to interact with father Polonius or with the hot Hamlet (both roles played by Gabriel Luna).

Ophelia in love (Sofia Ruiz) is the first on deck. After her unsuccessful interactions with the father/lover, she winds up dead on her back in the water, where she gets to stay for the next hour.

Ophelia impassioned (Chase Crossno) has the next go. She is strong, daring, flirtatious and determined, with an amusing "will she – won't she – what does she want?" scene, but she gets no farther. Off to the pond.

Ophelia on edge (Lizzi Biggers) is more successful in seductive arts, but she betrays alarm and anguish at her deed. Hamlet just laughs; Polonius goes into righteous rage when he finds Hamlet's discarded trousers in the playing space.

Off to the pond.

And then there were two.

At about that point I seriously lost interest.

Maybe because Wills' script is a dog's breakfast of texts, mixing contemporary adolescent slang ("Oh, shit!") with pseudo-Elizabethan talk with Shakespeare's 24-carat verse from other characters or other plays jammed unexpectedly into the mouths of the Ophelias.

I found the text tiresome and pretentious, like the quotes from Chaucer, Kafka and Peter Brook in the program and the "Hamlet, in brief" summary found there (c'mon – if some idiot doesn't know the plot or Ophelia's part in it, how can he possibly absorb it from a 26-line summary that includes everything, down to the kitchen sink of Fortinbras – who, by the way, did not "arrive from the conquest of England").

This is not meant to take away from the zeal or attention of the actors in the piece. All five Ophelias, in their, oh, dear, pre-Raphelite stereotypical dresses, are earnest, vulnerable and convincing in their efforts to deliver that much afflicted child/woman. Gabriel Luna makes a good foil to them, though he speeds through some of the real Shakespeare bits without adequately parsing or delivering the meanings.

So -- good try, guys. Maybe next time the show would benefit from a dramaturg or a session with a script doctor.


Click for JustFo's approving review on Austinist.com
Click for Joey Seiler's review on Austin360, November 17
Click for Avimaan Syam's strongly positive review in the Austin Chronicle, November 19
Statesman "Best Bets" Clare Croft's brief interview with director Dustin Wills, November 4

Hannah Kenah's pre-production article in the Austin Chronicle of November 6
---
Ophelia
by William Shakespeare, adapted by Dustin Wills
Tutto Theatre
November 07 - November 23, 2008
Blue Theatre (now closed)
Springdale Rd and Lyons
behind Goodwill warehouse
Austin, TX, 78702