Review: One Man, Two Guvnors by Zach Theatre
by Michael Meigs
The Zach Theatre's delivery of Richard Bean's zany rewrite of classic commedia dell'arte is great fun, full of circus glee with turns as unexpected and amusing as blasts of a confetti cannon. With One Man, Two Guvnors director Abe Reybold puts Goldoni's tricky servant Trifaldino into the ever charismatic and fat-suit-padded body of Martin Burke, the funniest actor on Austin's legitimate stage. Burke's radiant persona and confident ability to play directly to the audience make him a natural for this role.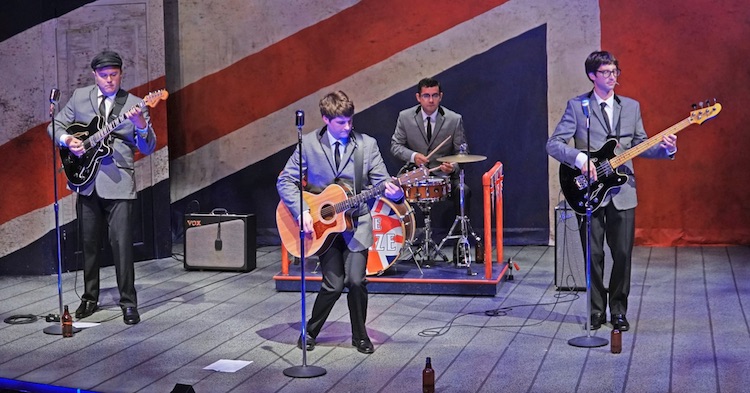 The action is set in 1963 in Brighton, England, the popular day-trippers' seaside resort directly south of London. Come early, for the house opens forty minutes before the 7:30 p.m. curtain so you can enjoy a guitar quartet called the Craze. The boys deliver one cover after another from the day. Their matching gray and black outfits, polished shoes and mop-tops might remind you of Herman's Hermits or the Dave Clark Five, if you're of an age to have experienced 1963 directly. The group fronted by Luke Lindsteadt has all the 60's boogy-woogie onstage moves. There's a live working bar onstage throughout the pre-show, and you can trip down there for your refreshment. . . and even practice your dance moves onstage, as one distinguished long-haired gentleman did when the Craze pounded into the Rolling Stones' Satisfaction.
In a neatly staged transition the Union Jack panels lift away during the boys' final number to reveal a Brighton hall where characters are gathered to party, drink, eat sausage rolls and celebrate the engagement of petty gangster Charlie 'The Duck' Clench's daughter to the son of Charlie's crooked solicitor.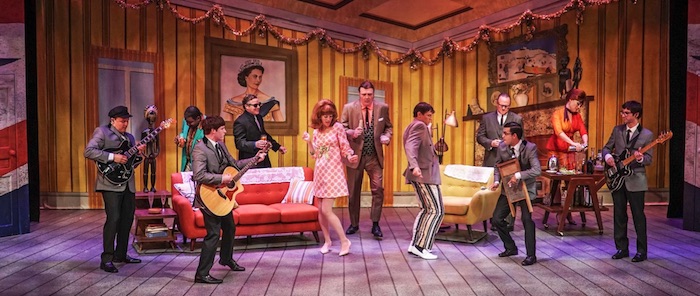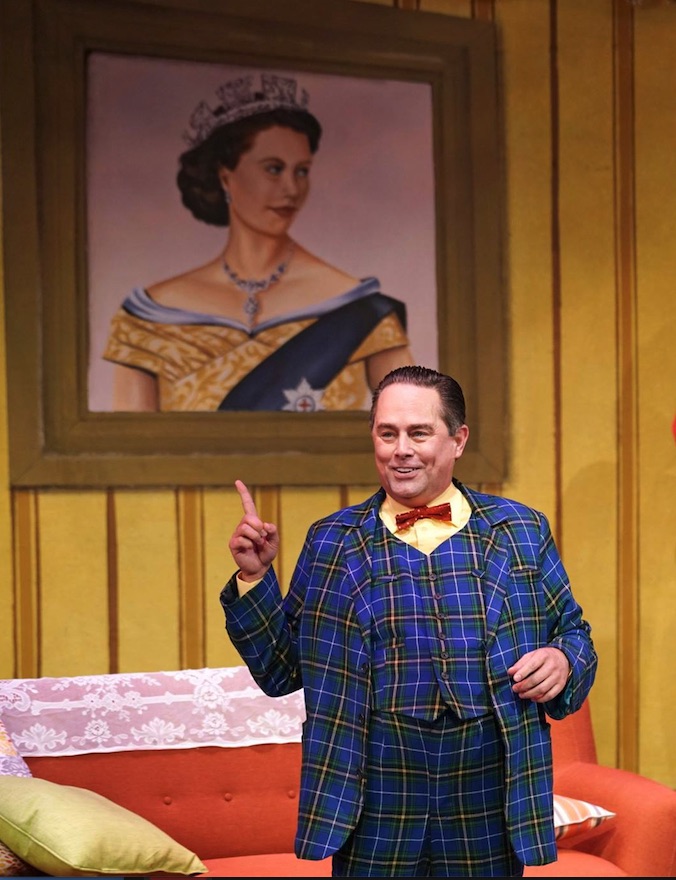 Those old plot tricks just don't get old. in additional to the comedy of the tricky slave, you get the twins mistaken for one another and the woman masquerading as a man. It worked for Goldoni 270 years ago, and it's going strong today. Bean's One Man, Two Guvnors was staged in London in 2011, went on provincial tour in the UK and opened in New York in 2012. A production played until last week in San Antonio (click for CTXLT review) and another is winding up in Chicago right now (click for Scotty Zacher's review at ChicagoTheatreBeat.com).
As impoverished and ravenously hungry Francis Henshall, Burke gets himself hired by two visitors to Brighton, neither of whom knows about the other. This leads to all kinds of confusion. Francis is clever but not necessarily bright; when he's given tasks to do by either guvnor or deliveries to make to either of them, he's apt to get them mixed up because he's too fixated on finding something to eat.
Things get even more complicated because one guvnor, disguised as her recently deceased brother, is in fact in search of the other, her lover Stanley Stubbers, who knifed said brother in a dispute. By accident, of course. Three times. But it's okay, because the brother was a lowlife, somewhat like Charlie 'The Duck' (Michael Stuart). The first act culminates in a lazy susan of culinary incident. Francis is supposed to be serving each master in a separate private dining room, but he's joyously gobbling much of the fare as it transits the hall. In the second act, once the needs of Francis's stomach have been satisfied, he will turn to amorous concerns. In fact, just about everyone in sight will do the same.
Particularly amusing in Bean's rewrite of Goldoni are Burke's interactions with the audience, the characters cavorting in the aisles, and Burke's enlistment of audience members to assist in the plot. You may be laughing heartily at the antics on stage, but they become that much more real when you or someone like you is invited to participate. At the Vexler Theatre in San Antonio ten days ago I accepted an invitation to two-step around the stage with the luscious Polly, bookkeeper for Charlie 'The Duck' and object of Francis's attentions; last Thursday at the Court Theatre in Chicago my son was persuaded into the playing area to hold the soup tureen as Francis looted the dishes arriving from the kitchen. You get a particularly intense perspective of the comedy when you're part of it.
Amber Quick, who plays Polly in the Zach Theatre production, is a great big saucy banana split, a portrayal all the more surprising considering that I saw her most recently as the contained and intensely regal Gertrude in Present Company's seven-character Hamlet.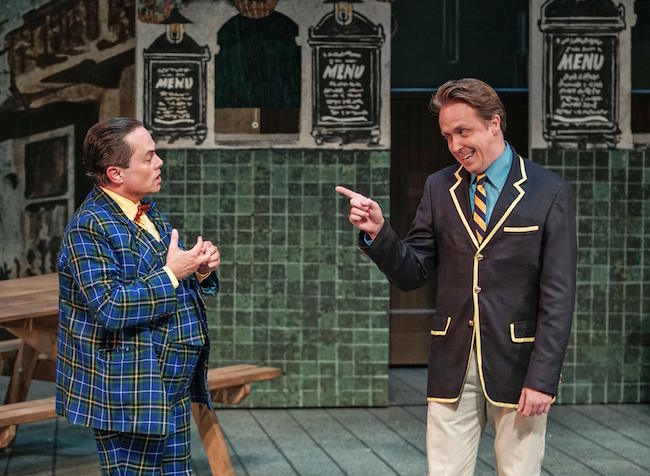 Each theatre and director seems to have a good deal of leeway in planning audience participation, and the bits are so funny that one's inevitably led to speculate whether those happy or hapless individuals are in fact 'plants.' My impression was that director Abe Reybold gave away the Zach's game from the very first with exaggerated near-pratfalls the first time a couple of guys were summoned to help Francis by moving a heavy trunk.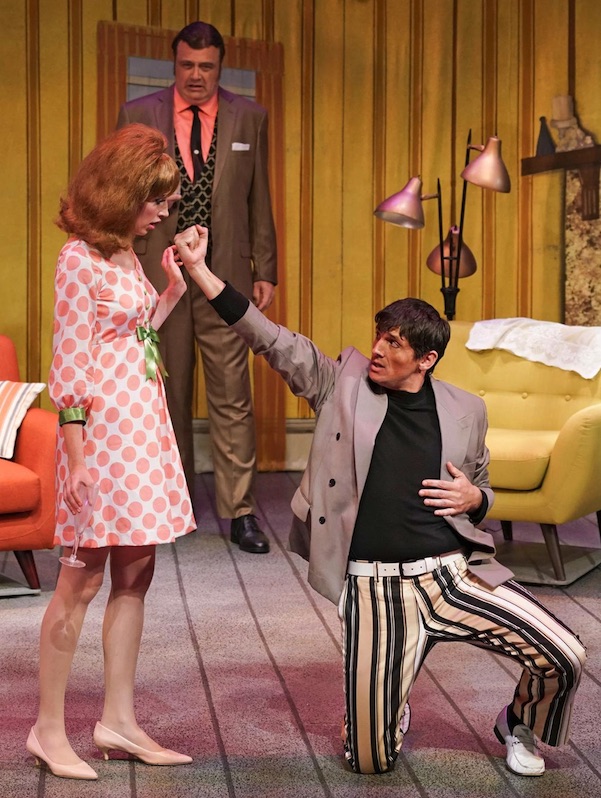 Amy Downing as Rachel, disguised as her defunct evil fraternal twin brother, is a lean and assertive presence. Tyler Jones as her lost beau the other guvnor Stanley Stubbers is a good natured fellow who's not terribly convincing as a felon. One has trouble imagining him emerging the victor from a knife fight; about the only thing I could see him brandishing would be a pint of lager. More credible as Stubbers would have been André Martin, who appears as Alan the ridiculous fiancé of Charlie 'The Duck' Clench's dim daughter Pauline (Madison Weinhoffer). Martin's job is to make vivid the ridiculous thespian aspirations of his character. His exaggerated but sharply defined Marcel-Marceau physical illustrations of dialogue succeed vividly. My thought experiment used Martn's lean Gallic intensity to produce a redoubtably ferocious Stanley Stubbers. I easily imagined blond and comfortably stocky Tyler Jones aping an ambitious but incompetent thespian.
A special word of praise for Toby Minor, who proves himself just as clever at physical comedy as he is at fight choreography. Minor plays the distracted and aged waiter Alf, whose rhythm is set by a scalable pacemaker. He delivers a serious of impressive funny tumbles and pratfalls, making them all the more comic by maintaining a Buster Keaton demeanor. That last gesture, a solemn index finger to the forehead in salute, caps a fine performance.
The episodes of this two-act comedy are stitched together with music played by The Craze. They're played with gusto but they're not terribly memorable, for the play's musical numbers by Grant Olding resemble pub songs or busking numbers. Reybold and the cast raise them a bit from time to time by bringing on the actors for variety-hall accompaniment: Martin Burke intently hitting the marimba, Tyler Jones in a bolero hat, concentrating like a performing seal on an assembly of tuned klaxon horns, and Rick Smith as the solicitor strumming a fine ukelele. Or was it a mandolin?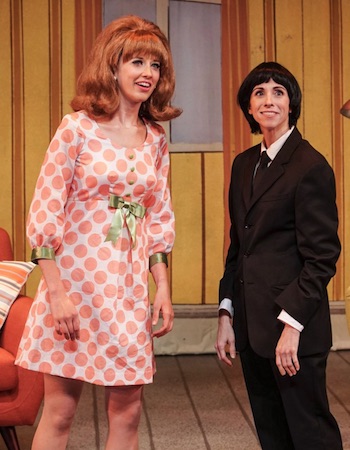 Zach Theatre staff applied their considerable design skills to One Man, Two Guvnors without exaggeratng the setting of a story that was probably traditionally played on a few planks set across barrels in the public square. Sets are bright but with lots of two-dimensional cartoon-like design. Costumes evoke the era but they also strongly suggest a vaudeville stage. No clown shoes or red noses, and no traditional slapsticks -- although there is a clever moment with a cricket bat.
One Man, Two Guvnors will tickle your funny bone without taxing your brain or challenging your world view. It appeals by making fun of the broadest and most ridiculous aspects of human nature: greed, lust and cluelessness. And considering that it's so firmly rooted in the past -- both relatively ancient and relatively recent -- there's no need to suppose that we ourselves are being targeted. After all, we're enlightened folks who've risen above all that. Or maybe not?
[cover photo by Kirk R. Tuck: Toby Minor, Martin Burke, Michael Miller]
EXTRA
Click to view the program for Zach Theatre's One Man, Two Guvnors
---
One Man, Two Guvnors
by Richard Bean
Zach Theatre
Wednesdays-Sundays,
June 01 - June 26, 2016
June 1 - 26, 2016 in the Topfer Theatre
Tickets available at www.zachtheatre.org