Review: No Se Paga! We Won't Pay!
by Michael Meigs
On the evidence of this production alone, I would have to conclude that Rupert Reyes is a better playwright than Dario Fo, who won the Nobel Prize for literature in 1997.

Fo, a prolific and provocative theatre artist, was in the thick of Italian political debate from the 1960s through the 1990s. He and his wife Franca Rame were social activists and she was a member of the Italian Communist Party. They and others occupied an abandoned factory in Milan in 1973, titled it "the Little Mansion of Liberty" (Palazzina Liberty) and established a wildly popular theatre that garnered 80,000 season subscribers within a year.

Those were dangerous years in Italy for leftists. In 1973 Rame was abducted, tortured and raped by a fascist group.

Fo's company staged Non si paga, non si paga! (often translated into English as Can't Pay? Won't Pay!) the following year. The farce dramatizes the plight of factory workers exploited by owners and abused by law enforcement.

According to the biography published by the Nobel Institute, "In the course of the season, Fo and Rame organized performances, demonstrations and concerts in support of the campaign for a referendum on divorce and as manifestations of solidarity with workers occupying factories and in other ways taking part in the political struggle. Many immigrants found in the Palazzina Liberty a place to meet to discuss their common concerns and to celebrate their faiths."

The humor is broad and mocking. We learn that a group of neighborhood women, fed up with rapidly rising prices, staged a spontaneous consumers' strike and a riot in the local supermarket. The young firebrand Antonia (Karen Alvarado) grabbed as many goods as she could and hightailed it home, where she recounts the events to her neighbor Margarita (Juanita Rivas) and to us.

Chief problem: their husbands, played by Mario Ramirez and Leonel Garza, are old-fashioned honest factory laborers who would be shocked by such lawlessness. The wives conspire to hide the truth from them and from the cops who land with heavy boots and ransack apartments in search of stolen goods.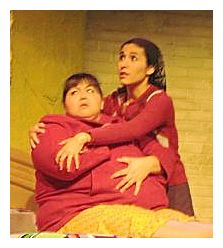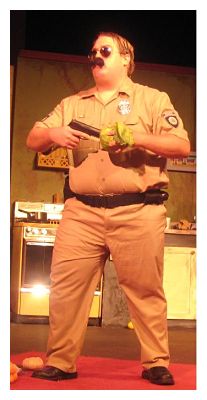 One running gag is the scheme to stuff chunky Margarita's coat with stolen goodies and to declare that she is pregnant. Law enforcement officials include a policeman and a state trooper (both played by J.T. Bundick, at first clean shaven and then with a bristly mustache). Antonia fast talks them both with apparent success. A mishap leaves the trooper unconscious on the floor, apparently deceased, and we get a slapstick "stuff him in the closet" routine.

Husbands return and are shocked and amazed by the news (especially the news that Margarita is inexplicably pregnant, as Antonia explains, because the Pope came to her in a dream and urged her to procreate). More foolishness ensues.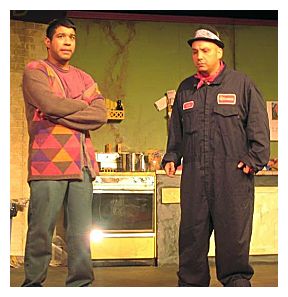 In the second act we learn that both the men are losing their jobs ("Si! . . . downsized!"). A passing truck hits a bump and sheds several large packages of coffeebeans, a temptation overwhelming their principles, and they become liberators of the stray goods. As they're searching for a place to hide the booty, an undertaker asks them to sign for the delivery of an empty coffin purchased by an absent neighbor. . . .

Dario Fo piles complication on complication in the broadest of farce, and the Teatro Vivo cast keeps it rolling. By the end the neighborhood is in turmoil.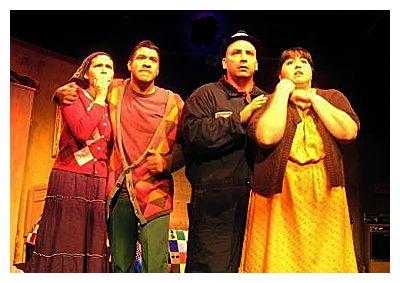 The four earnest and disadvantaged players peer out the window, watching us as if we were the insurrectionists, and the play closes with a short step-out-of-character homily by Mario Ramirez.

As always, the Teatro Vivo script uses both English and Spanish, crafted so that monolingual speakers of either language are able to follow the action and arguments with ease.Okay, maybe Rupert Reyes doesn't yet deserve the Nobel prize, despite the fact that he's one of Austin's most inventive and appealing producers, playwrights and actors. But he writes and delivers vivid characters anchored in Tejano customs, types and traditions.

In Non si paga, non si paga! Fo provides us cardboard characters whose principal appeal comes from their foolishness and the upside-down values of the society around them. The workers and their families are exploited, so they in turn exploit the merchants and fool the police in revenge for the unfair profits that unseen capitalists are squeezing out of them.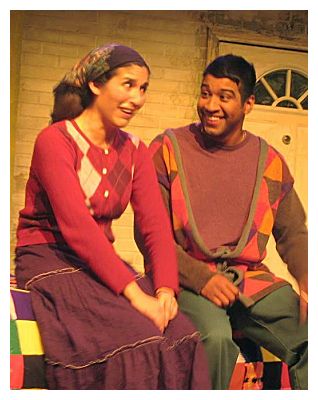 There are points of convergence between Fo's Italian culture and that of Tejanos. Traditional stereotypes of men and women are exploited for laughter, as nominally subservient wives prove to be smarter than their husbands. One can accept, as well, that Latino laborers are among those most likely to lose jobs in an economic downturn.

The cast is able and convincing, and director Alexis A. Arredondo keeps them in swift motion. Karen Alvarado carries the action in pretty much the same way that Lucille Ball used to keep impossibly comic quandries boiling. Come to think of it, Juanita Rivas as her flustered friend has the Ethel Mertz role of overwhelmed, compliant friend. Mario Garza and Mario Ramirez serve as foils to the nutty ladies, and J.T. Bundick in his three roles cheerfully sends up the Anglo authorities.
Review by Elizabeth Cobbe in the Austin Chronicle, August 20
KUT-FM "Arts Eclectic" clip on ¡No Se Paga! -- Mike Lee speaks with Robert Reyes and Karen Alvarado, August 17

EXTRA
Click to view program for ¡No Se Paga! We Won't Pay! by Teatro Vivo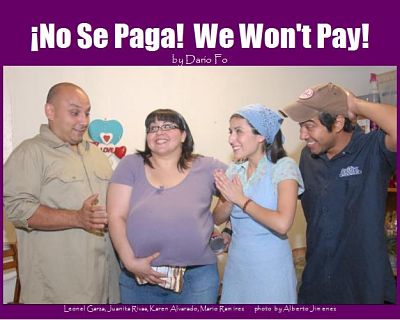 Hits as of 2015 03 01: 3018
---
¡No Se Paga! We Won't Pay!
by Dario Fo
Teatro Vivo
August 13 - August 31, 2009